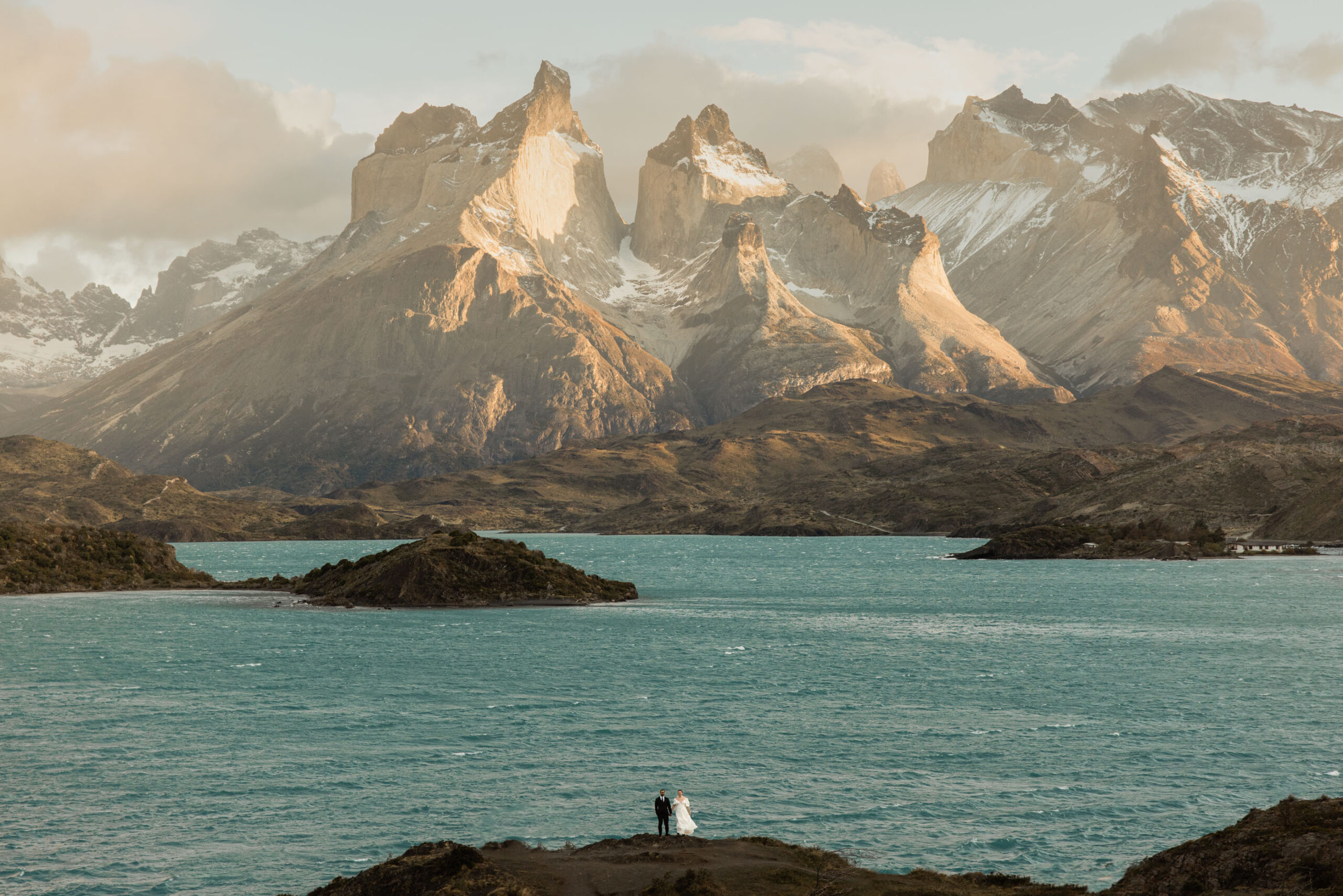 The Ultimate Guide to Eloping in Patagonia:
A Dream Destination for Adventure Weddings
destination elopement photographers
Picture this: a vast wilderness stretching as far as the eye can see, jagged mountain peaks piercing the sky, turquoise lakes reflecting the condors circling the sky, and a sense of untouched beauty that leaves you in awe. Welcome to Patagonia, a land of pure adventure and the perfect backdrop for an adventurous elopement!
Eloping in Patagonia is like stepping into another world. It's an escape from the ordinary, a chance to embark on a romantic adventure in one of the world's most mesmerizing destinations. Here, nature engulfs you and invites you to explore landscapes you could only ever imagine in your dreams.
We were lucky enough to photograph three incredible elopements in Patagonia over the fall season and fell in love with the region, the food, the people and the scenery. After seven weeks searching for the best places to get married, we thought we would put together a guide for others daring enough to defy convention and embrace the untamed beauty of Patagonia.
Let the wild winds carry your love, the towering peaks witness your commitment, and the golden landscapes become the backdrop to your memories.
Are you ready for an elopement adventure like no other?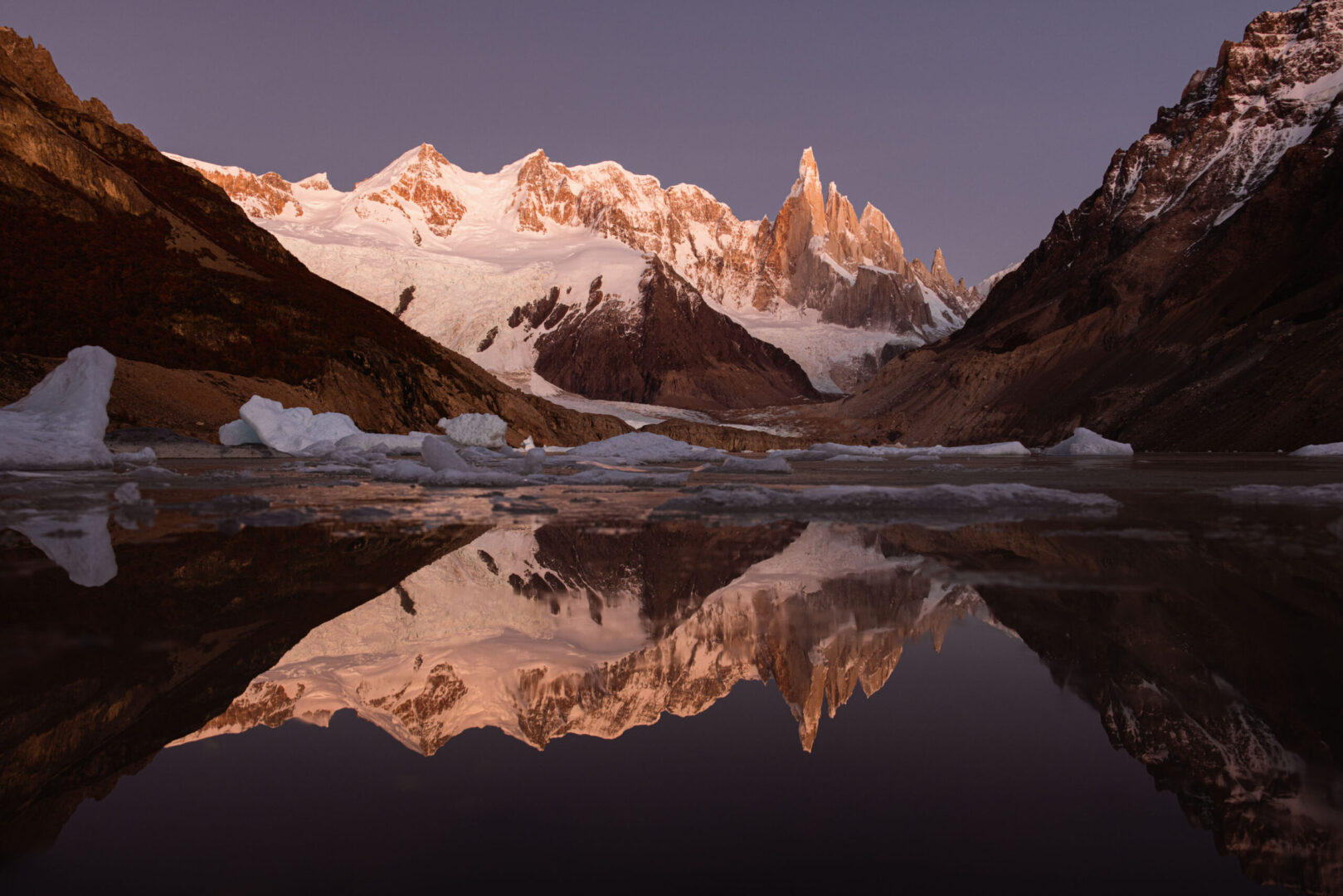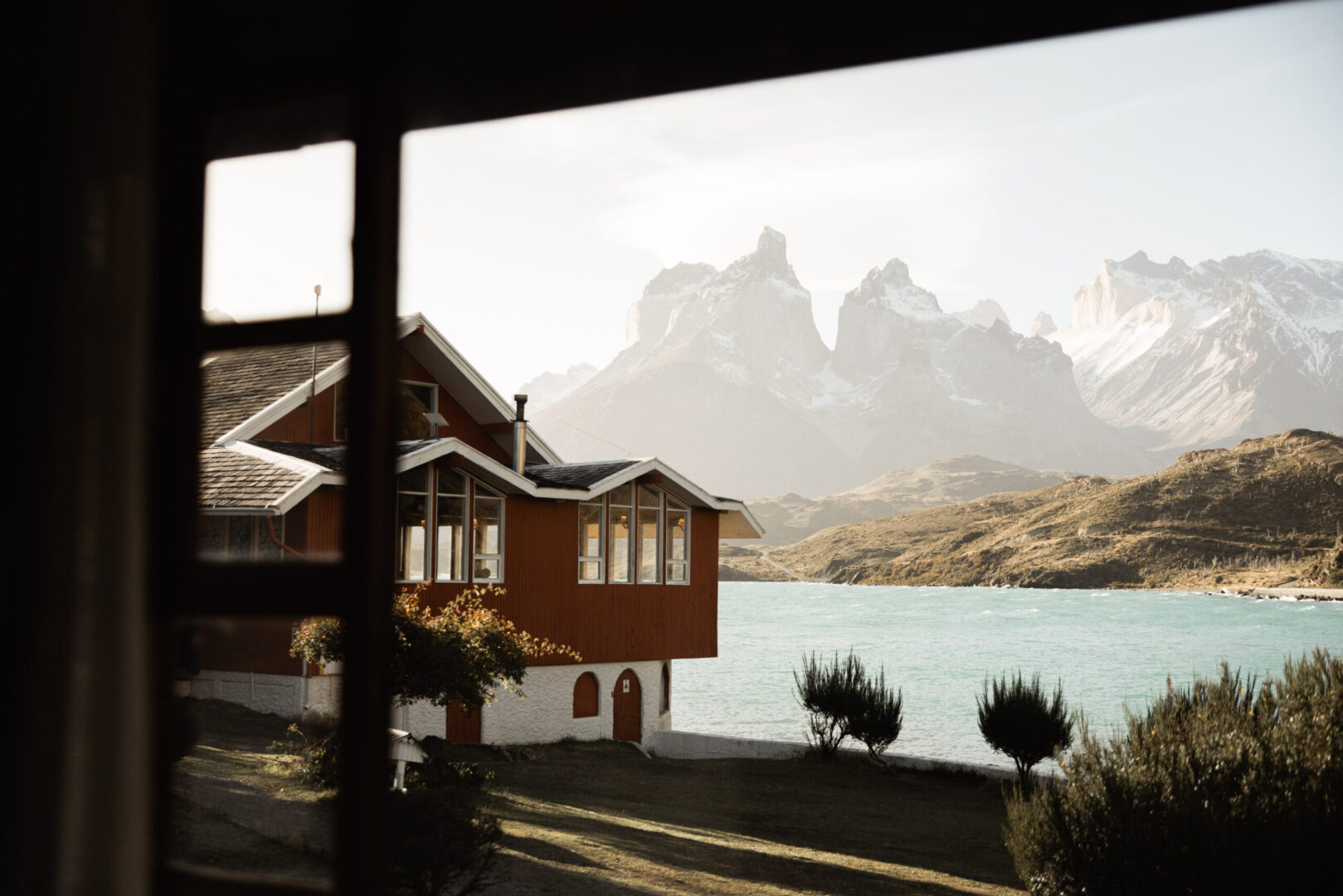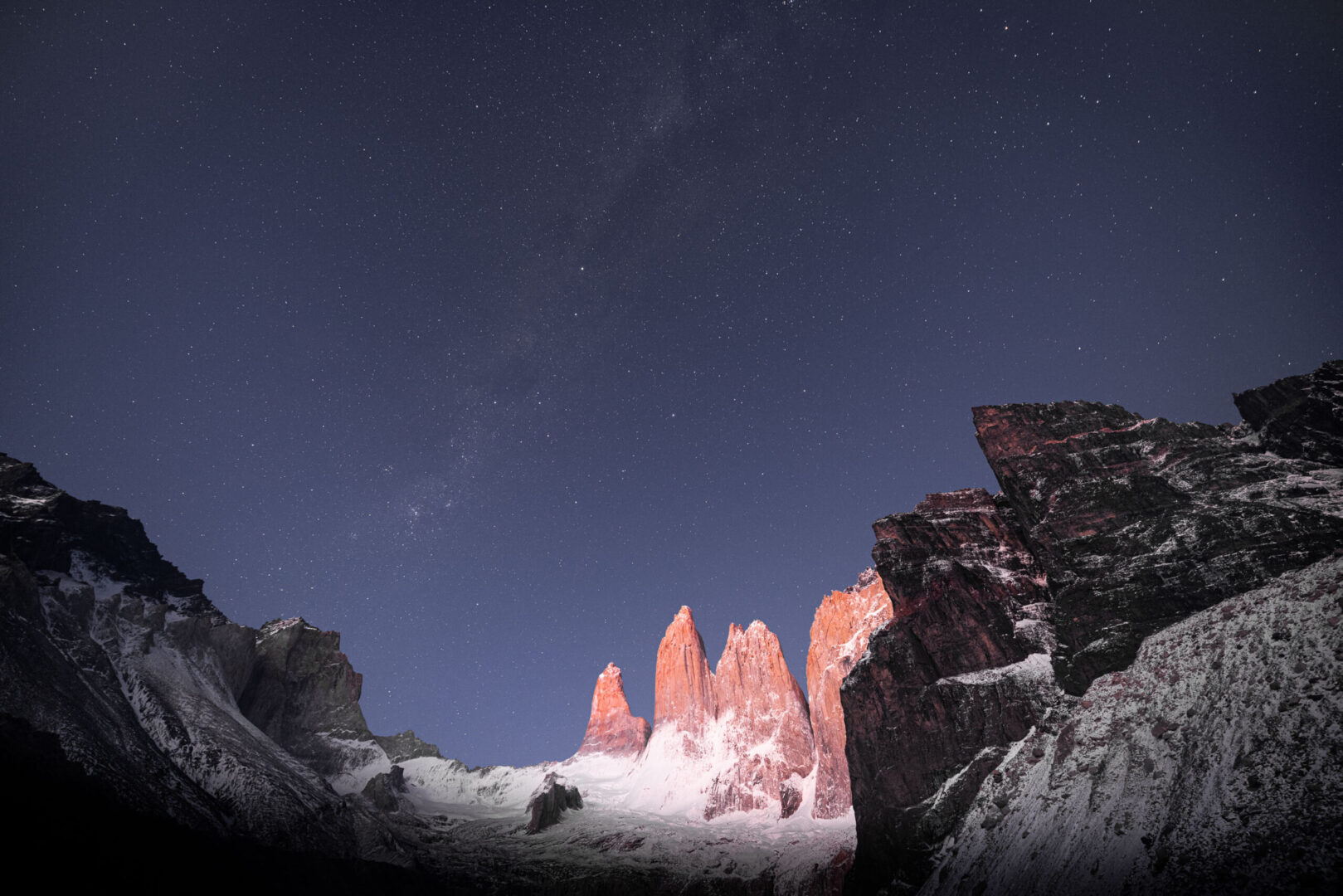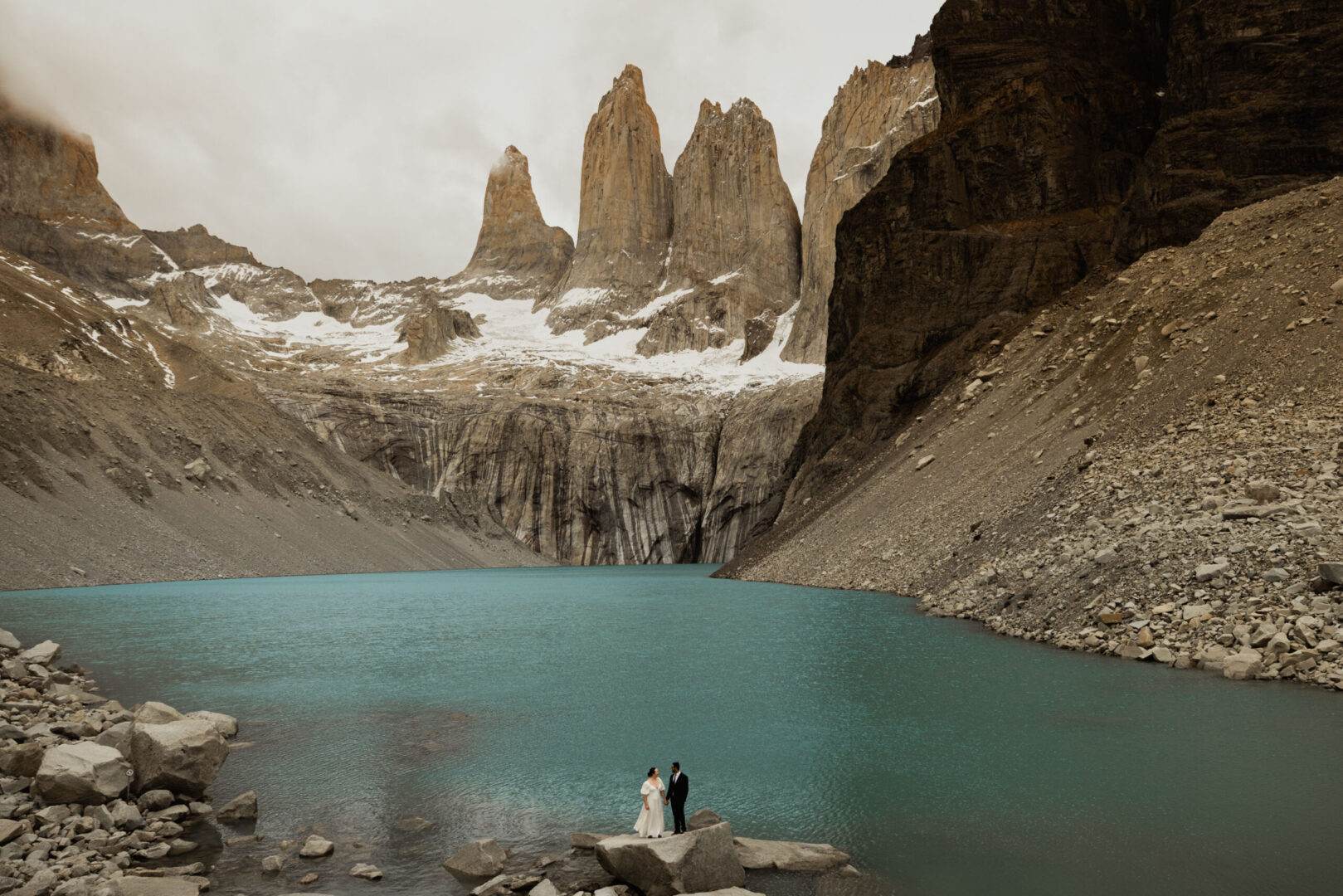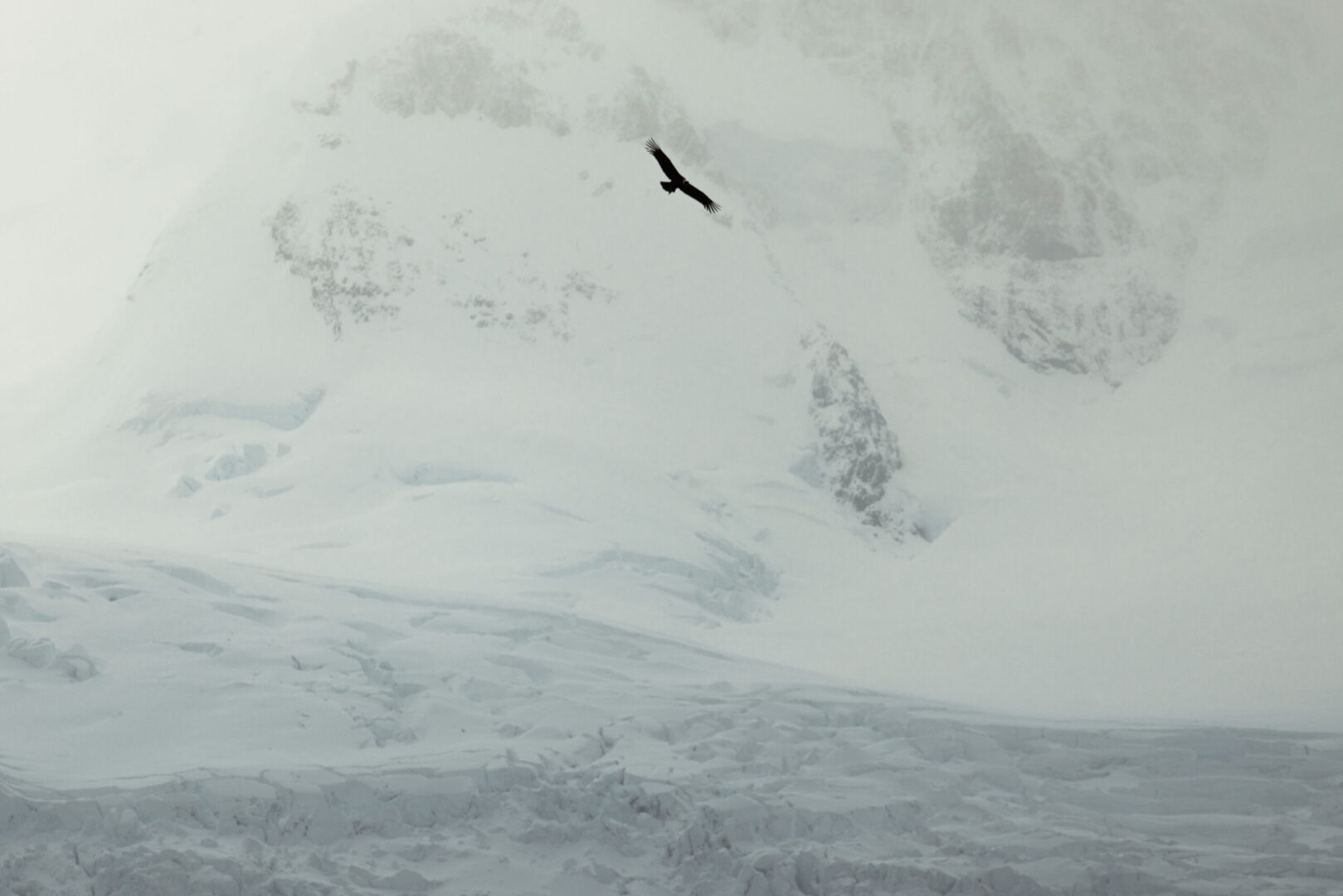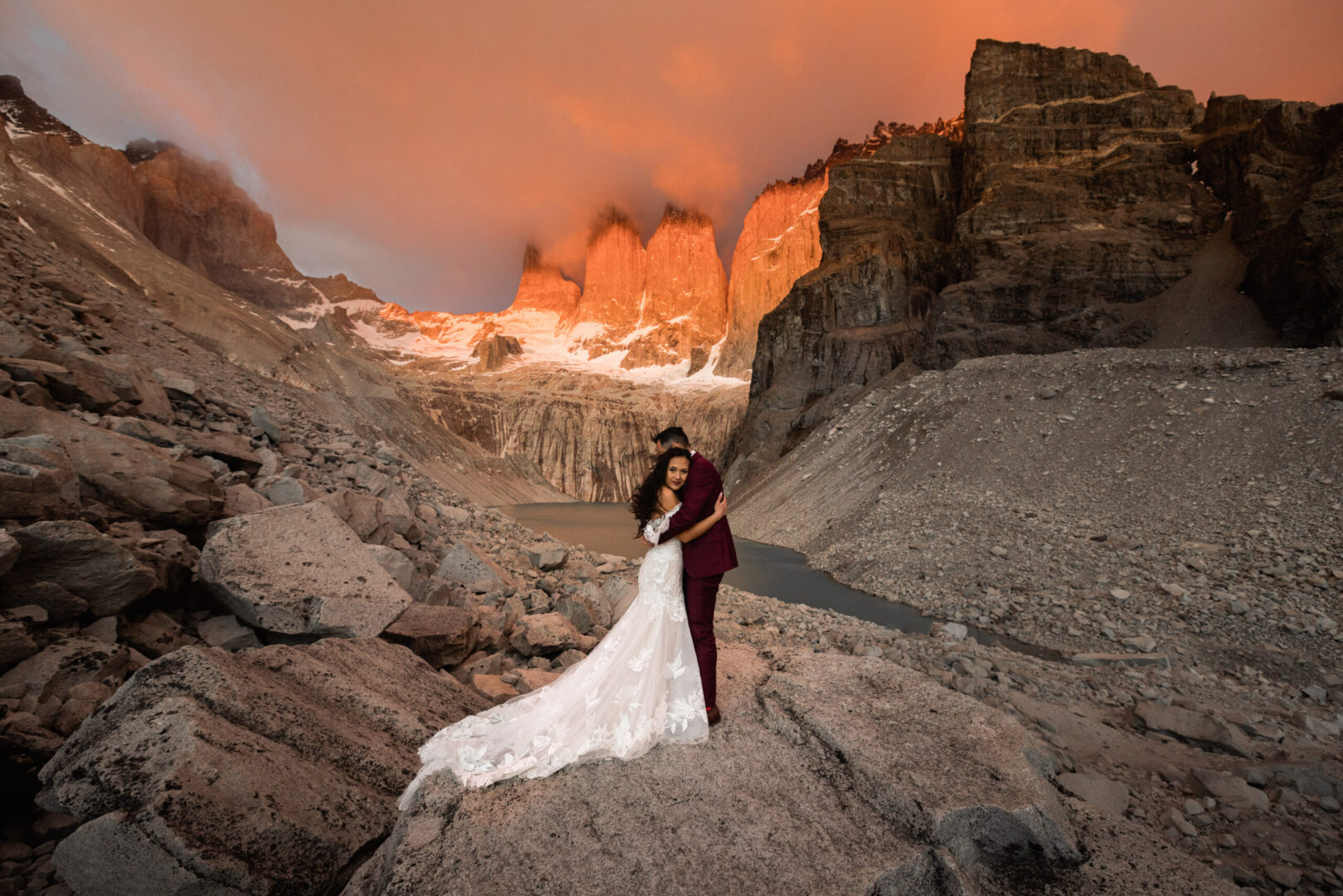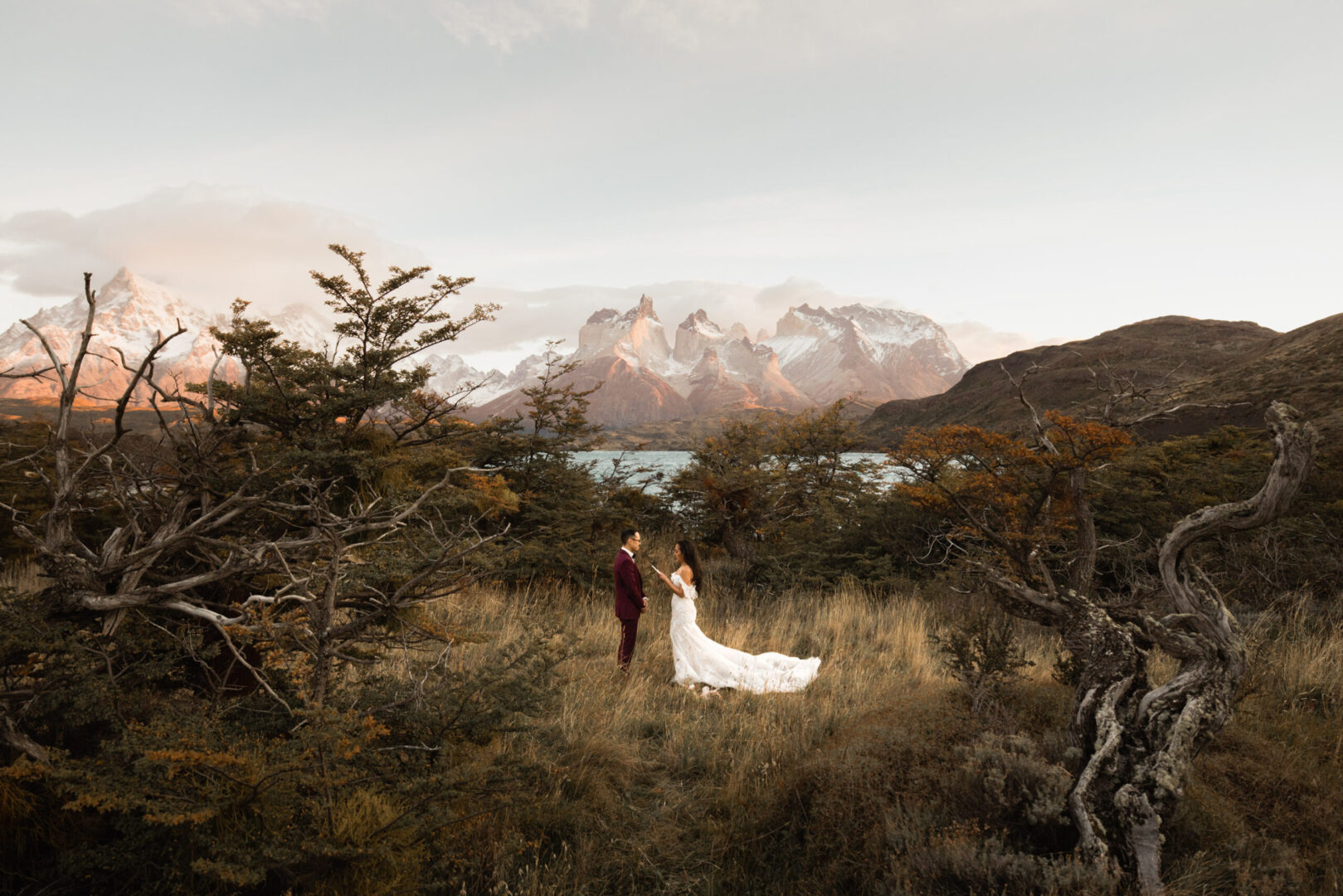 Patagonia is a vast region located at the southern end of South America, primarily encompassing the southern parts of Argentina and Chile. It spans across both countries, with Argentina occupying the eastern side of Patagonia and Chile occupying the western side. The region stretches from the Andes Mountains in the west to the Atlantic Ocean in the east, offering unique and remote mountainous landscapes to explore.
How to Travel to Patagonia?
Getting to Patagonia is an adventure in itself, as this remote region spans both Chile and Argentina. Here are some common ways to reach Patagonia:
Fly to Santiago, Chile, or Buenos Aires, Argentina, which are major international airports. From there, you can catch a domestic flight to the main airports in Patagonia, such as Punta Arenas in Chile or El Calafate in Argentina.
If you prefer a scenic journey, consider taking a long-distance bus or driving to Patagonia. Both Chile and Argentina have extensive bus networks that connect major cities to Patagonian destinations. The journey can be long, but it offers an opportunity to witness the stunning landscapes along the way.
COMBINATION OF AIR AND LAND
The most common way, and how we travelled in Patagonia was a combination of air travel and ground transportation. For example, fly into a major city like Santiago or Buenos Aires, then take a domestic flight to a regional airport, and finally rent a car or take a bus to your final destination.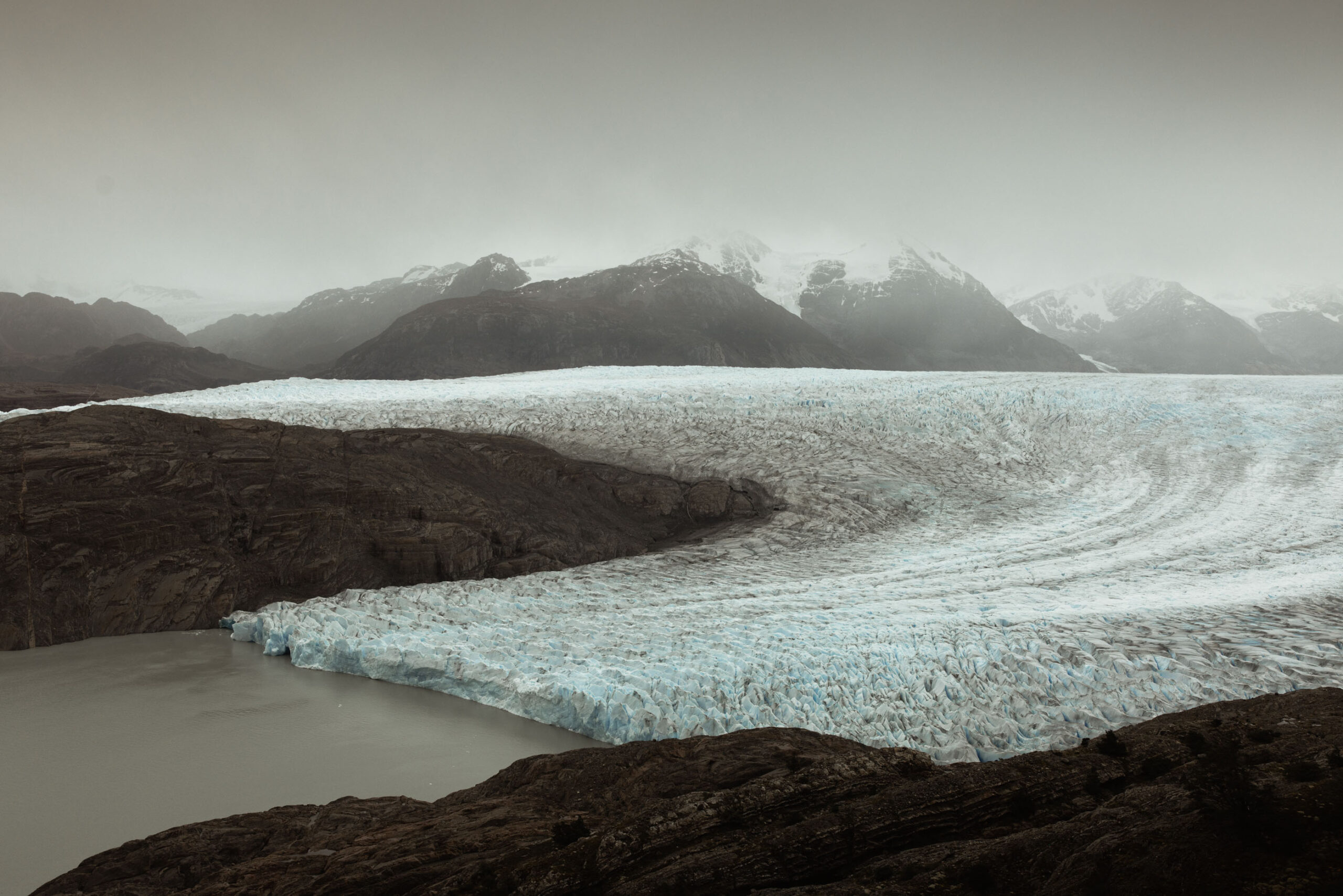 Torres del Paine National Park is one of the most well-known areas of Patagonia. It's a paradise for adventure-seeking couples who love to hike in the mountains. This is the home of the famous W and O trek. With its iconic granite peaks, turquoise lakes, and vast expanses of untouched wilderness, this park offers so many stunning locations for an elopement.
When visiting Torres del Paine National Park in Patagonia, there are various accommodation options available to suit different preferences and budgets. It is a very remote area so accommodation is limited but you can find some incredible places to base yourself for your elopement. Some of our favourites include:
Known as the "Hiking Capital of Argentina," El Chaltén is a picturesque village nestled at the foot of the majestic Fitz Roy mountain. This beautiful destination is ideal for couples who seek an elopement surrounded by awe-inspiring landscapes. Hike hand in hand along the legendary trails, such as Laguna de los Tres or Laguna Torre, and say your vows against the backdrop of towering peaks, pristine glaciers, and alpine lakes. The dramatic beauty of El Chaltén will create a truly unforgettable elopement experience.
El Chalten has a much greater variety of accommodation options than Torres Del Paine National Park. This ranges from higher-end hotels, Airbnb's, hostels and campsites. This little town has such a great vibe and we loved roaming the main street with its breweries and delicious bakeries and restaurants. Some of our favourite places to stay included:
Can you Legally Get Married in Patagonia?
While it's possible to legally get married in both Chile and Argentina, the process is complicated and involves lots of planning to get the necessary permits. Because of this, we advise our couples to do all the paperwork in their home country and focus this trip on being the symbolic ceremony eg. private vows, rings and photos!
When is the Best time to Elope in Patagonia?
Our favourite time of year to explore Patagonia is in March and April. This is just after the busy summer tourist season and the start of the fall/ autumn season when red and orange colours are starting to cover the landscapes.
Preparing for Weather in Patagonia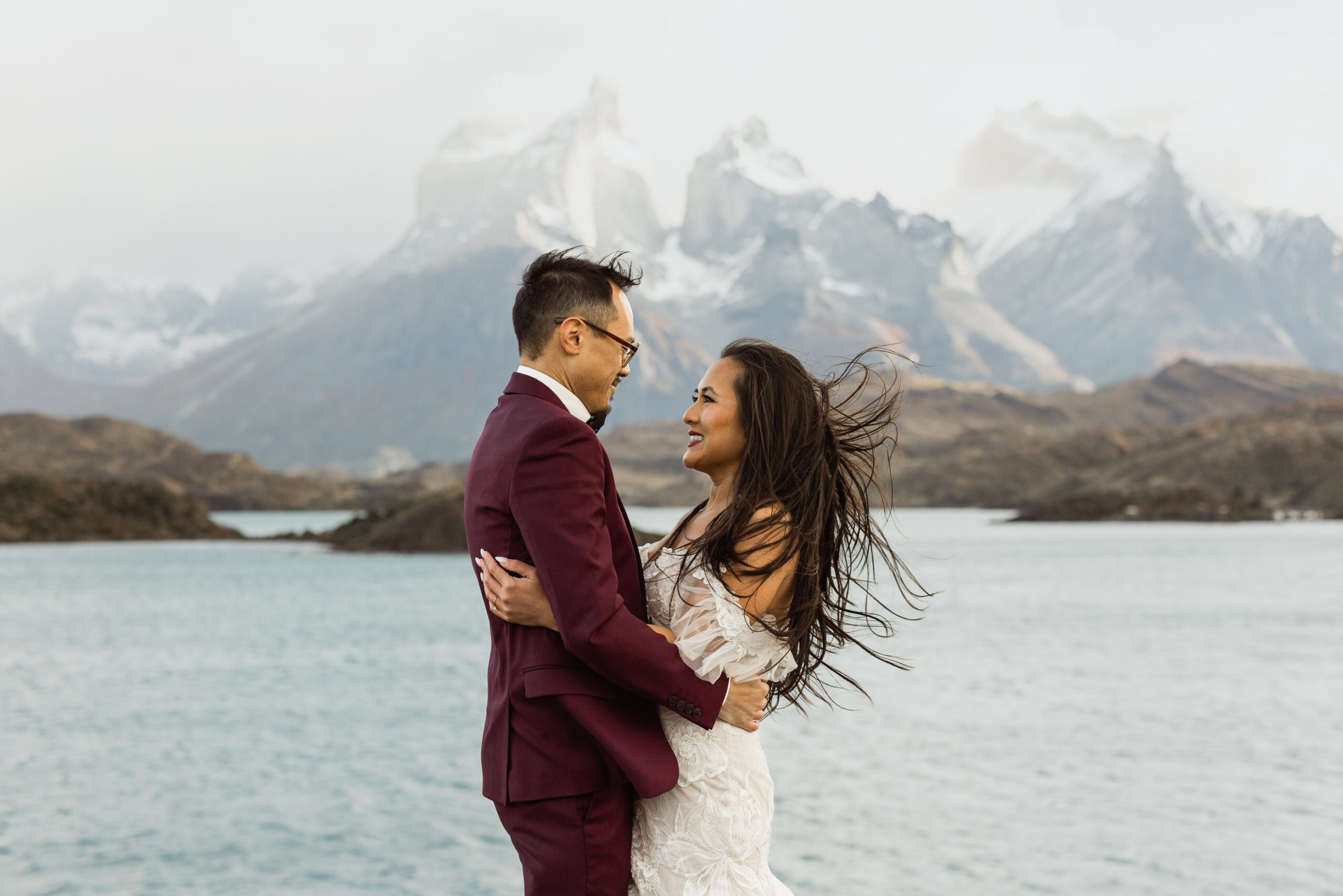 In general, the average temperatures in March range from around 8°C to 18°C (46°F to 64°F) during the day.
In March, daylight hours begin to decrease as autumn progresses. You can expect approximately 10 to 12 hours of daylight, allowing for ample time to explore and enjoy outdoor activities, but making sunrise and sunset times not too hard to navigate for the best photos.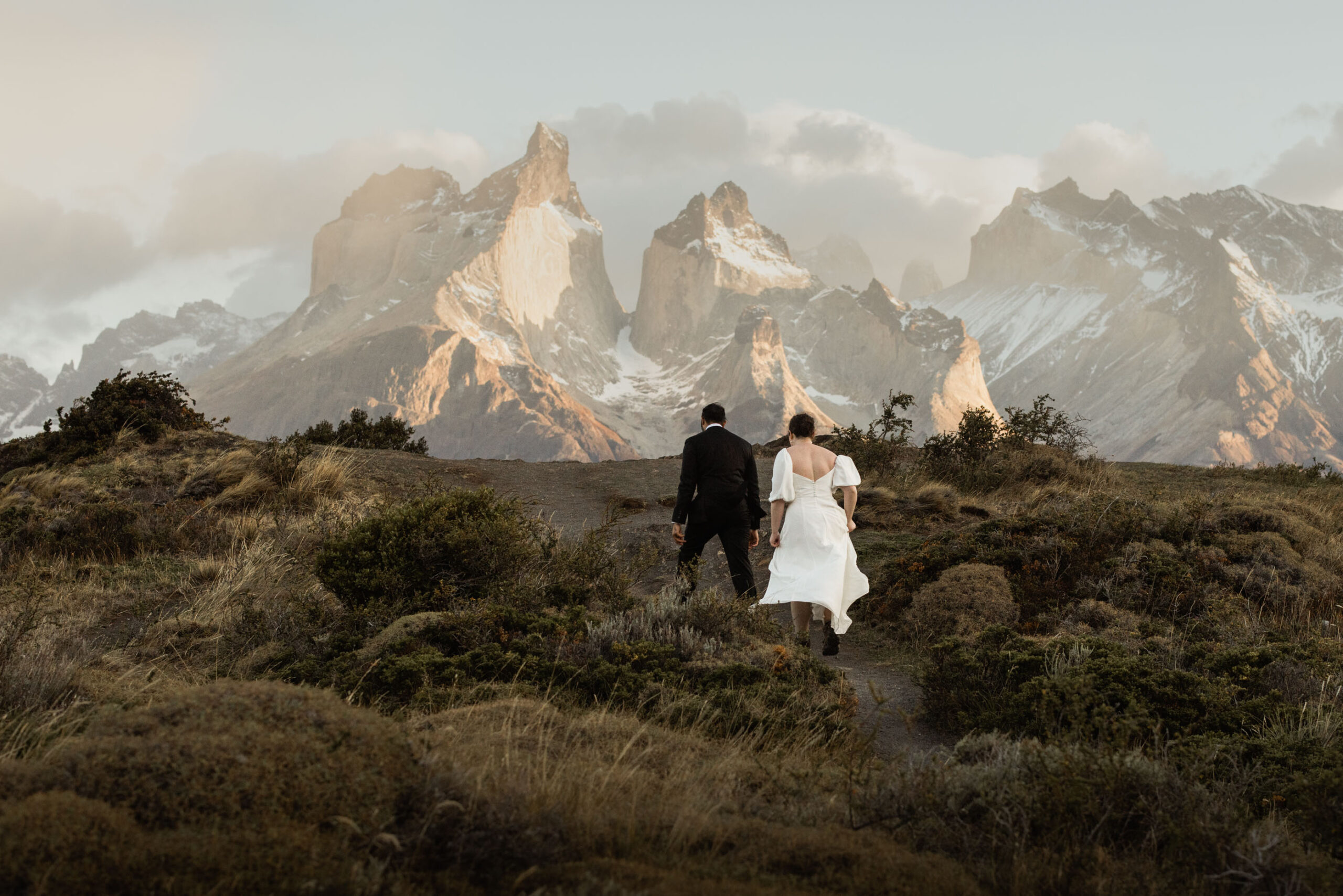 Patagonia is known for its unpredictable weather and rapid changes, but March tends to be lower in rainfall compared to the summer months. We always suggest being prepared for rain by carrying waterproof clothing and gear.
Patagonia is renowned for its strong and gusty winds, which can be present throughout the year. In March, the winds can still be quite prevalent, particularly in the more exposed areas. Be prepared for windy conditions and consider appropriate clothing and gear to protect against the wind chill.
Top Activities to Do While in Patagonia
There are so many activites that you can incorporate in to your elopement adventure in this dramatic part of the world. This could include:
-Hiking
-Kayaking
-Boat Tours
-Glacier Trekking
-Horseback Riding
Choosing to elope in Patagonia means choosing to immerse yourself in a world of adventure and natural wonders. It's a part of the world that we think everyone should experience once in their lives and what better way to do it than get married there!
We have searched high and low to find the best places to elope in Patagonia and would love nothing more than to share our favourite locations with you and help you put together a custom adventure that refects who you are and what you love doing together!