Banff Adventure Elopement
Jocelyn & Matt
Banff Climbing Elopement Photographers
As Banff Elopement Photographers, its no secret that we love adventurous weddings. Anything that goes beyond the realms of traditional inspires us and challenges us on our journey as photographers. With each and every couple that we photograph, we learn to see the world in a new way. Through their experiences, we gain a little more wonder and appreciation for the places we call home. Jocelyn and Matt are two people that we connected with right away. They wanted to escape their busy lives in Toronto and elope in the mountains. The best way to do that was to do what they love. Climb!
Rock Climbing Wedding
When Jocelyn and Matt got in contact with us and told us about their plans to do a multi pitch climb and get married at the top we were stoked! We couldn't think of a more epic way to get married. Not only were they doing something that was special to them, they were planning a crazy adventure in a new place.
After some research, they found a perfect seven pitch route in the heart of Banff National Park. The best part was it was a walk off, which meant that their amazing officiant, Martha could hike up and meet us at the top. When we first scouted the location we couldn't believe how perfect it was. Banff is becoming increasingly popular in the summer and it's hard to find a place that feels secluded. Here we were with one of the most incredible views around and there was no one else to be seen. 
The Climb
We met Jocelyn and Matt on the morning of their wedding day with big smiling faces. It was a perfect day. The week leading up to the wedding we were all watching the weather as rain would mean that we wouldn't be able to safely climb the route. We pulled out all of our gear and packed our bags ready for the hike up to the start of the climb. After about an hour we were at the base looking up the vertical rock. We climbed above Jocelyn and Matt so we could take photos of them on the route. It was such a beautiful experience, and we couldn't have been in better company.
On the way up, we had incredible views of the Bow Valley with the river winding below us. As we topped out, we saw Martha making her way up to meet us. We set up a little picnic and shared a celebratory beer while these two unpacked their wedding clothes and got ready for their ceremony. 
We watched Jocelyn and Matt share their vows in English and Spanish as the sun set over the mountains. Martha led a beautiful ceremony, and we can't recommend her highly enough for any couple planning an adventurous elopement! We then enjoyed the view a little longer and took some more portraits as the golden light flooded through the valley. We feel so lucky to have met these two adventurous kind souls. To have shared this day with them and the opportunity to capture all of their memories was truly an honor.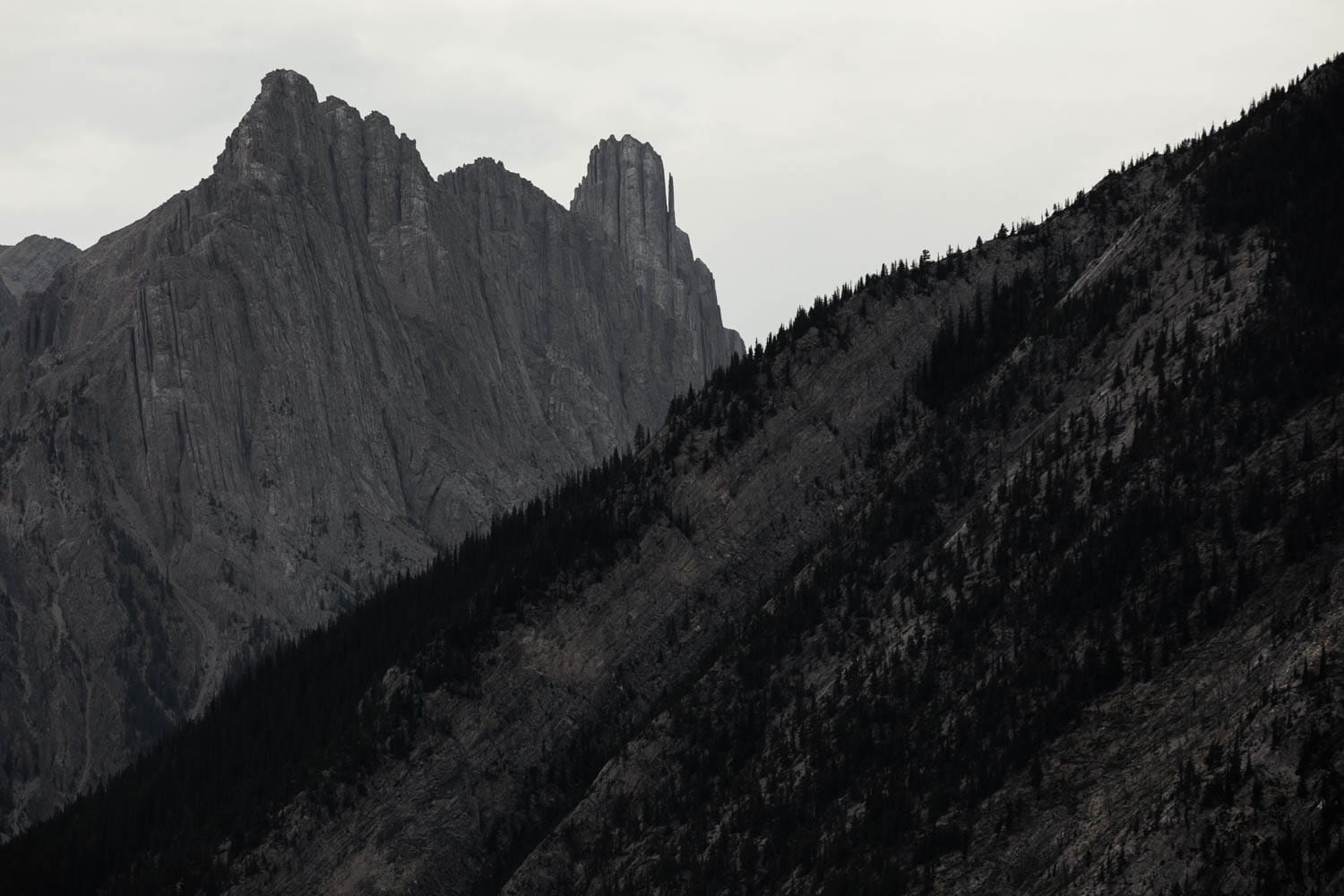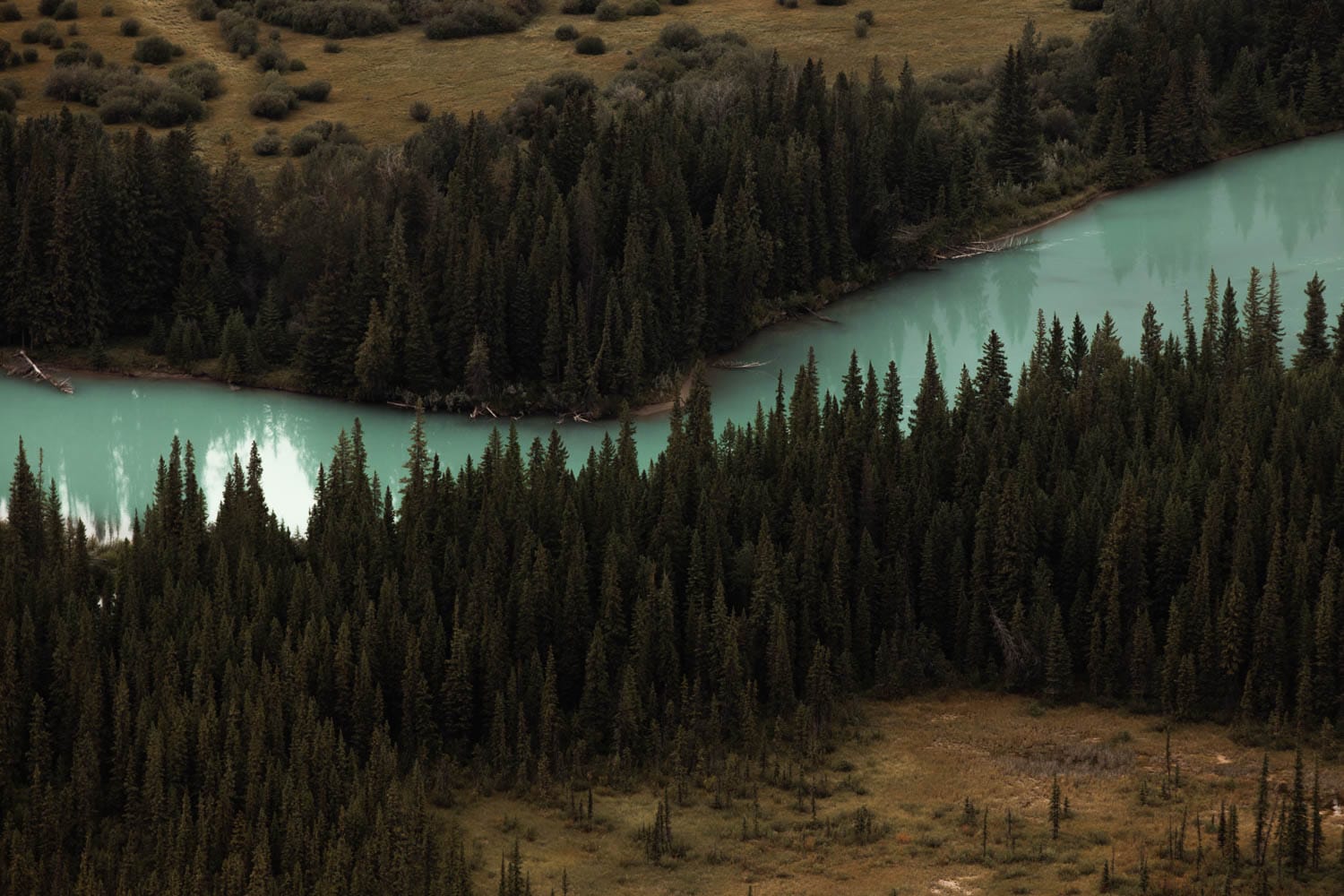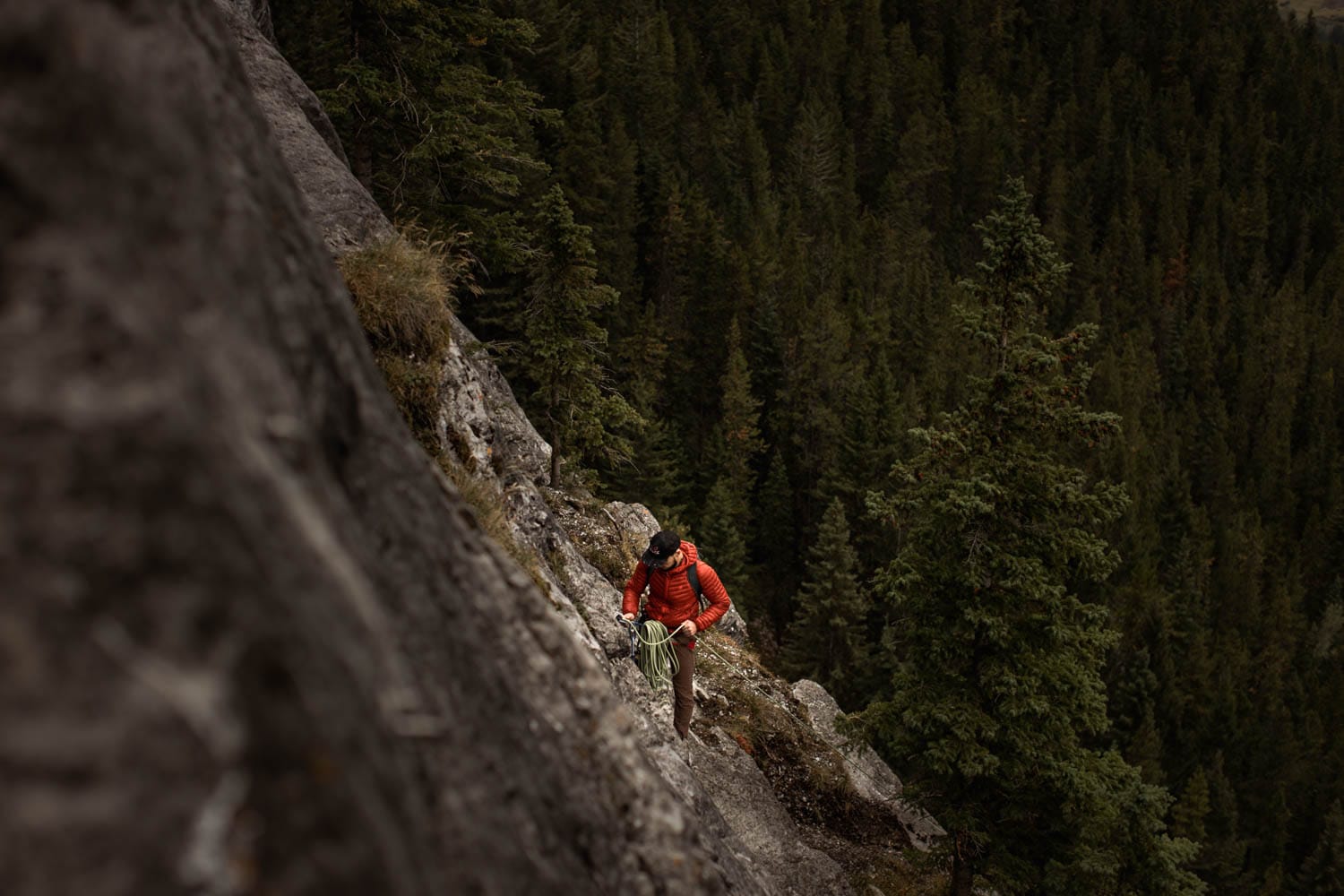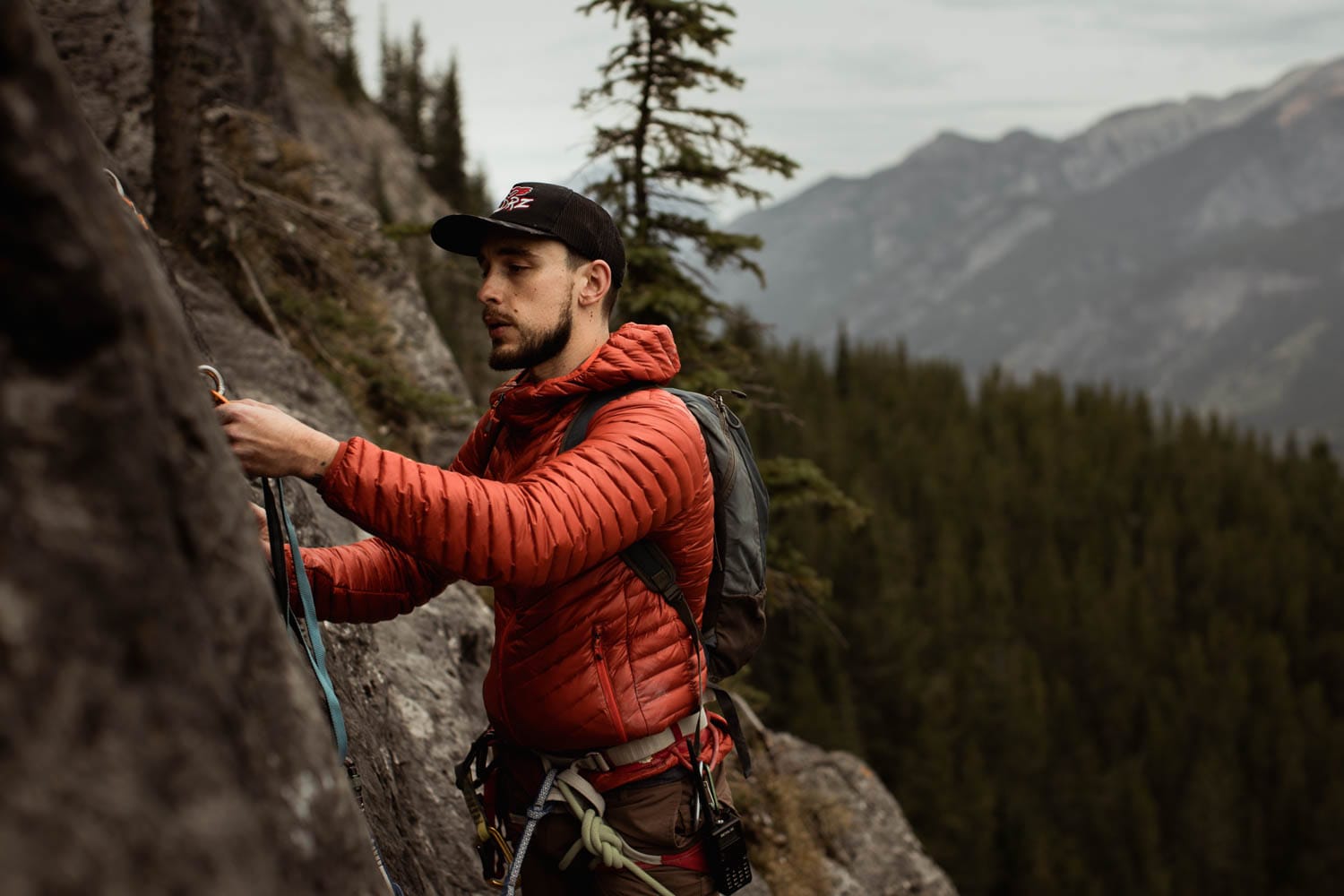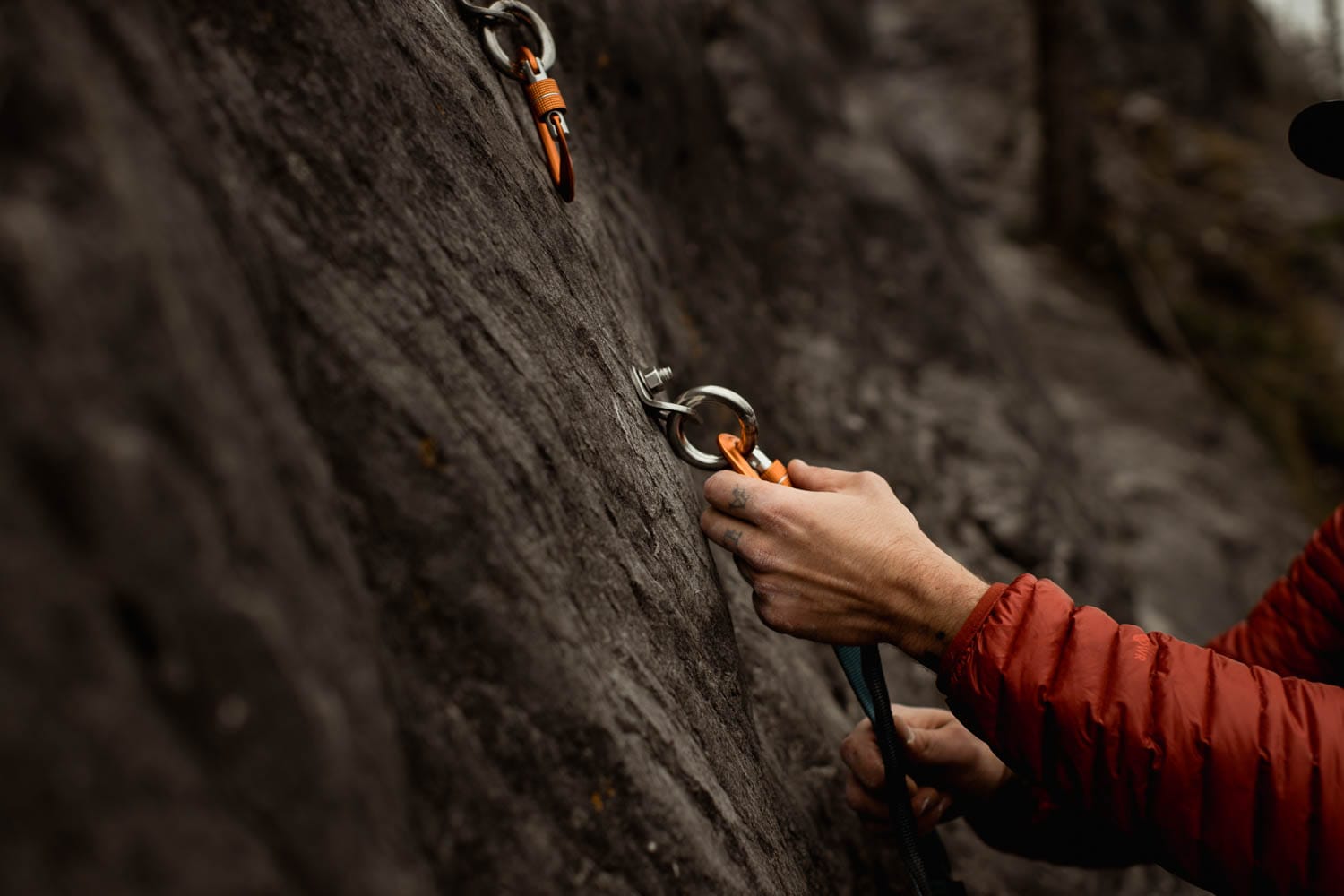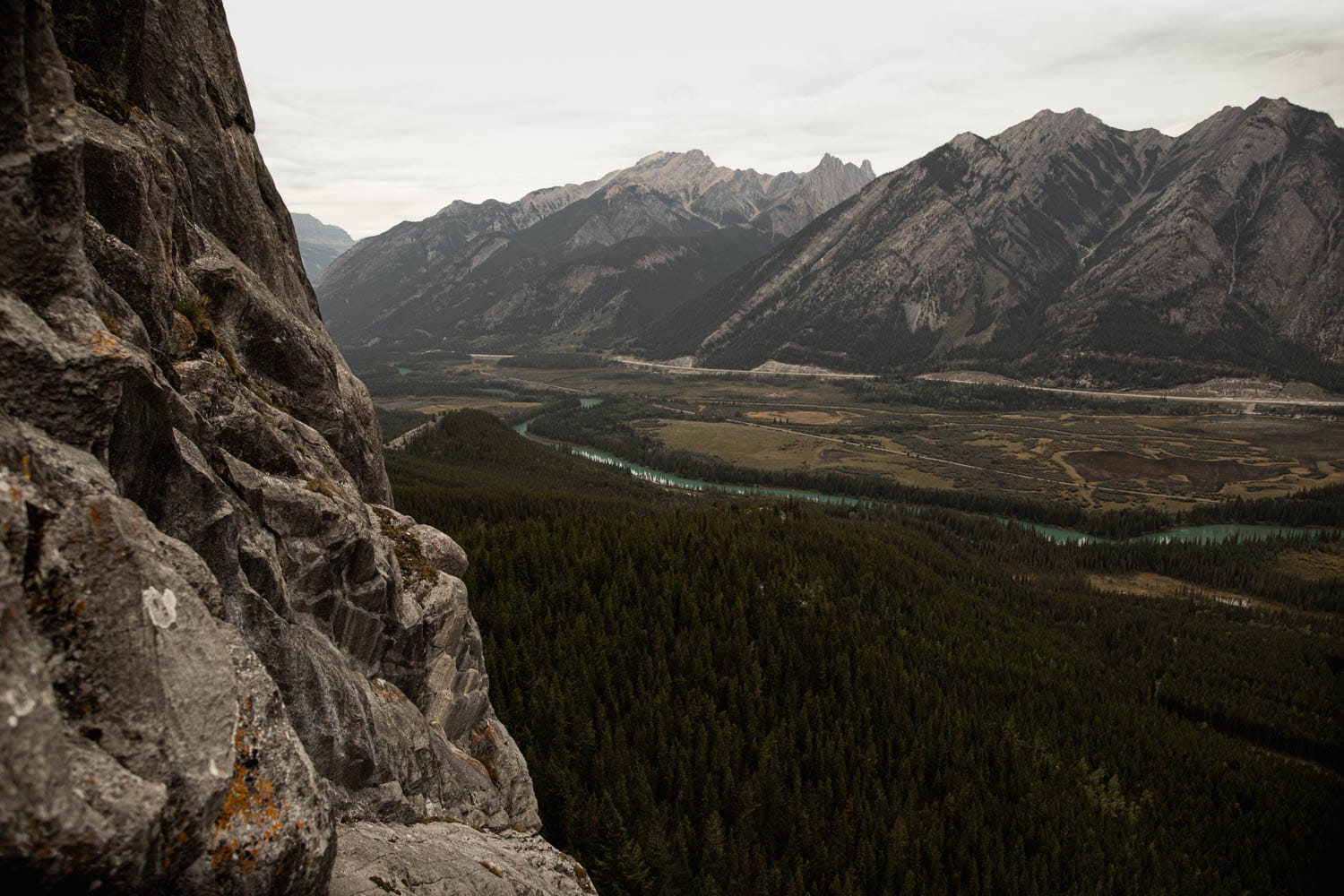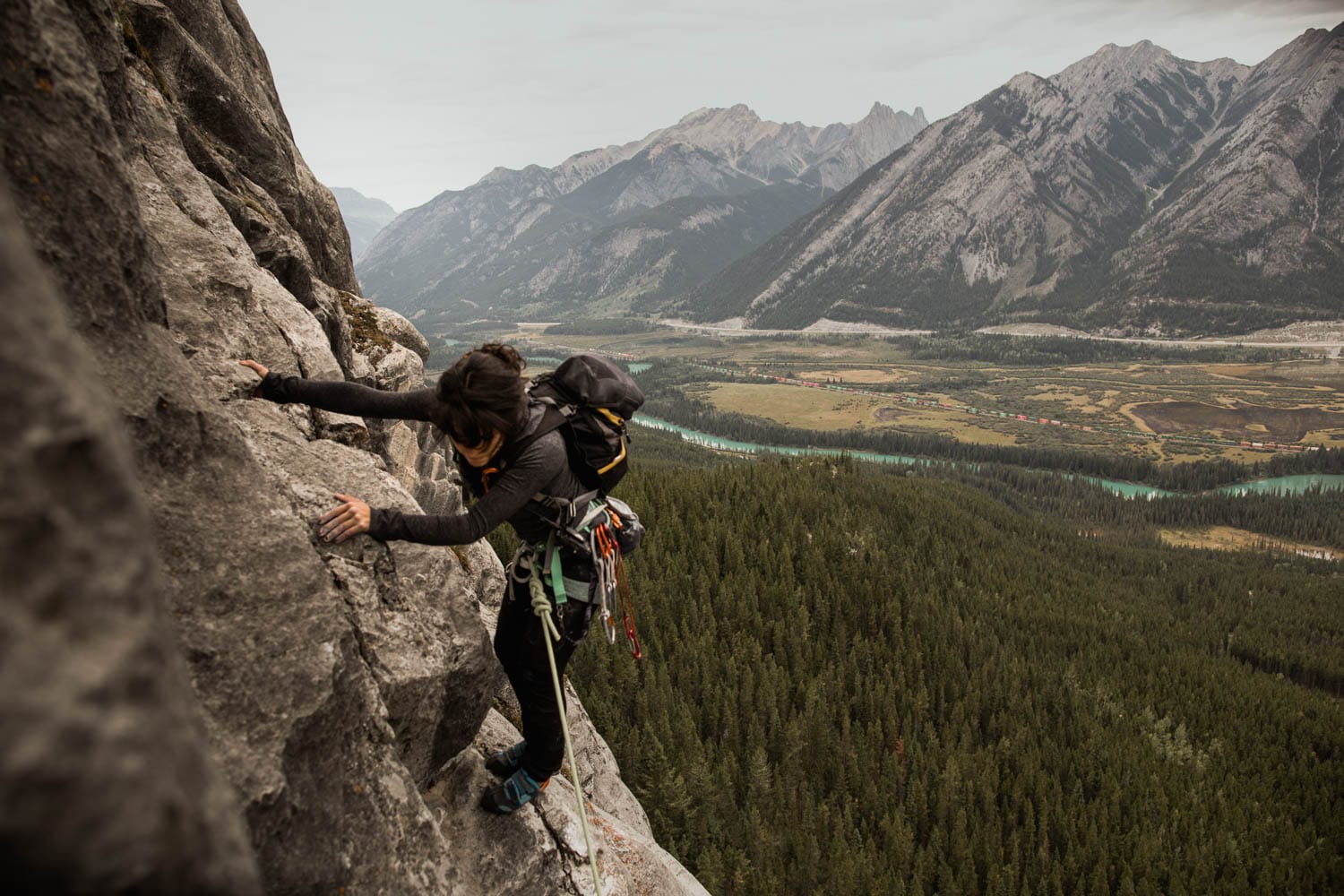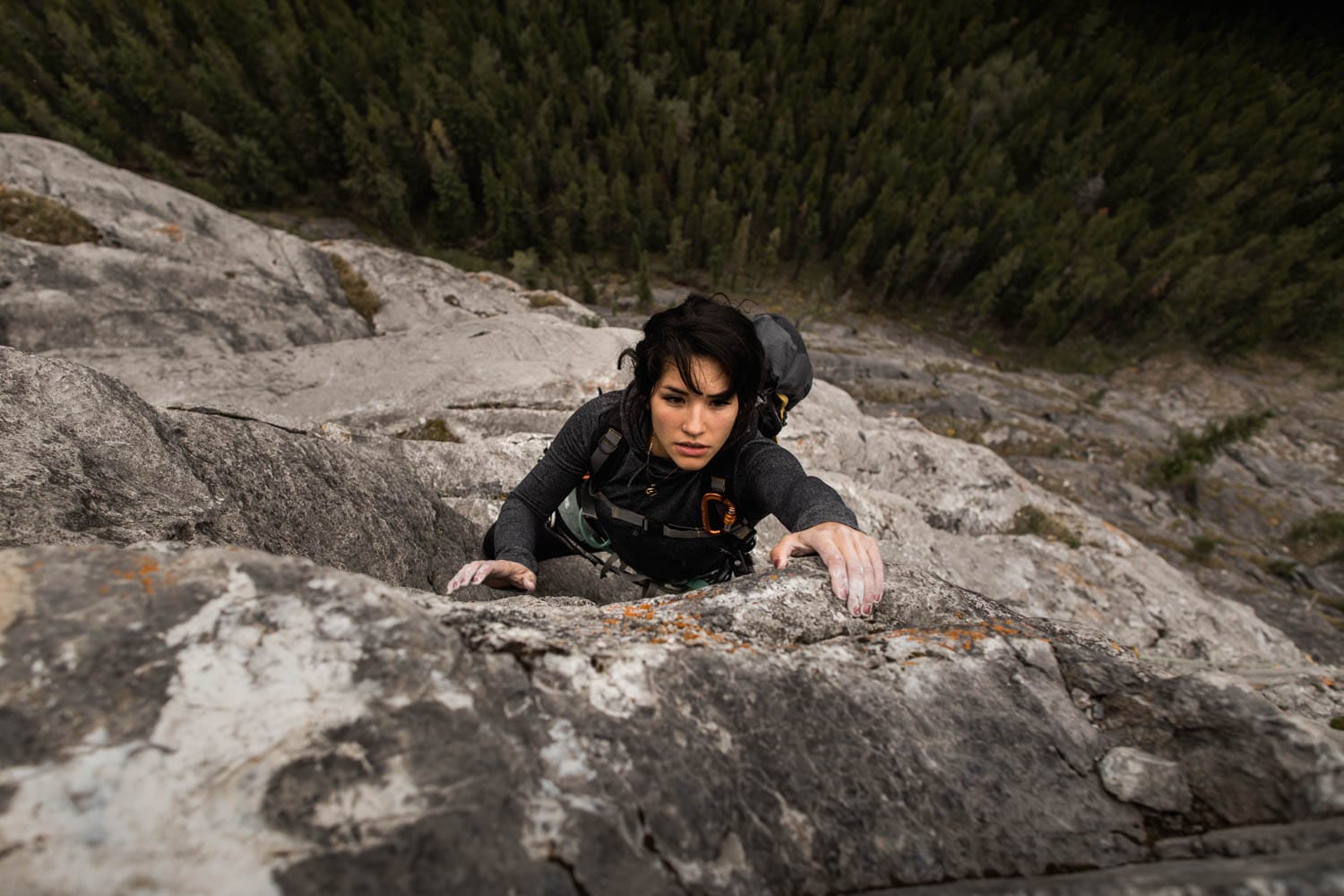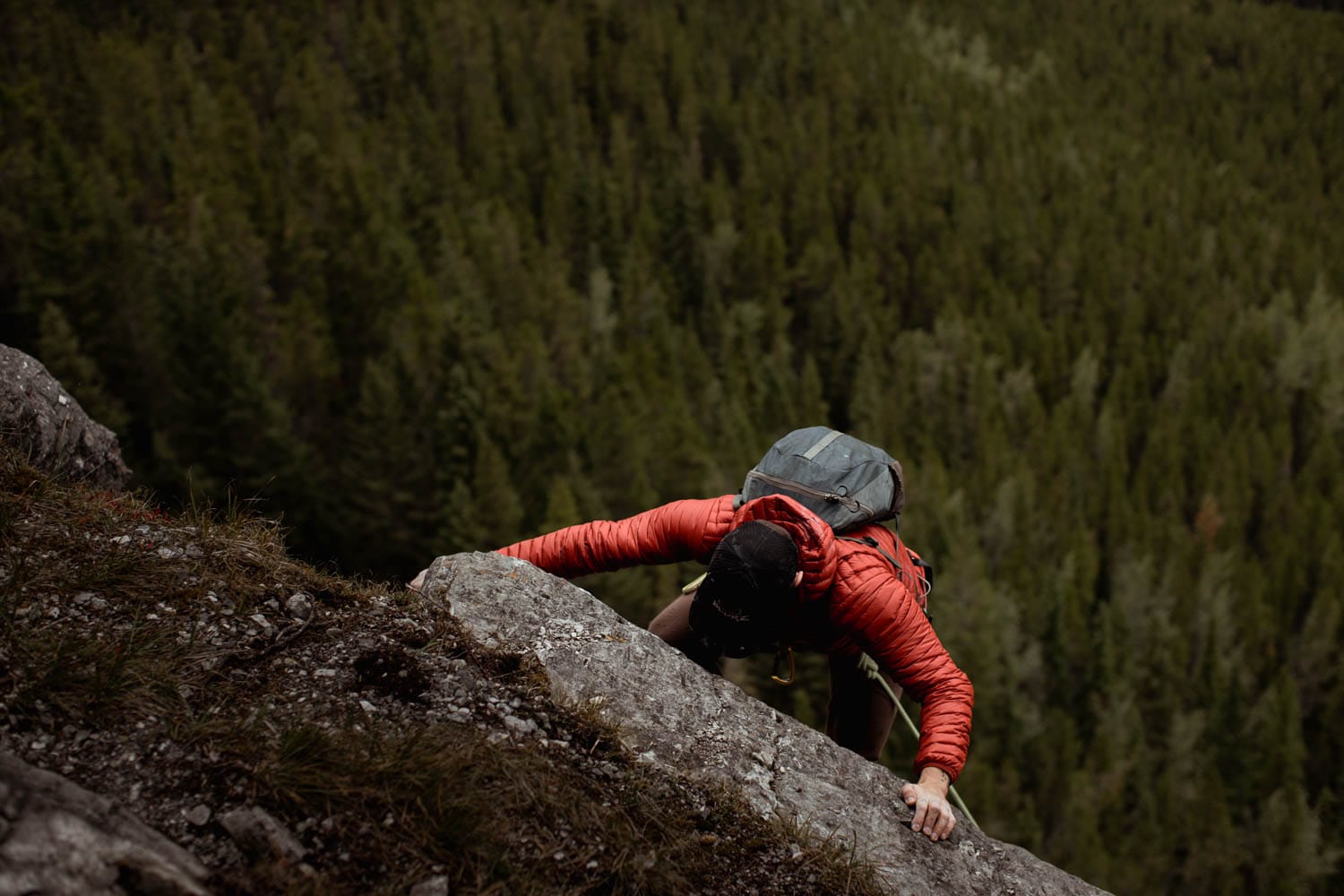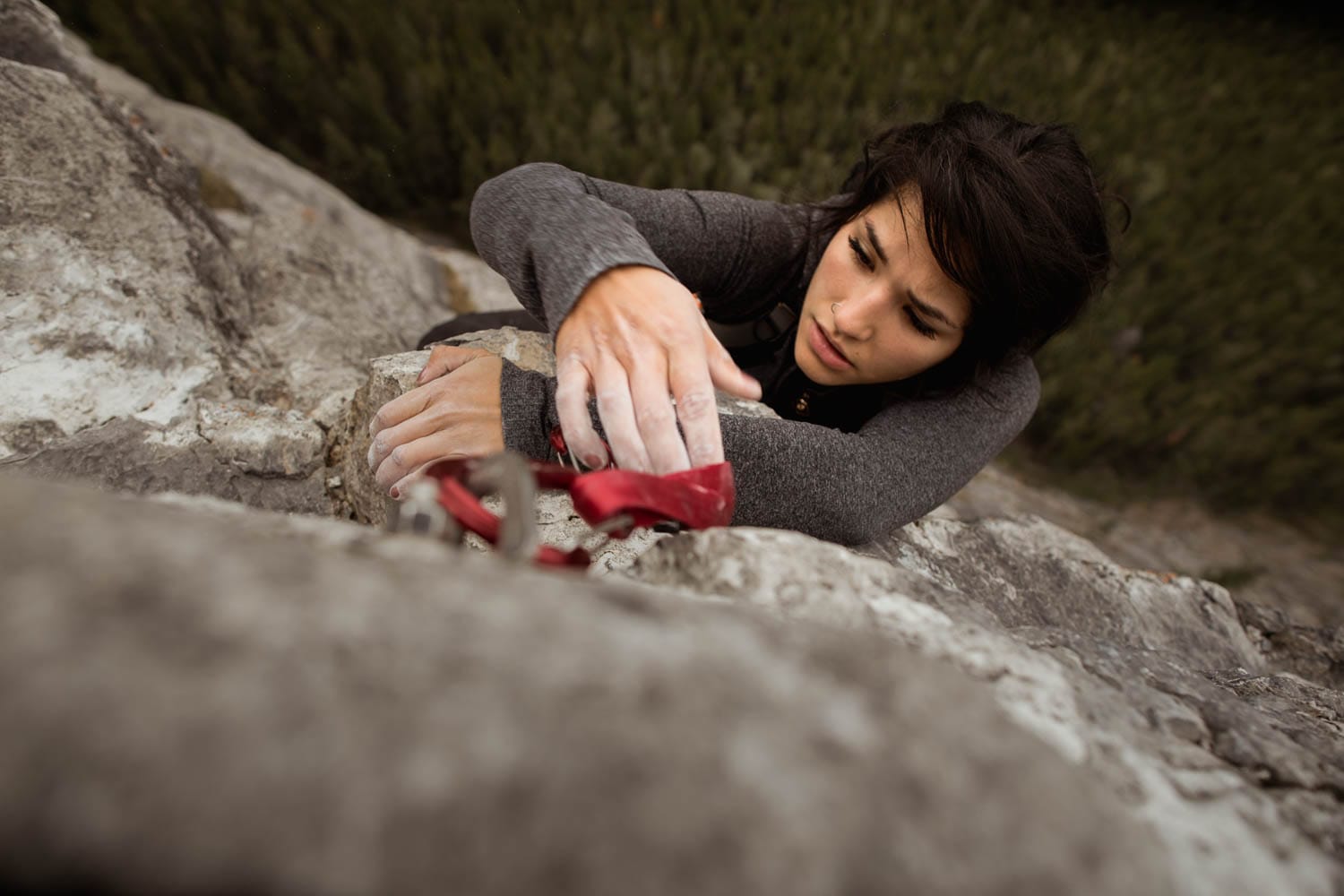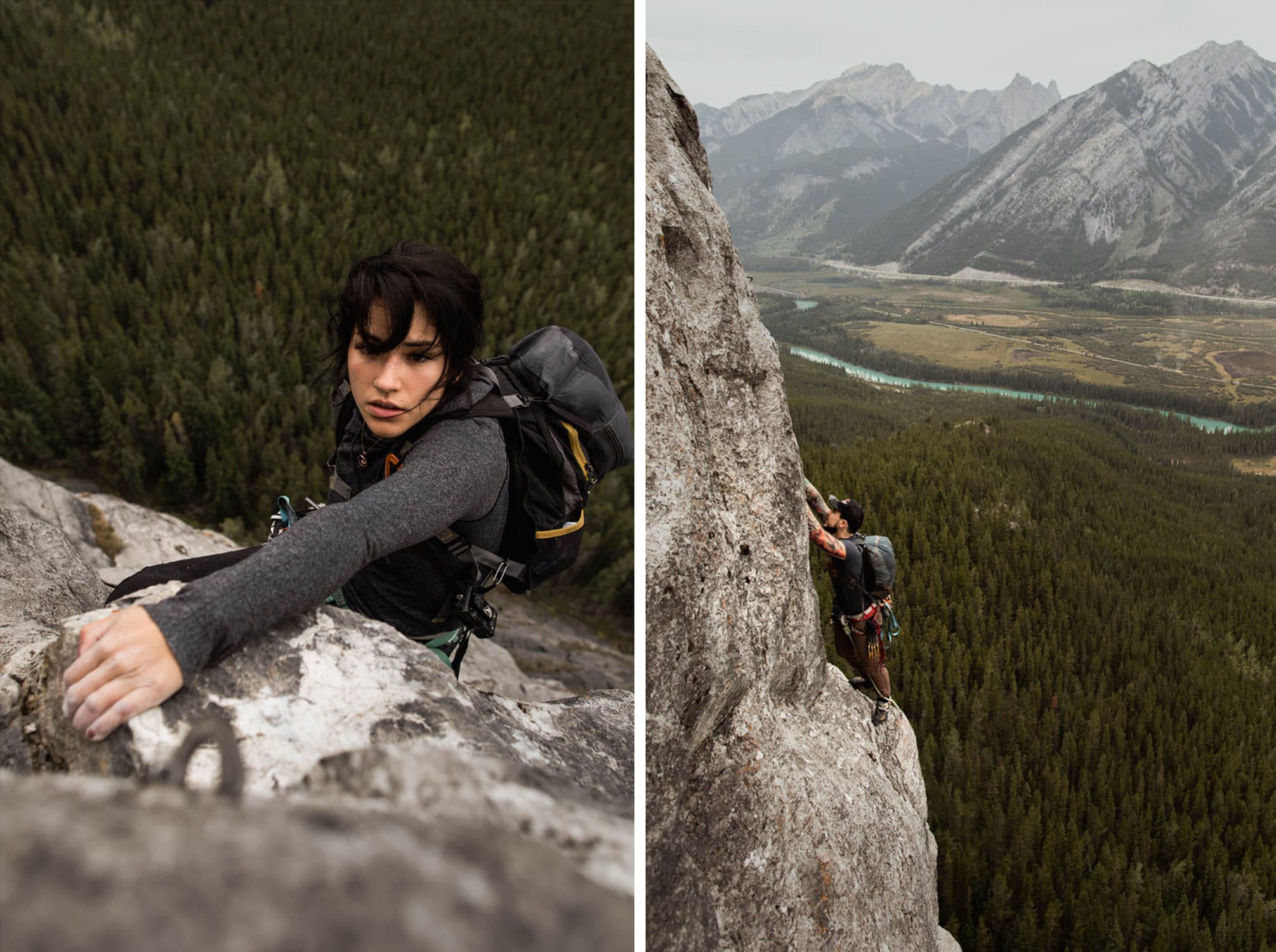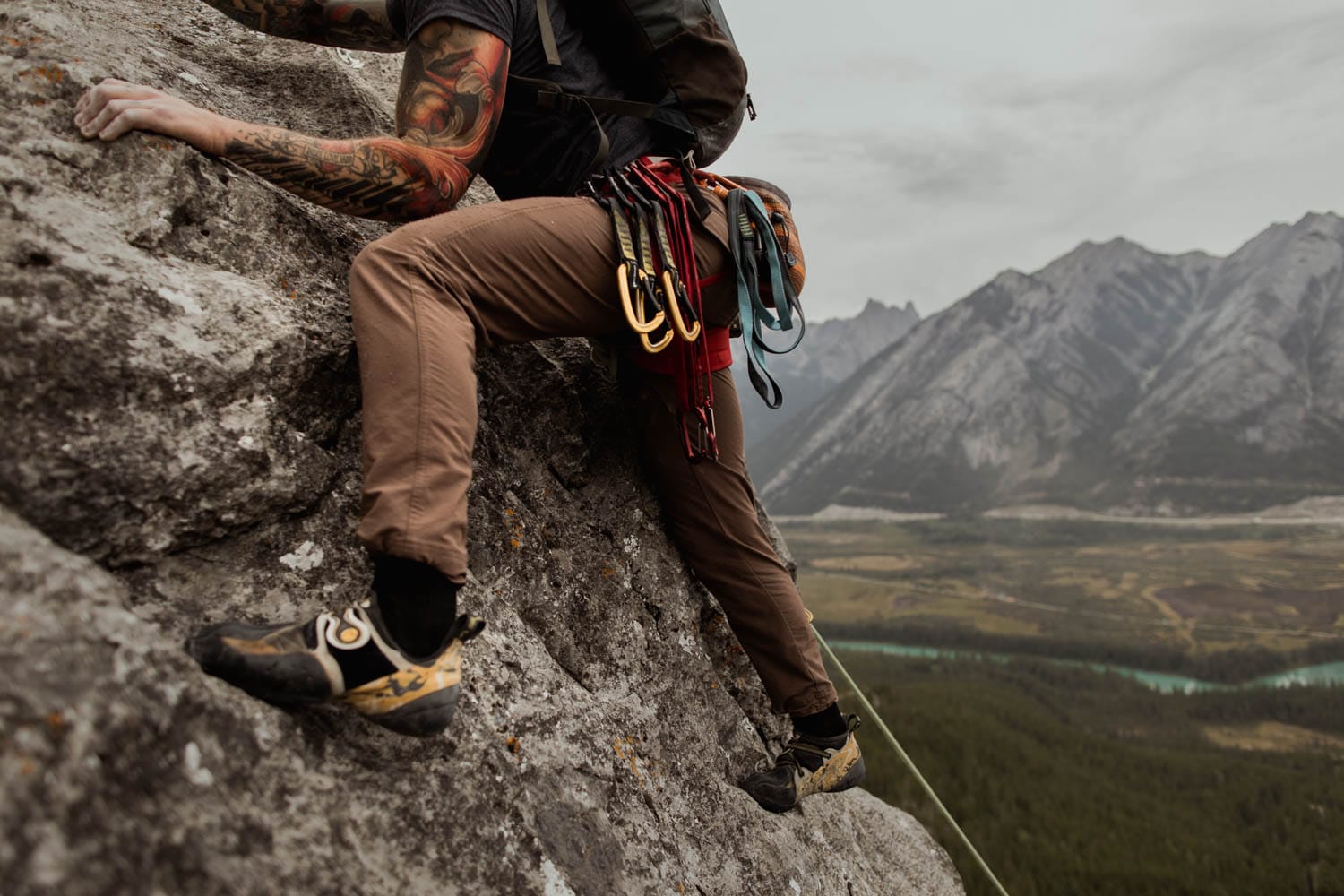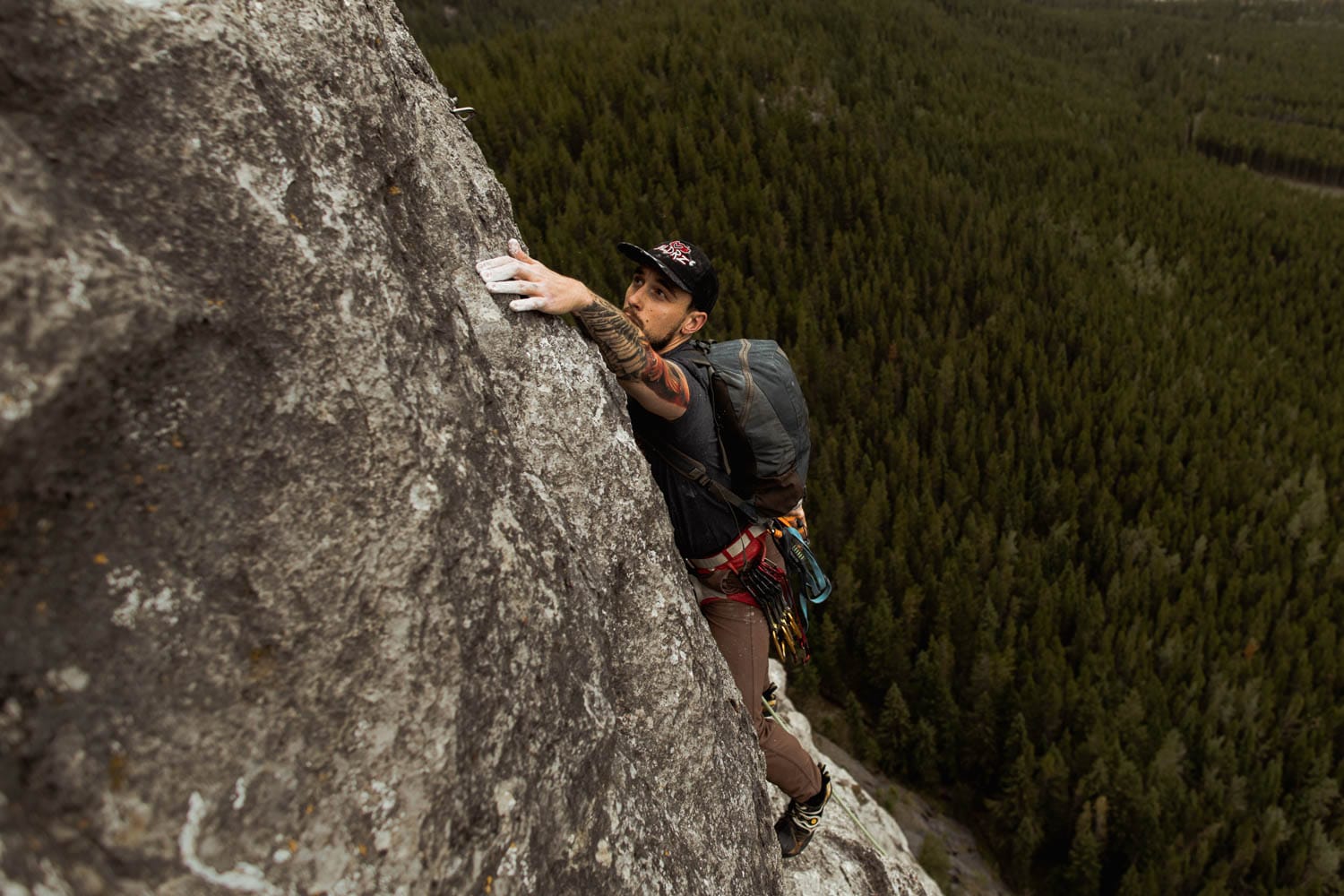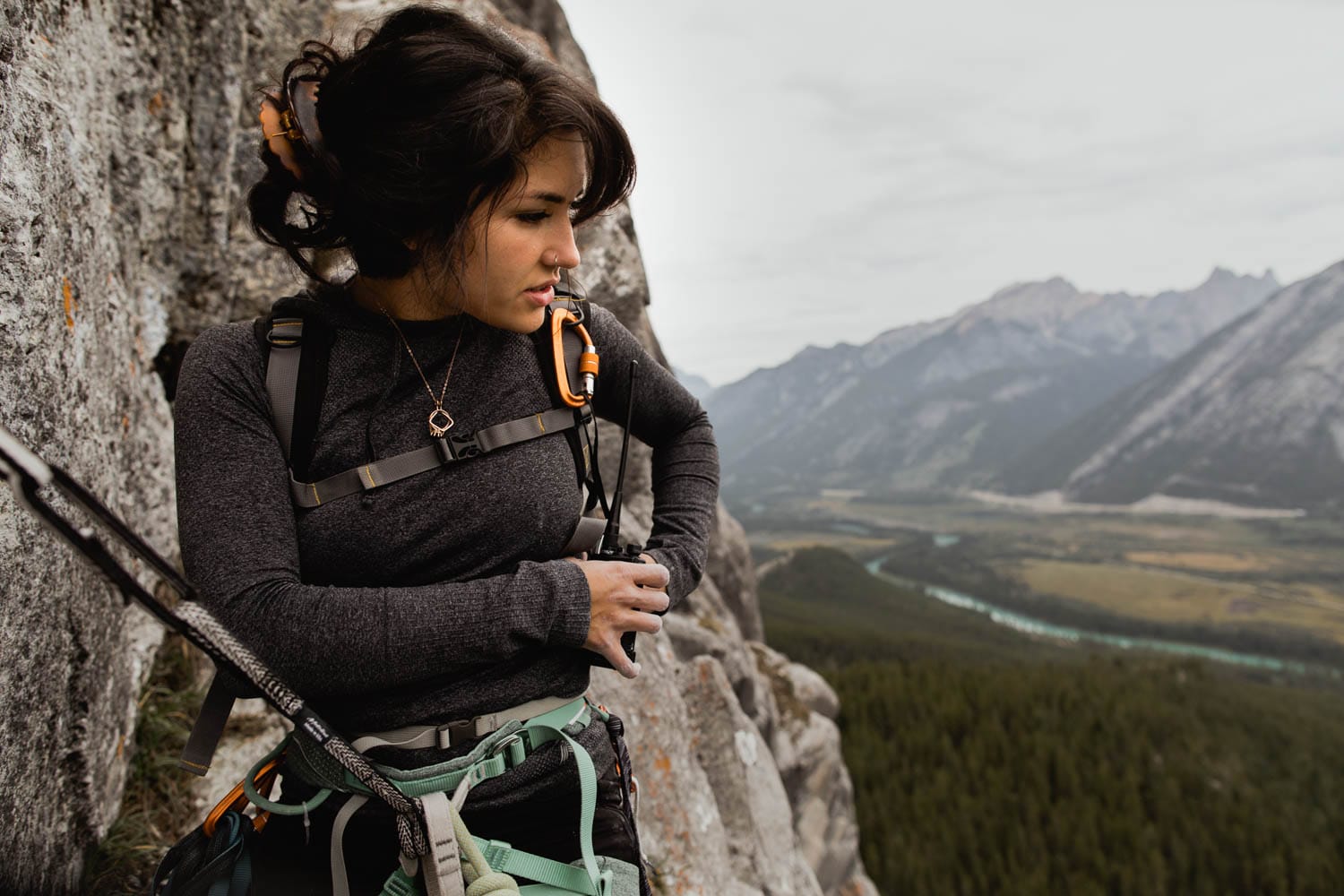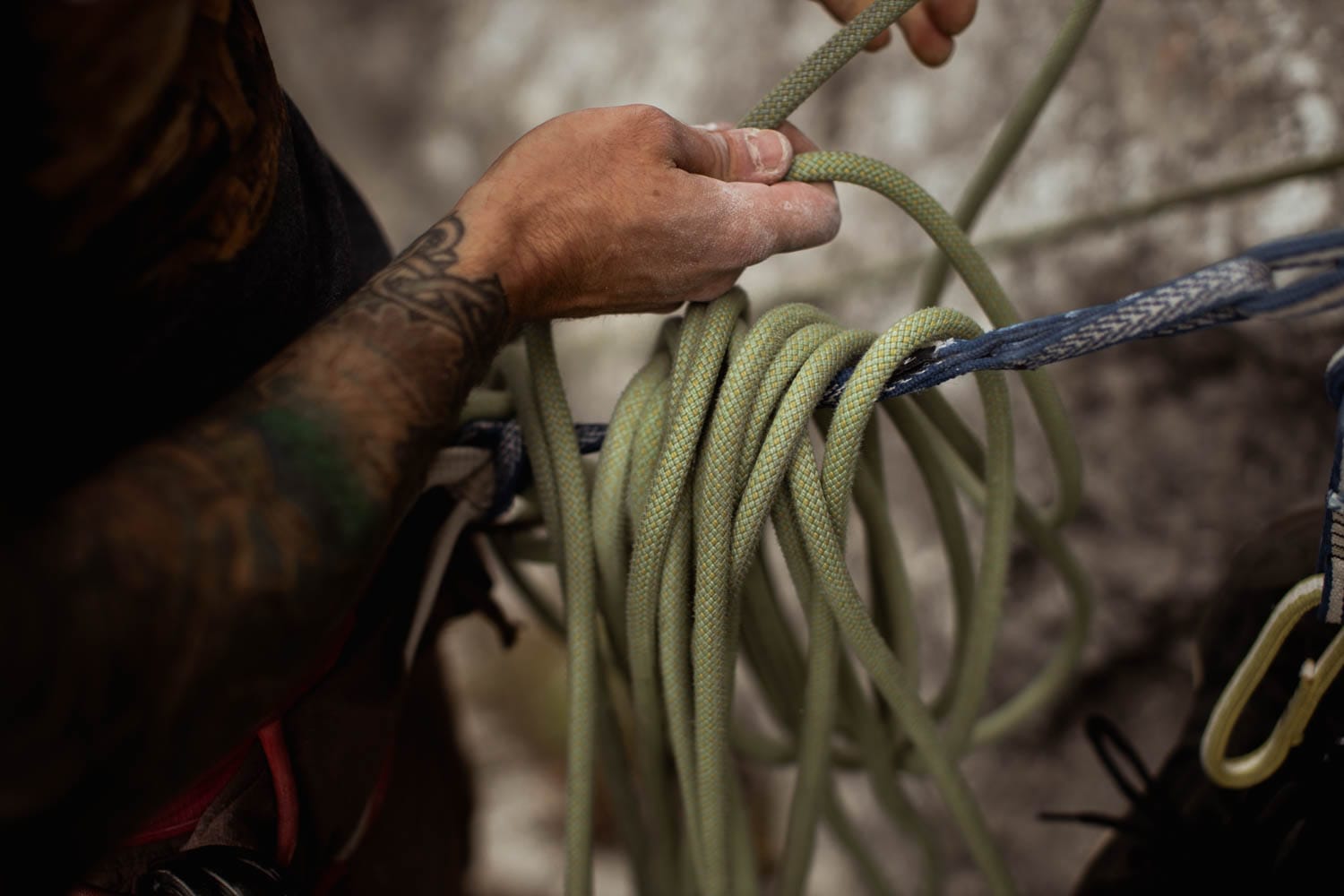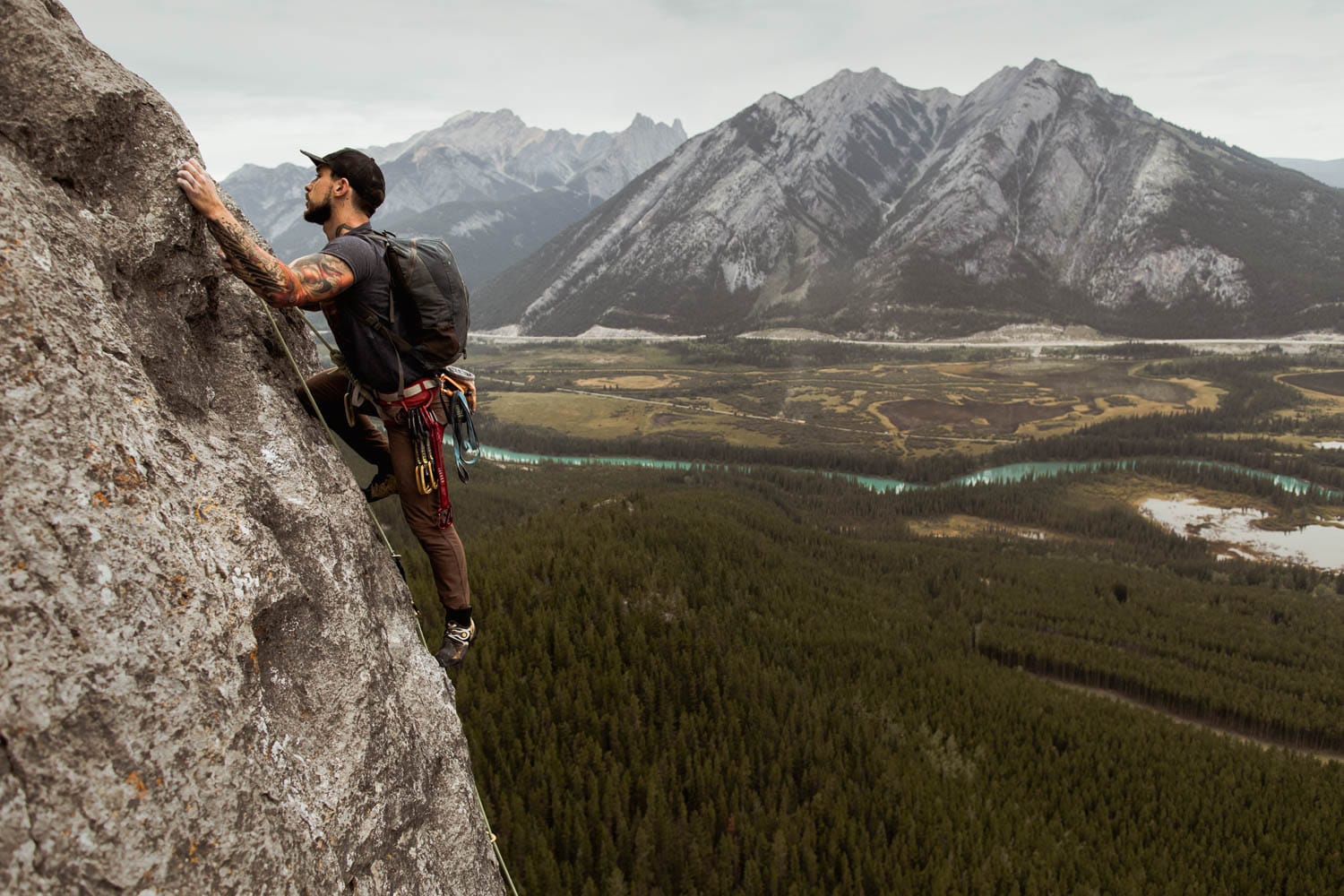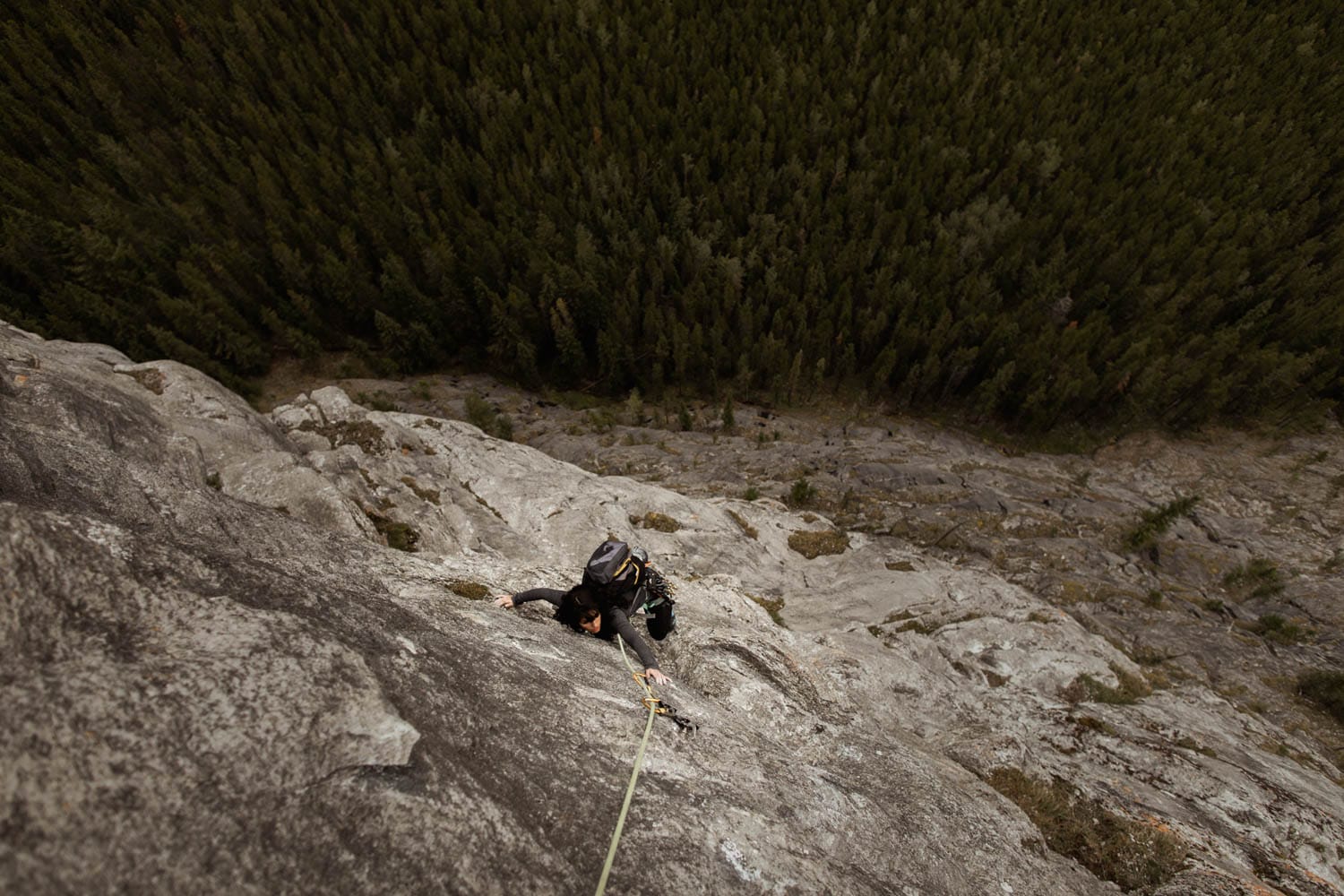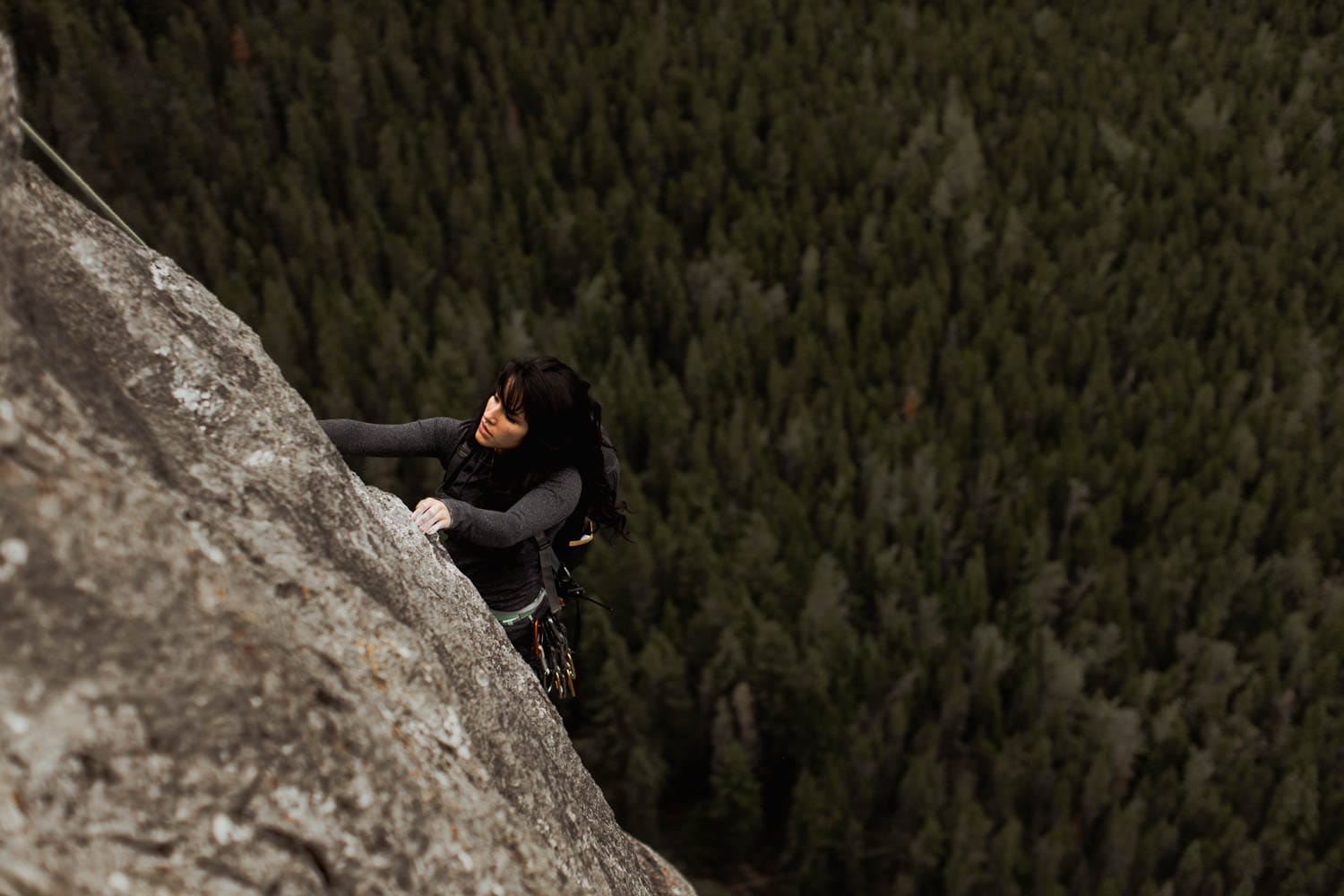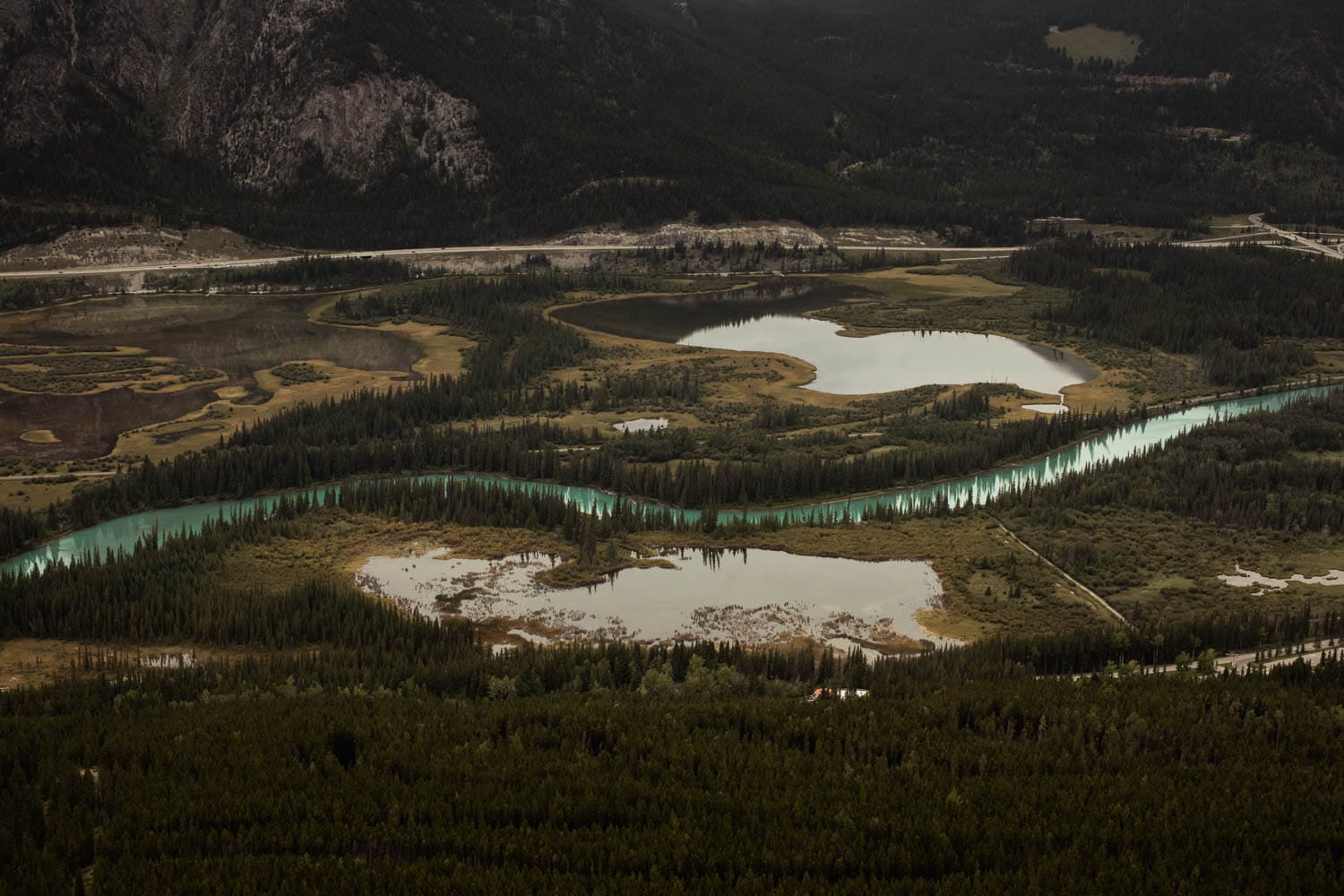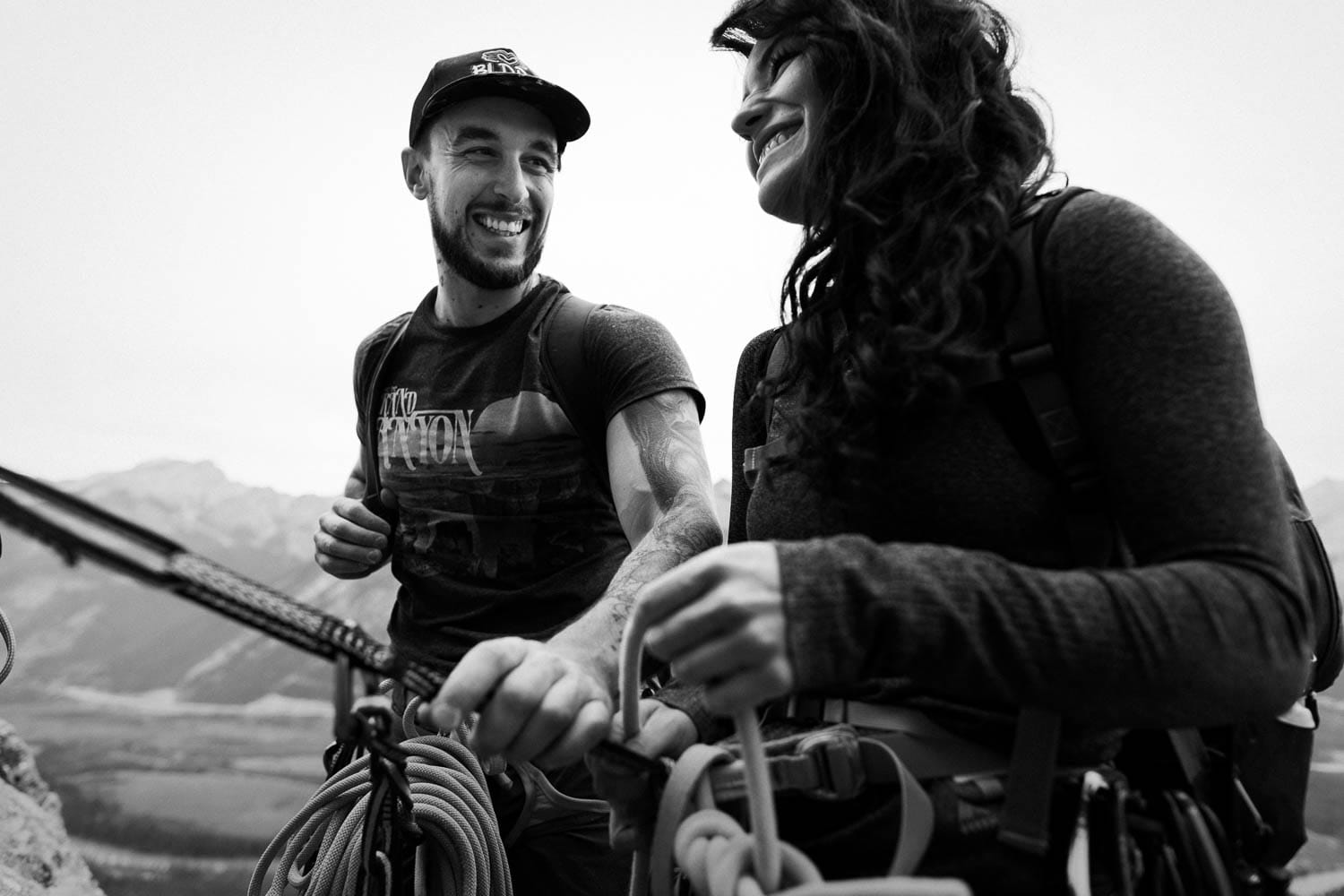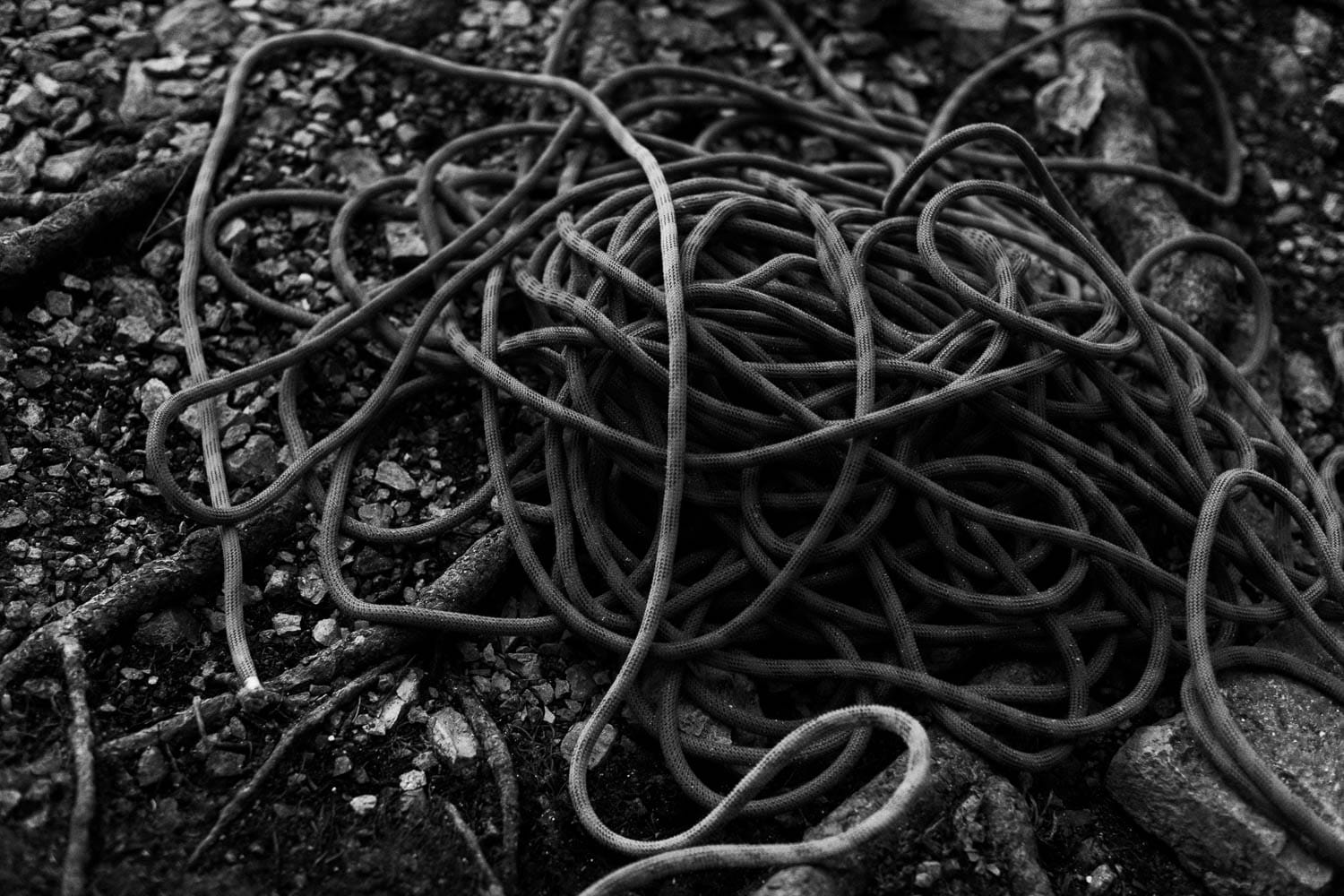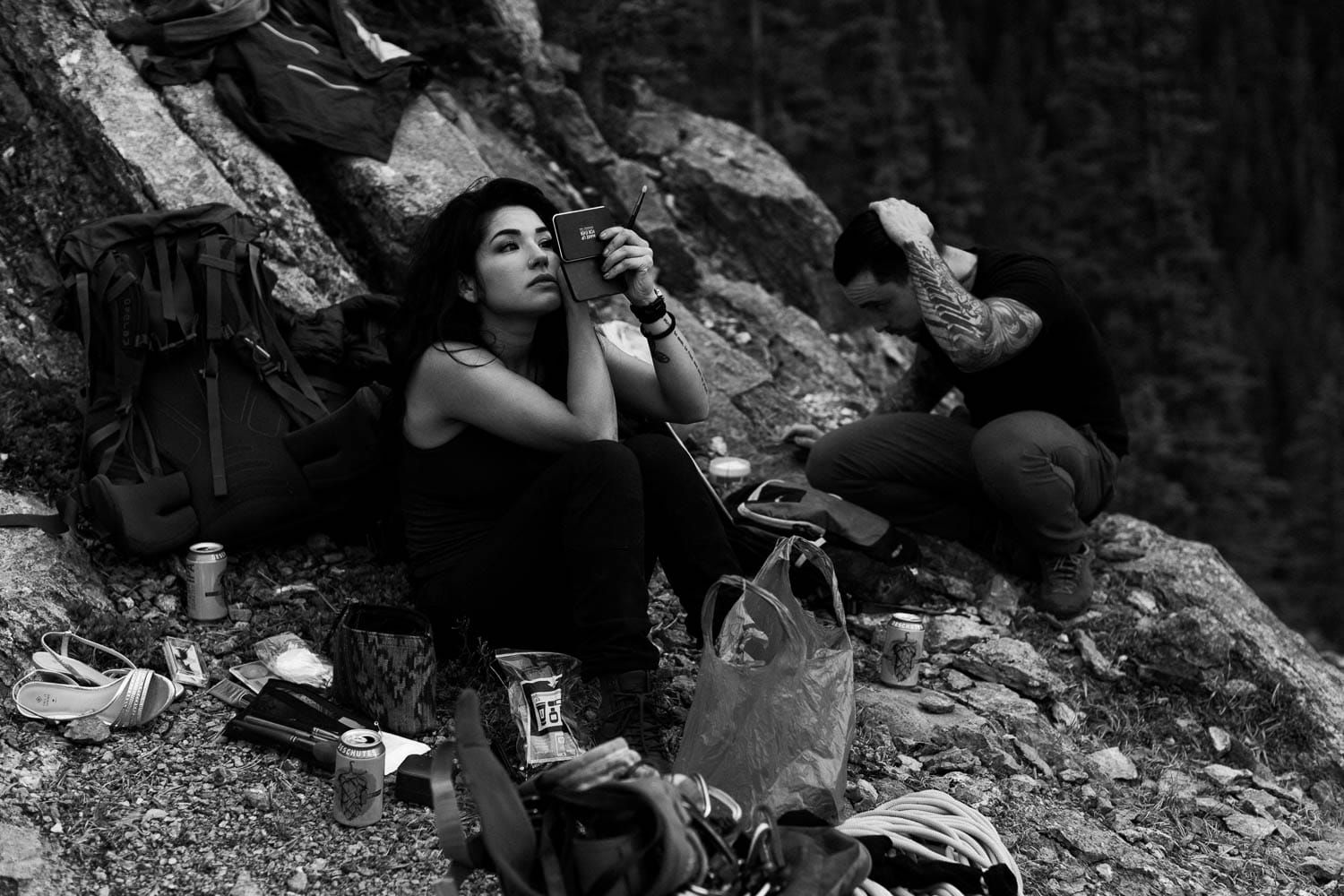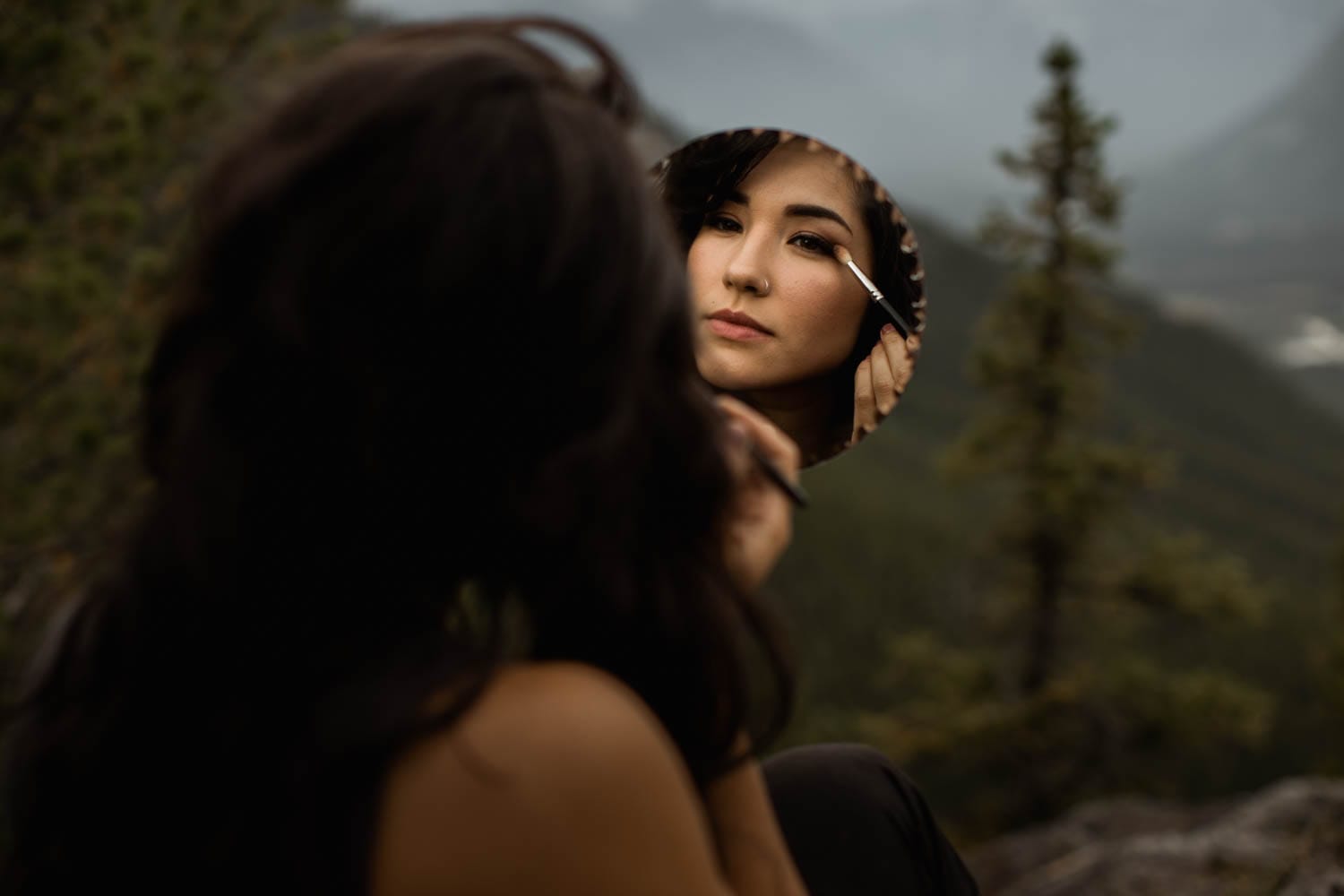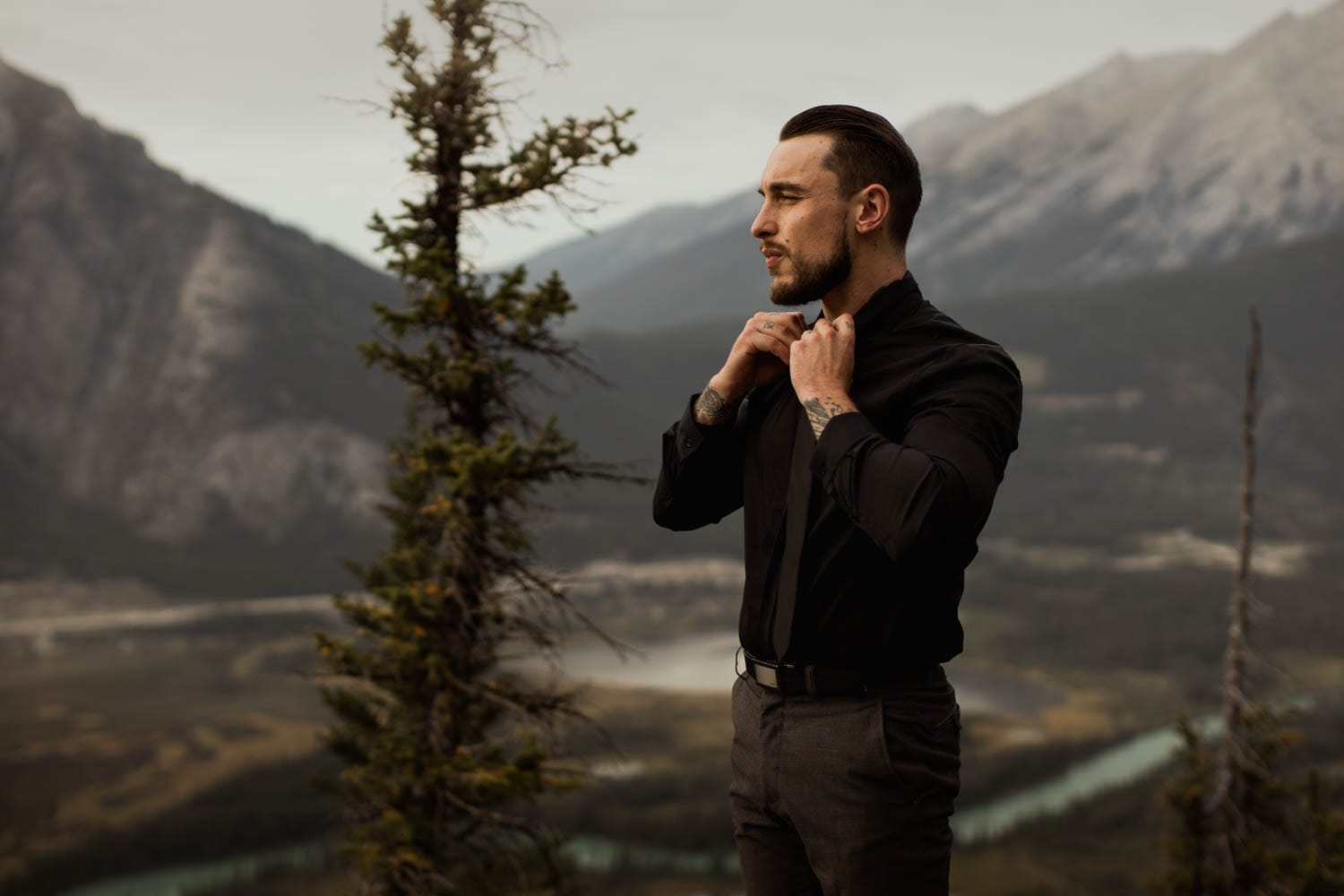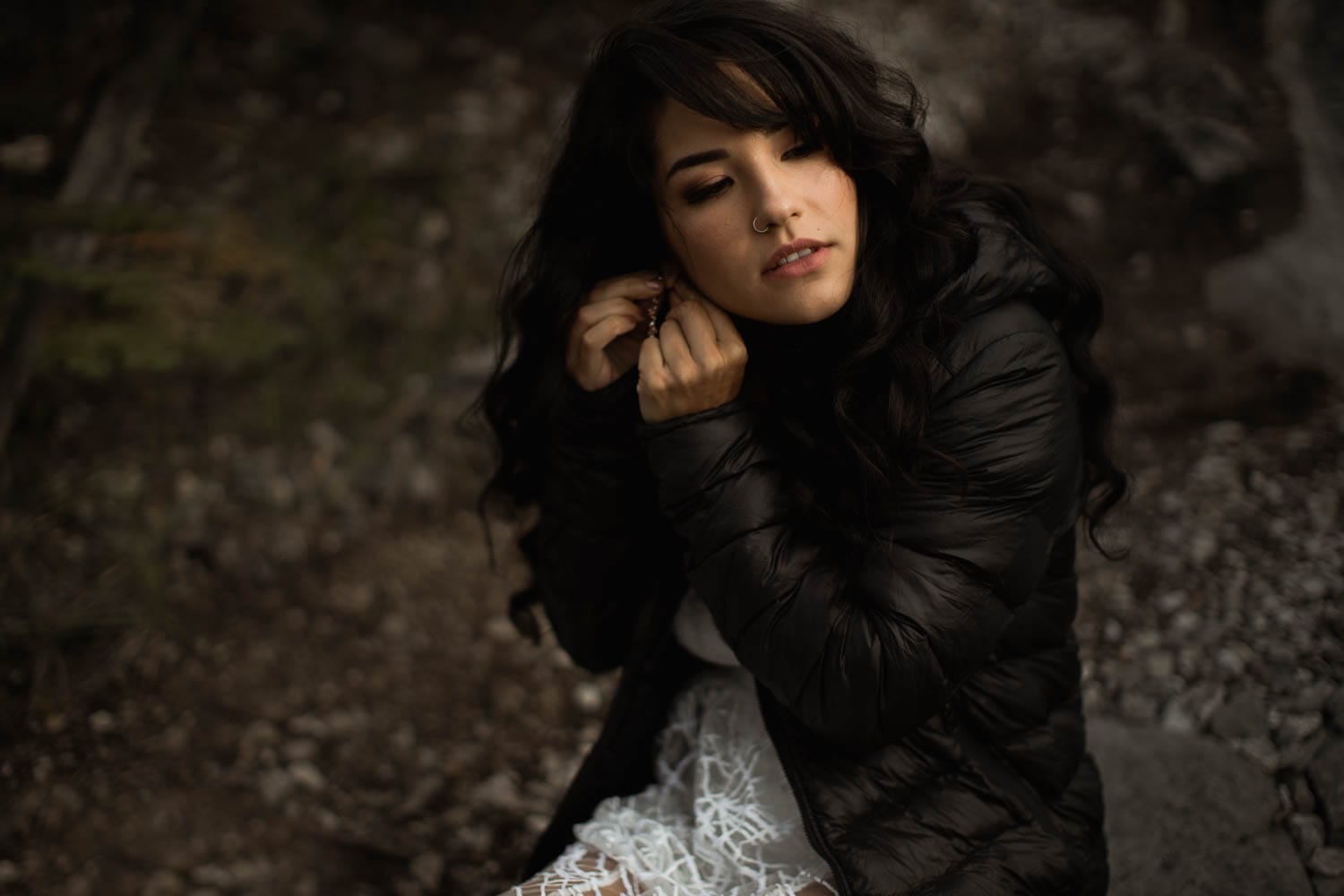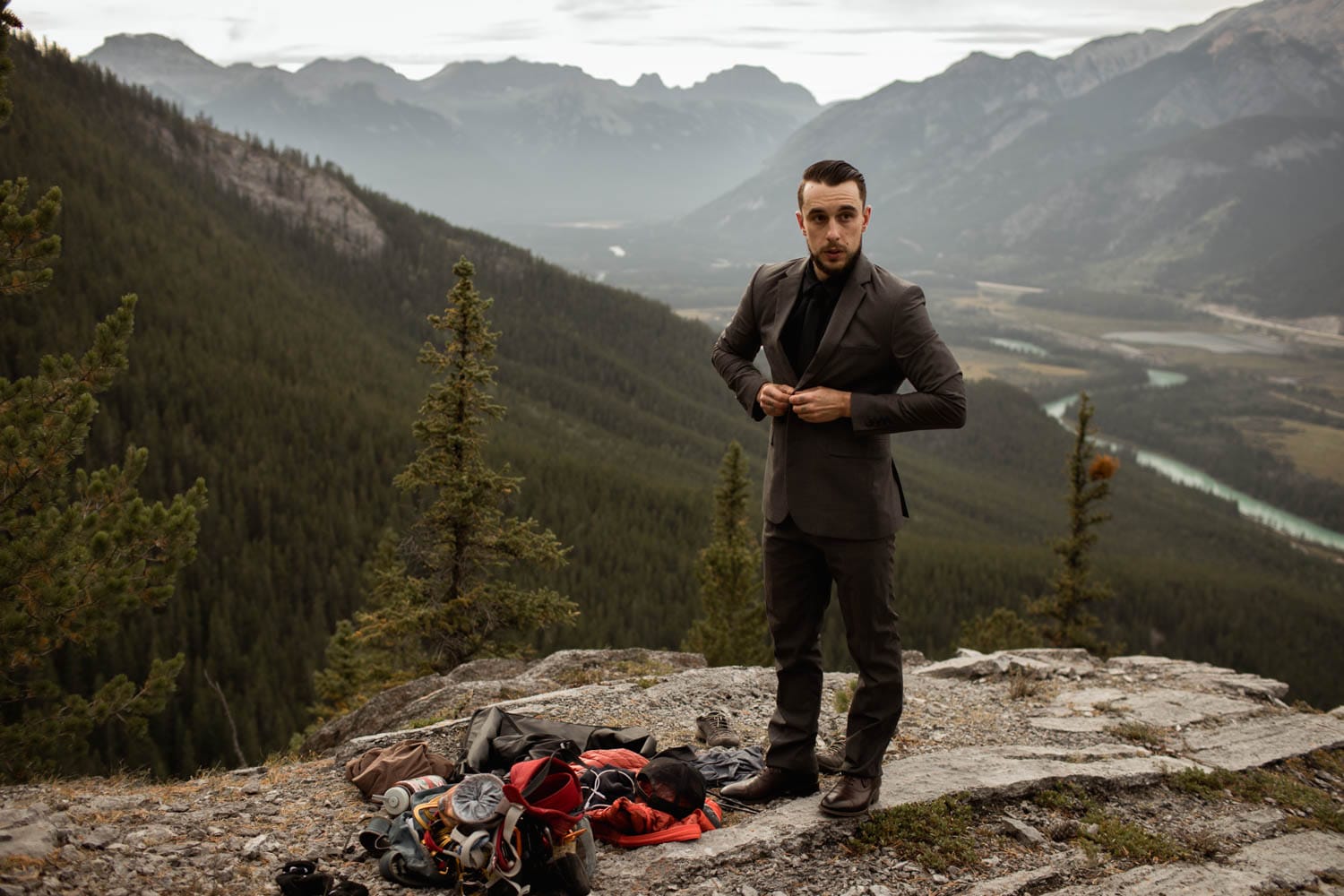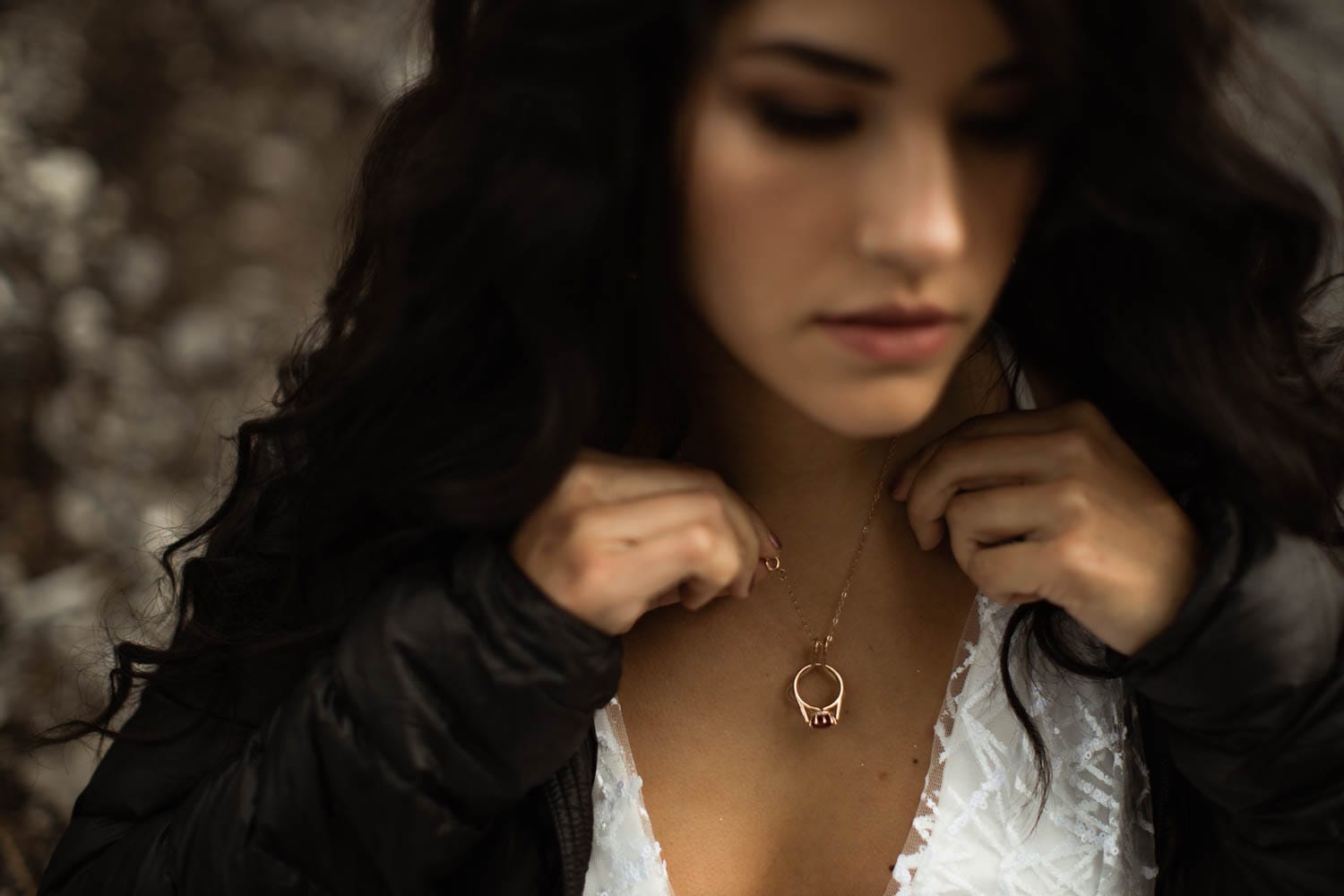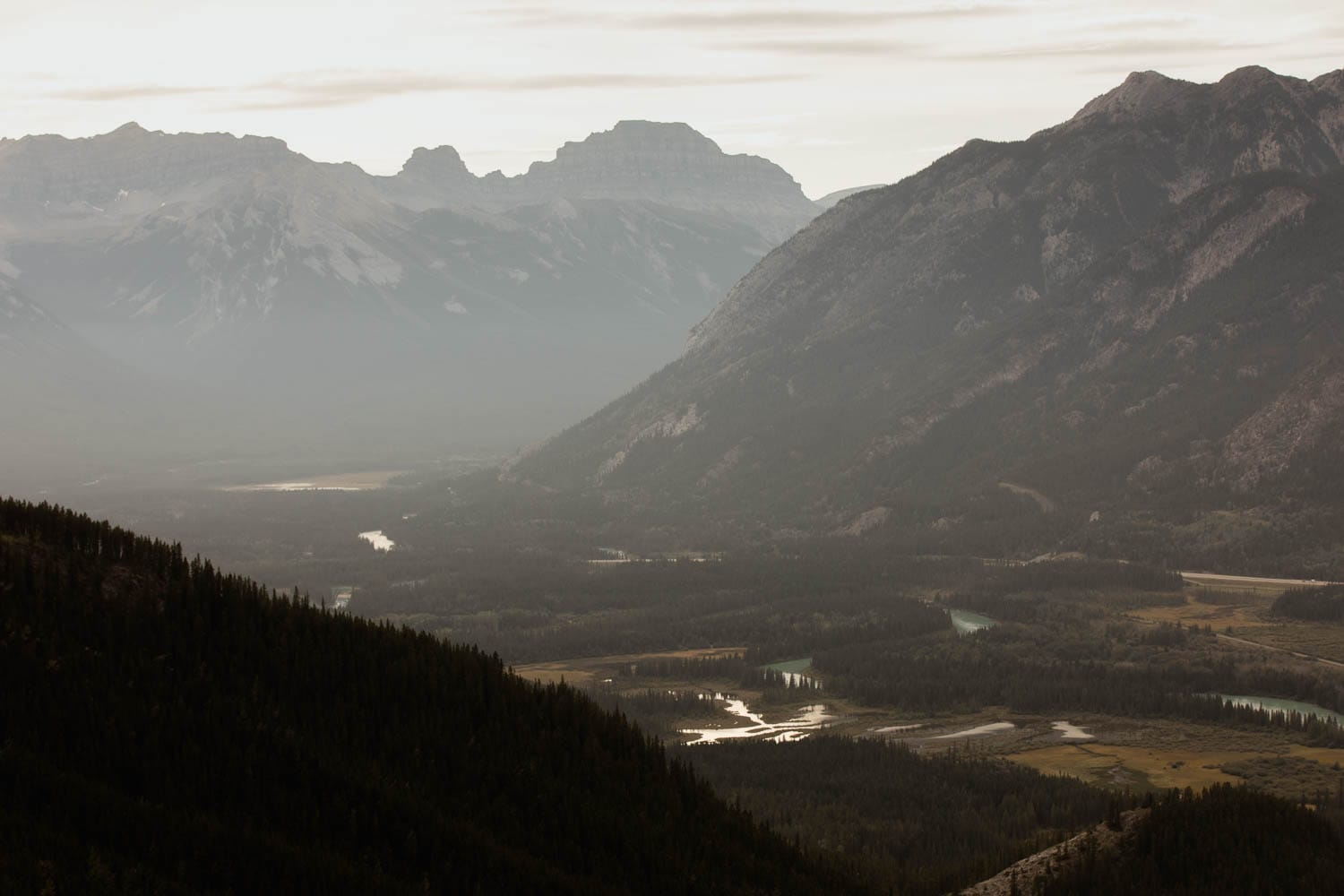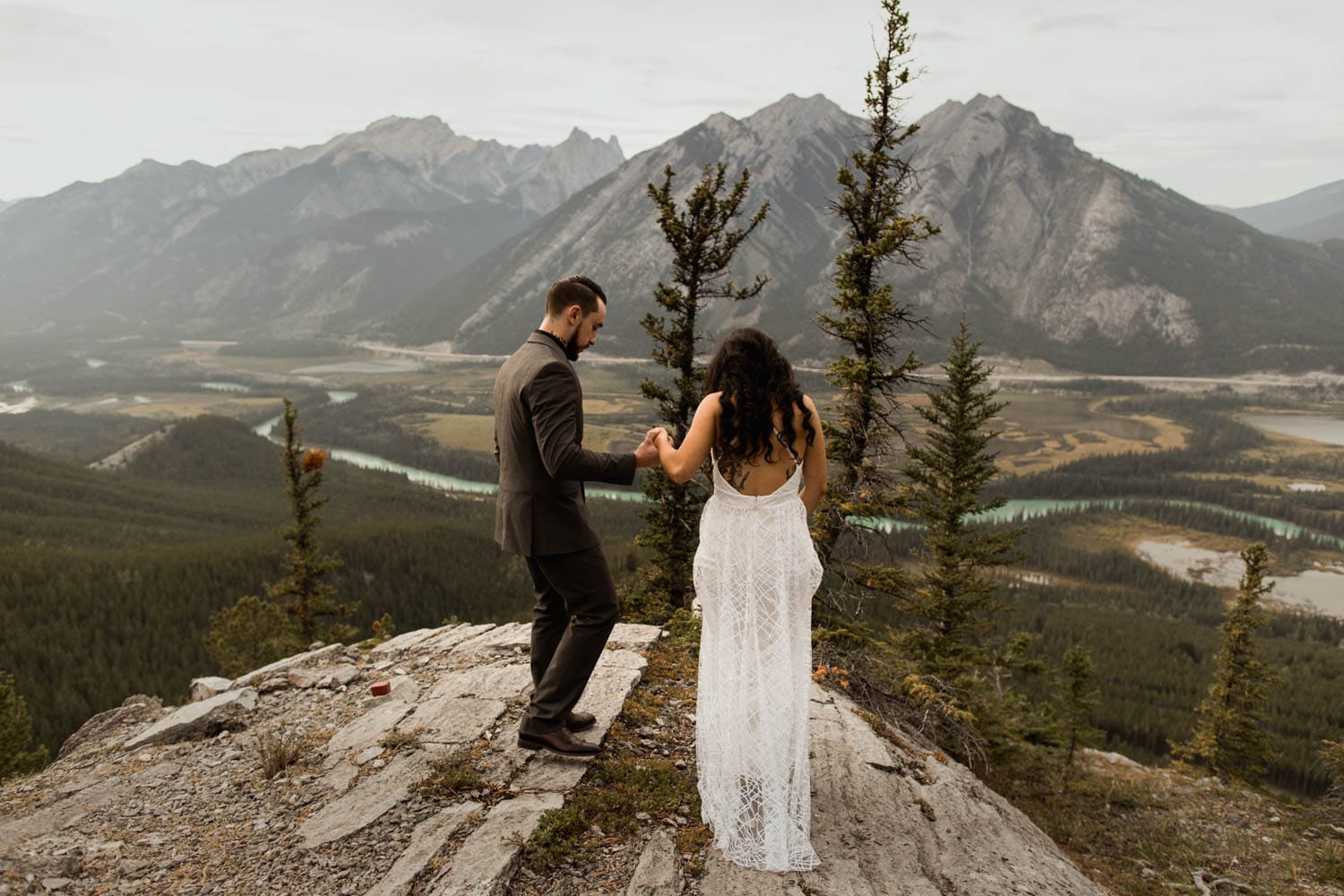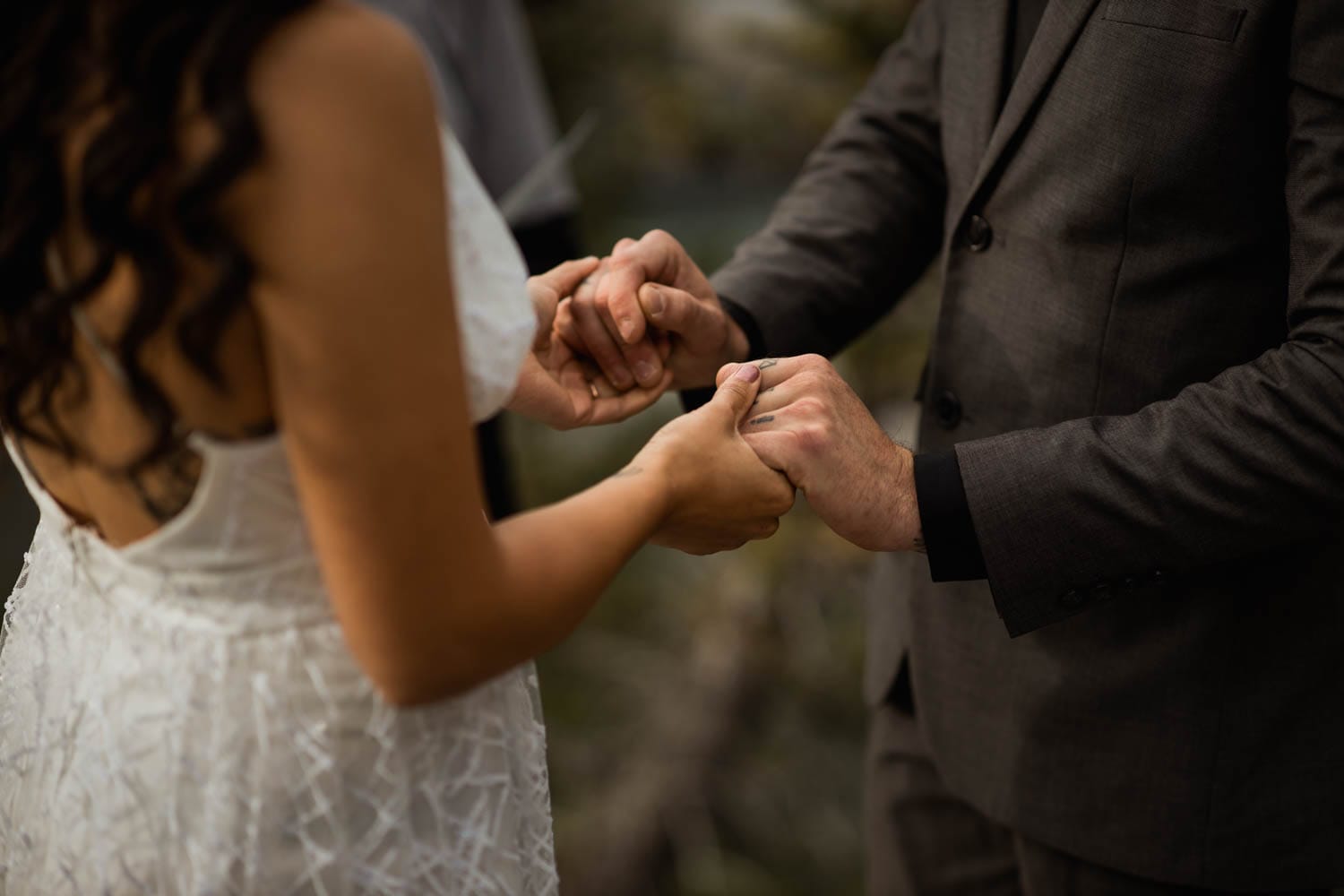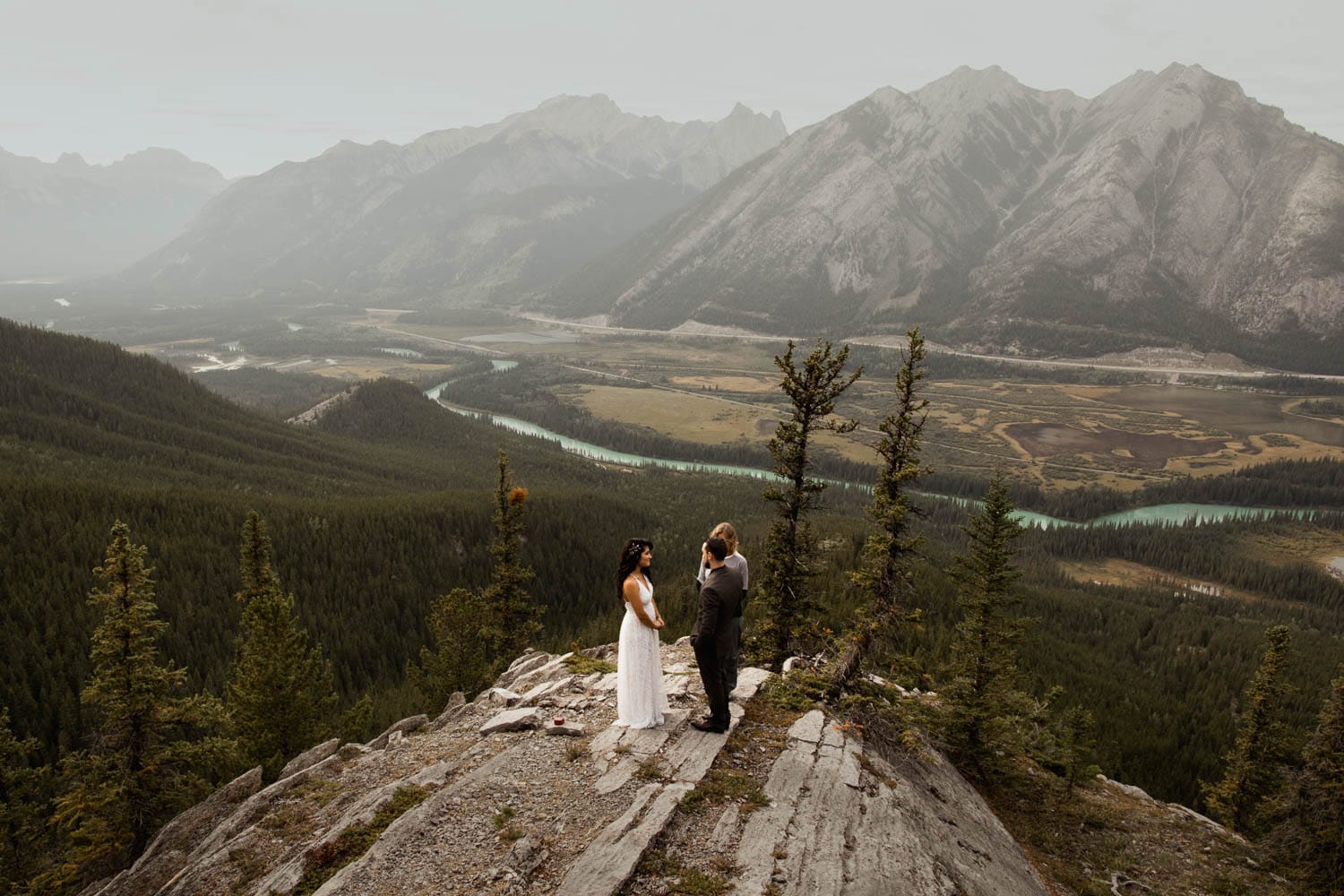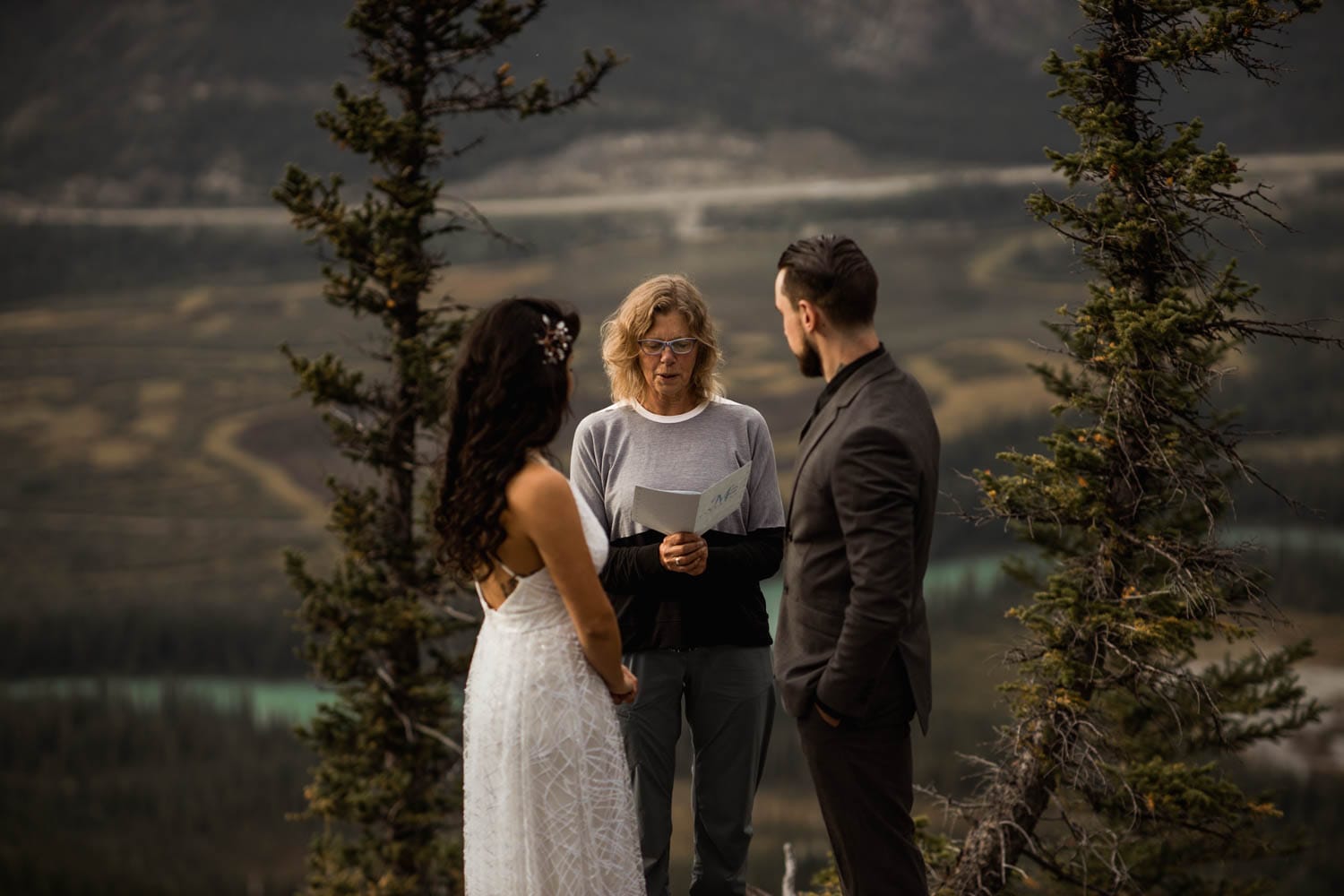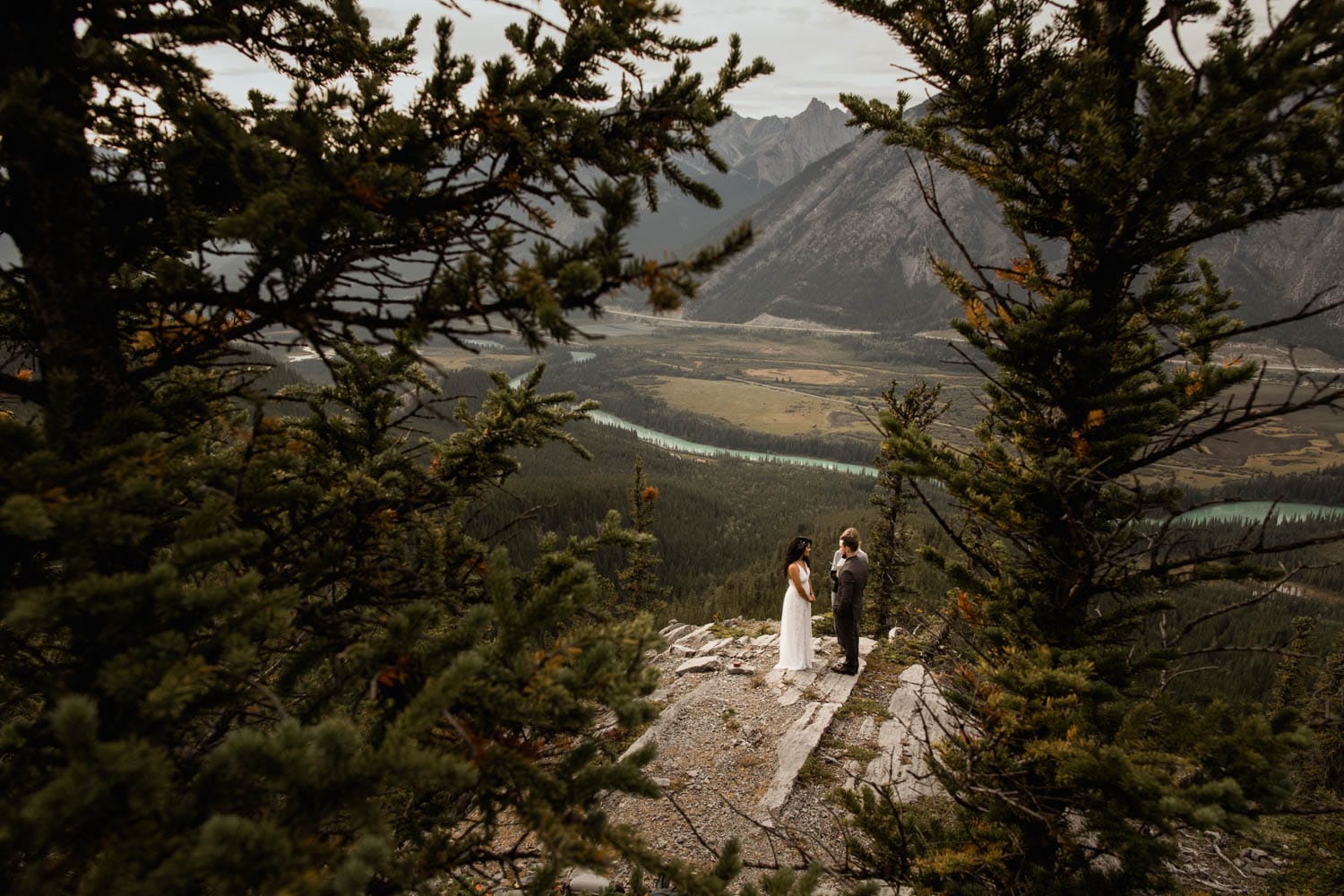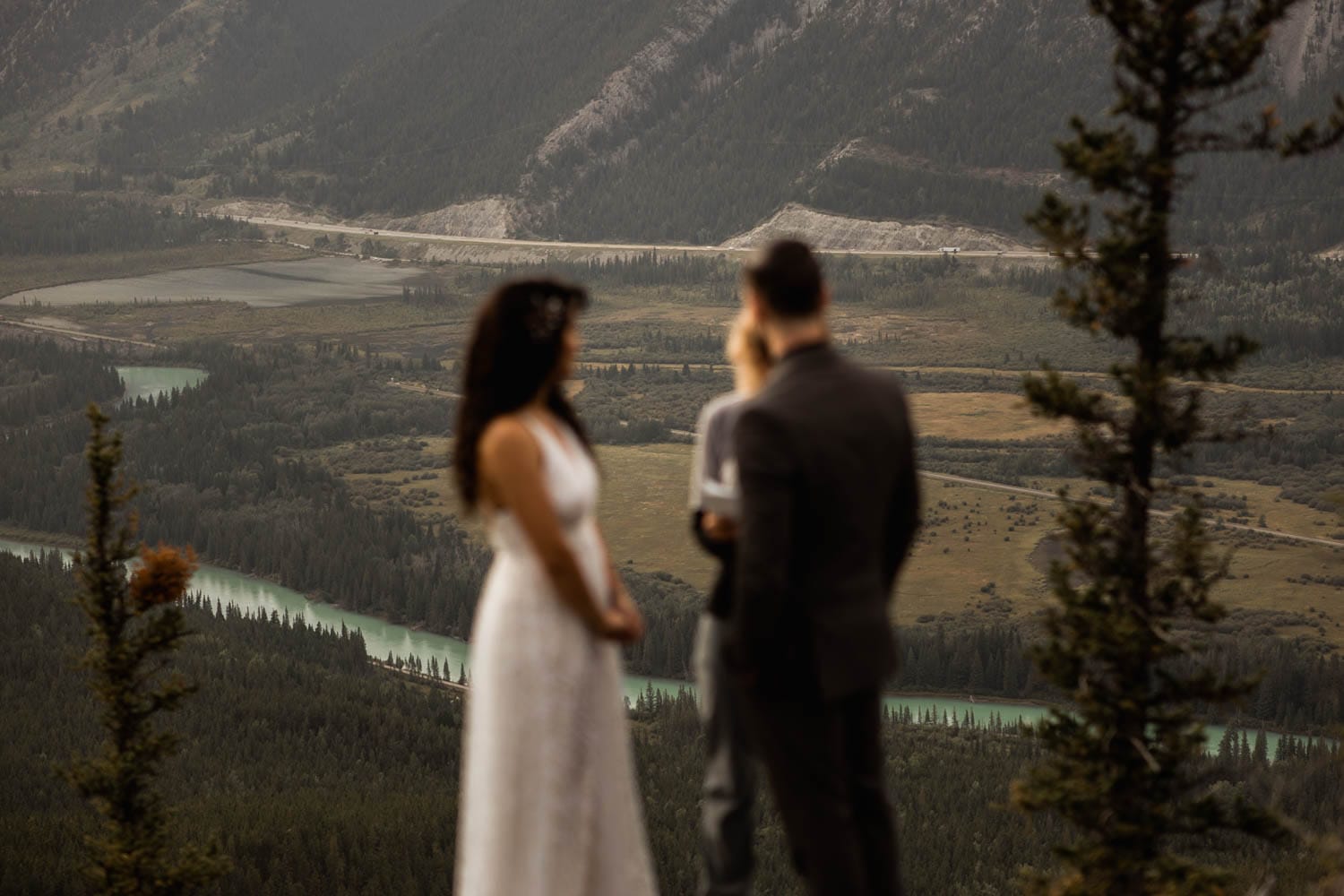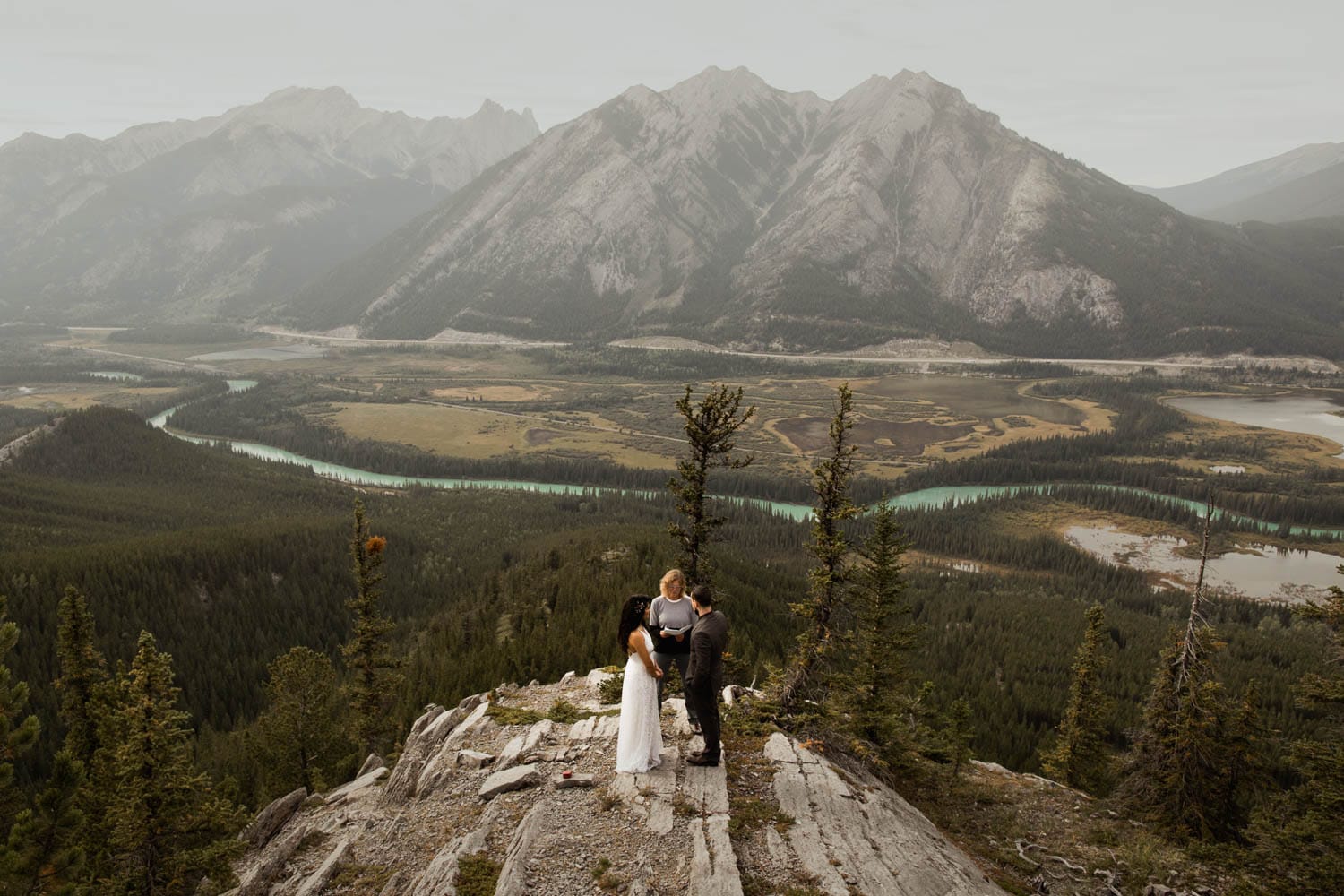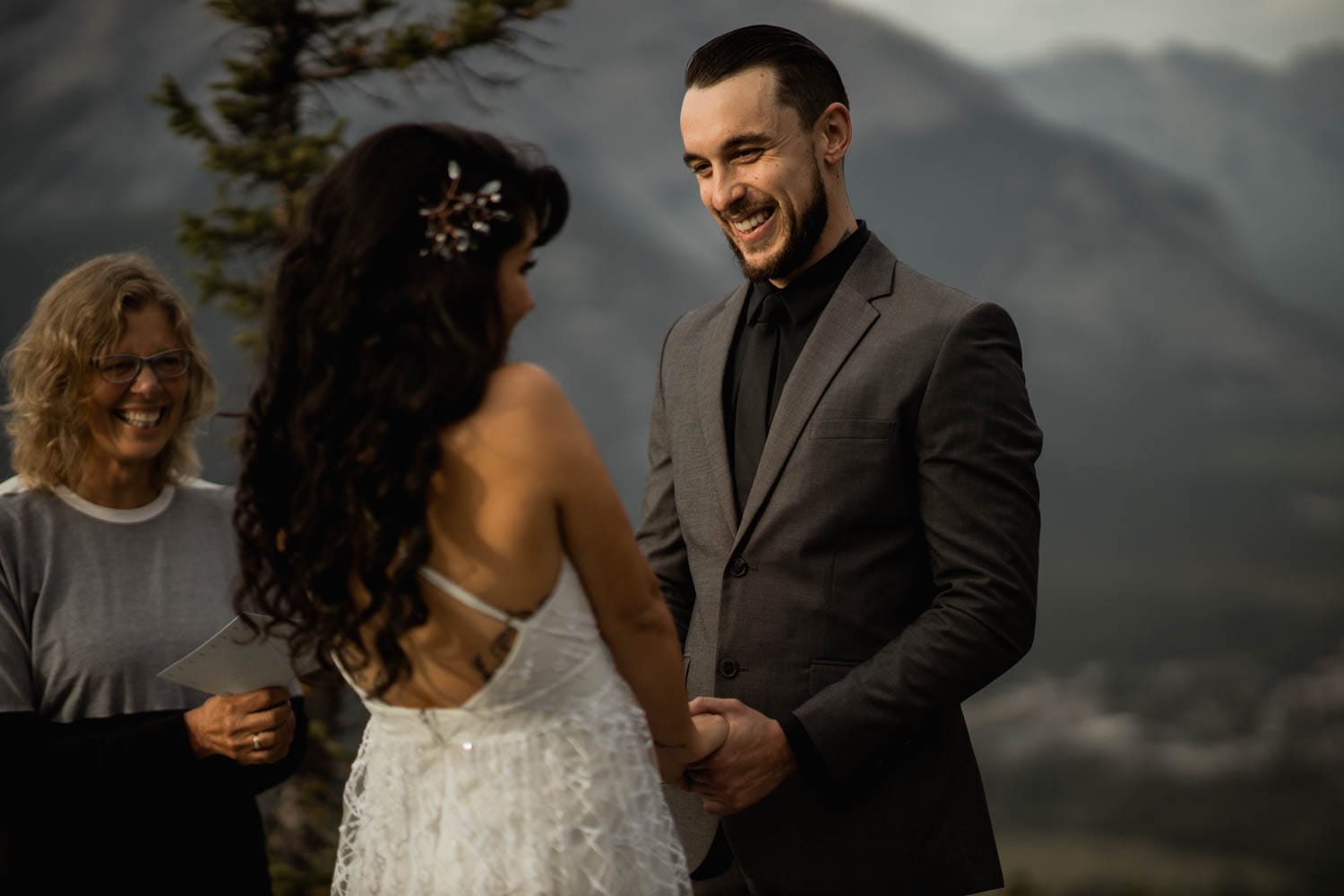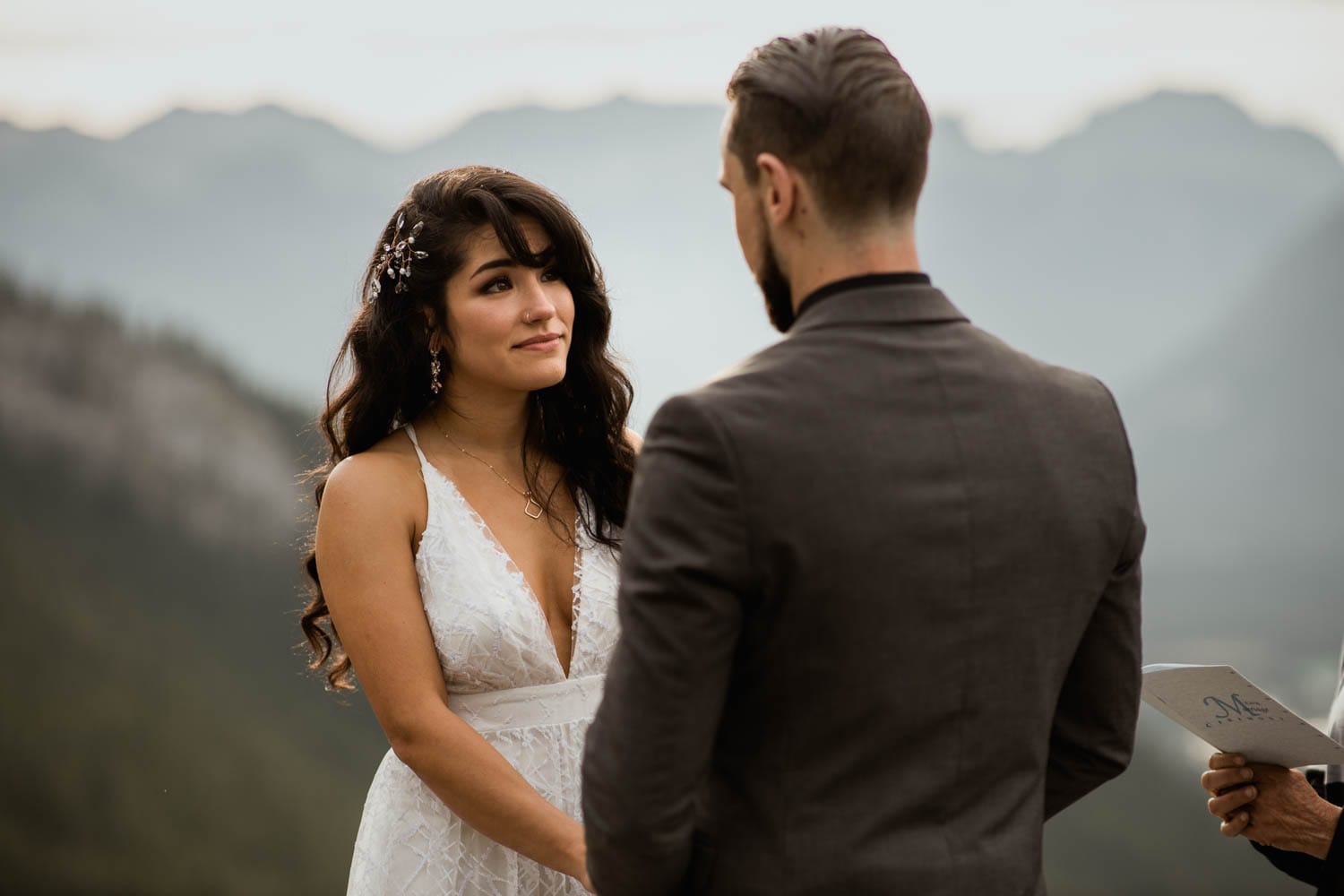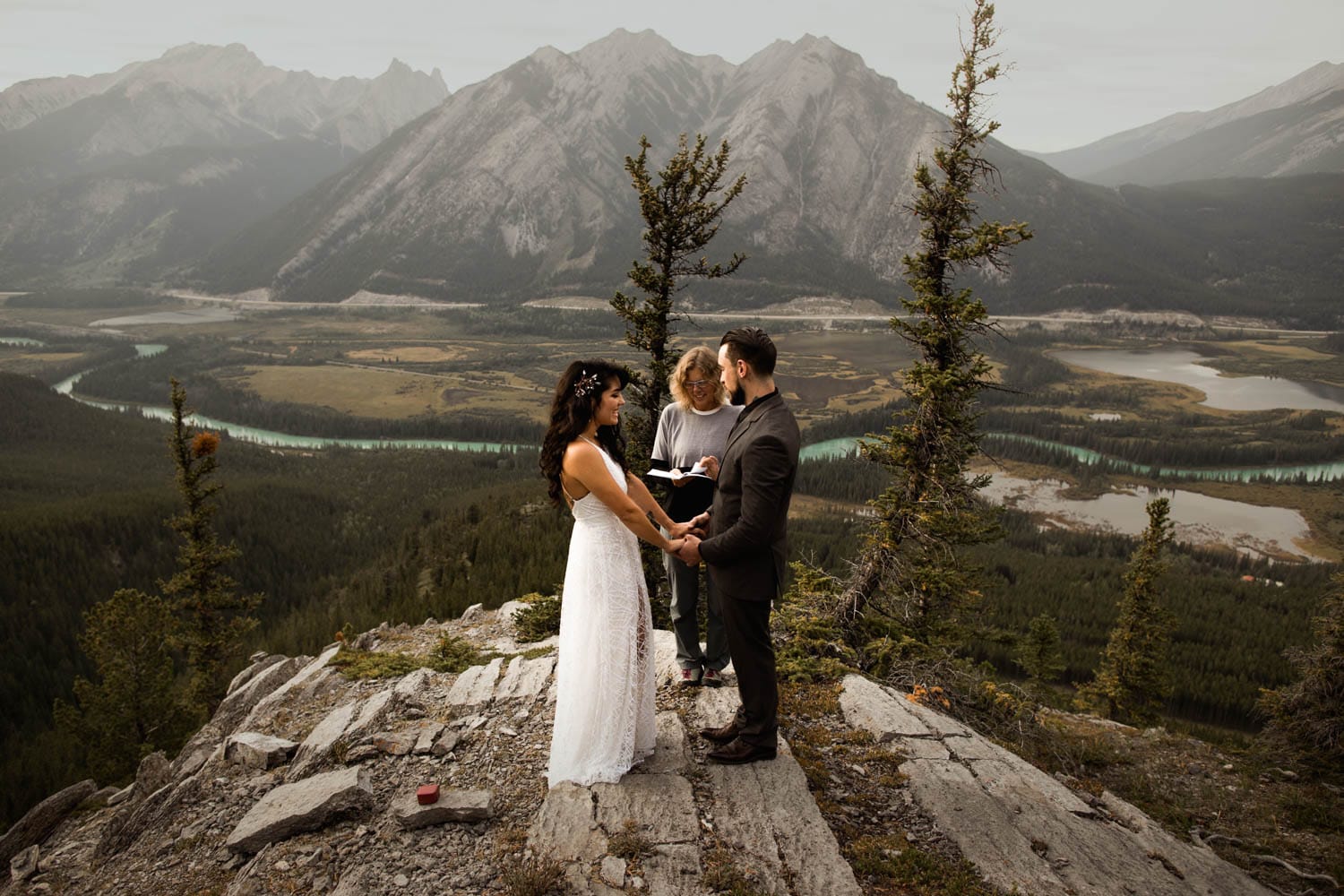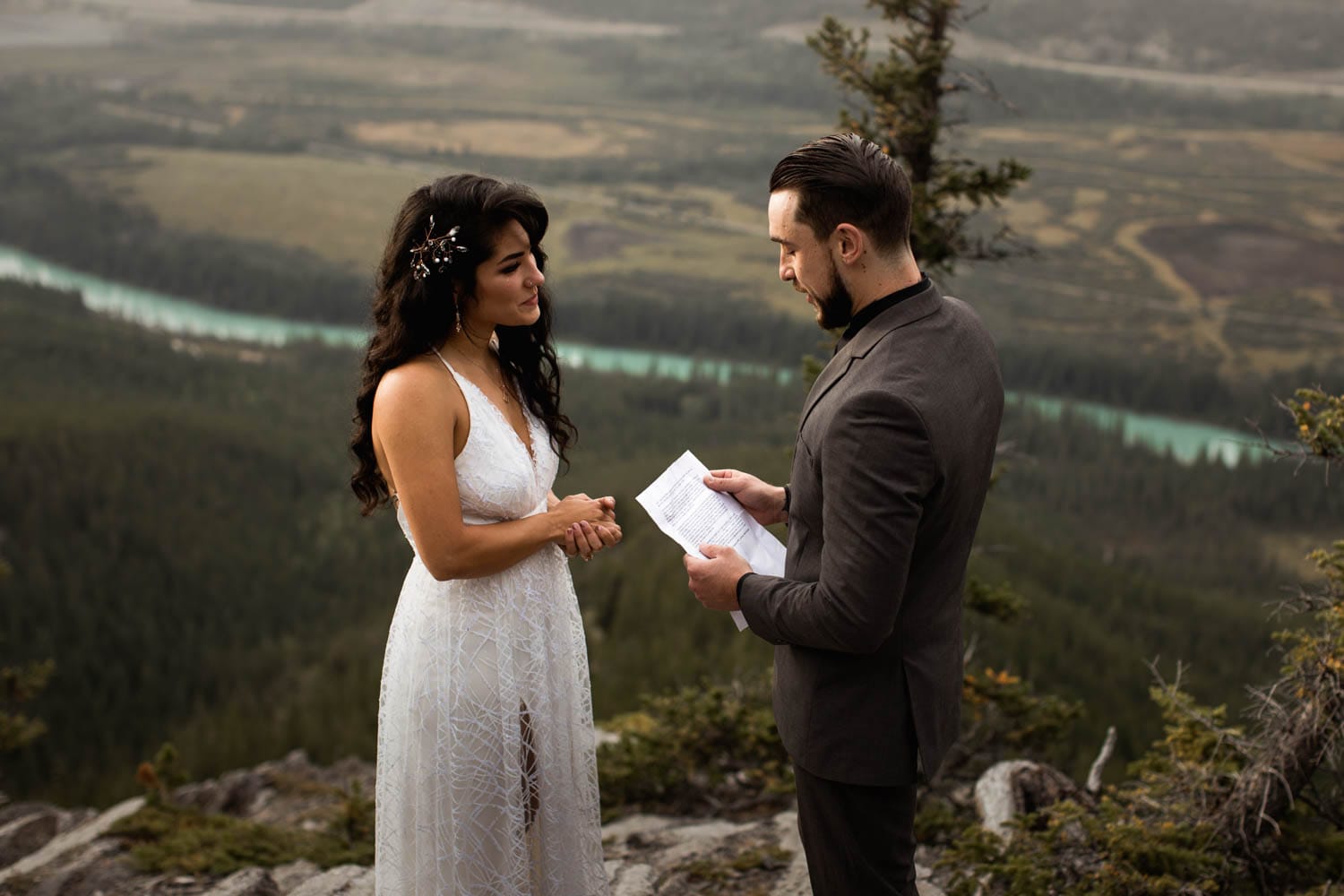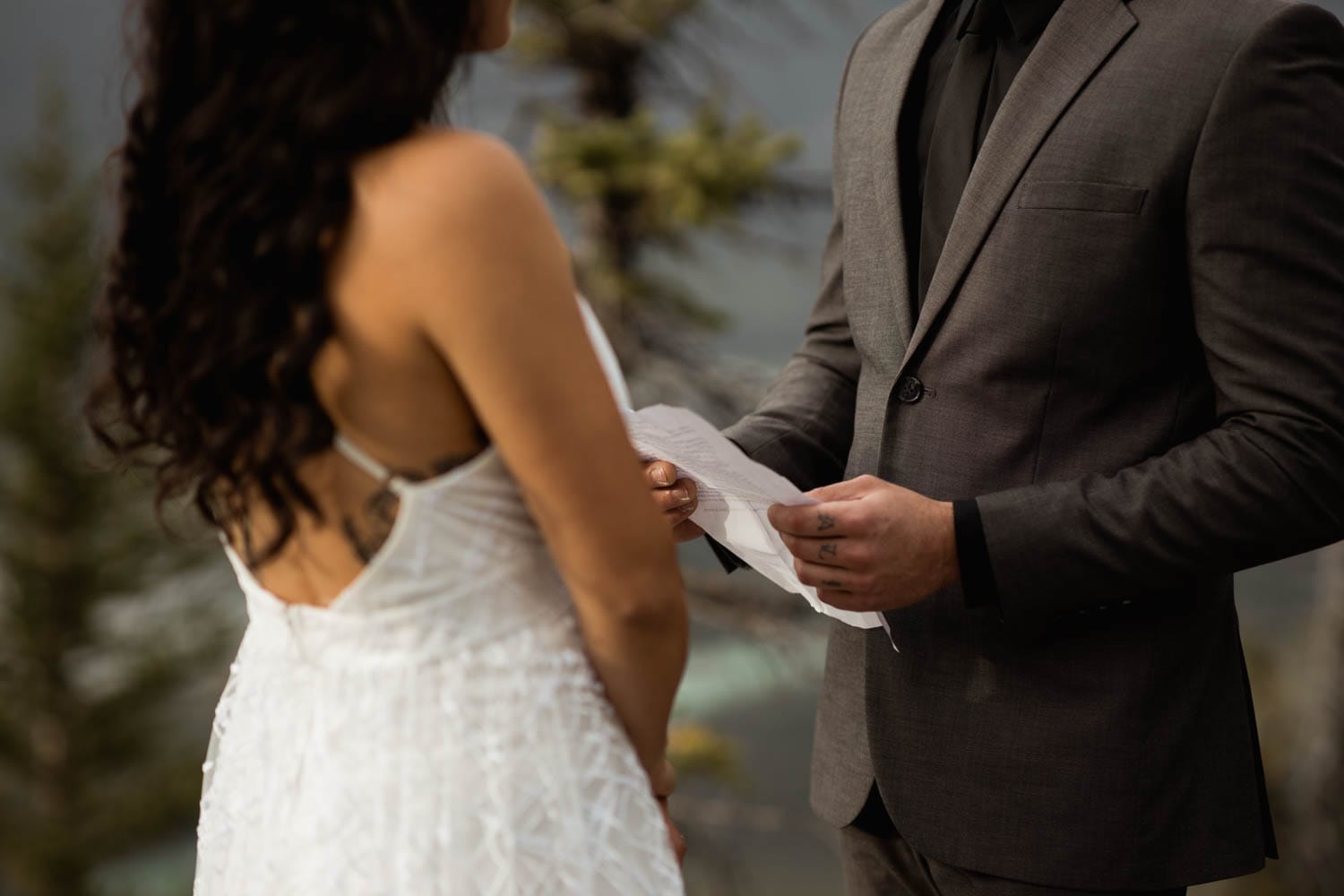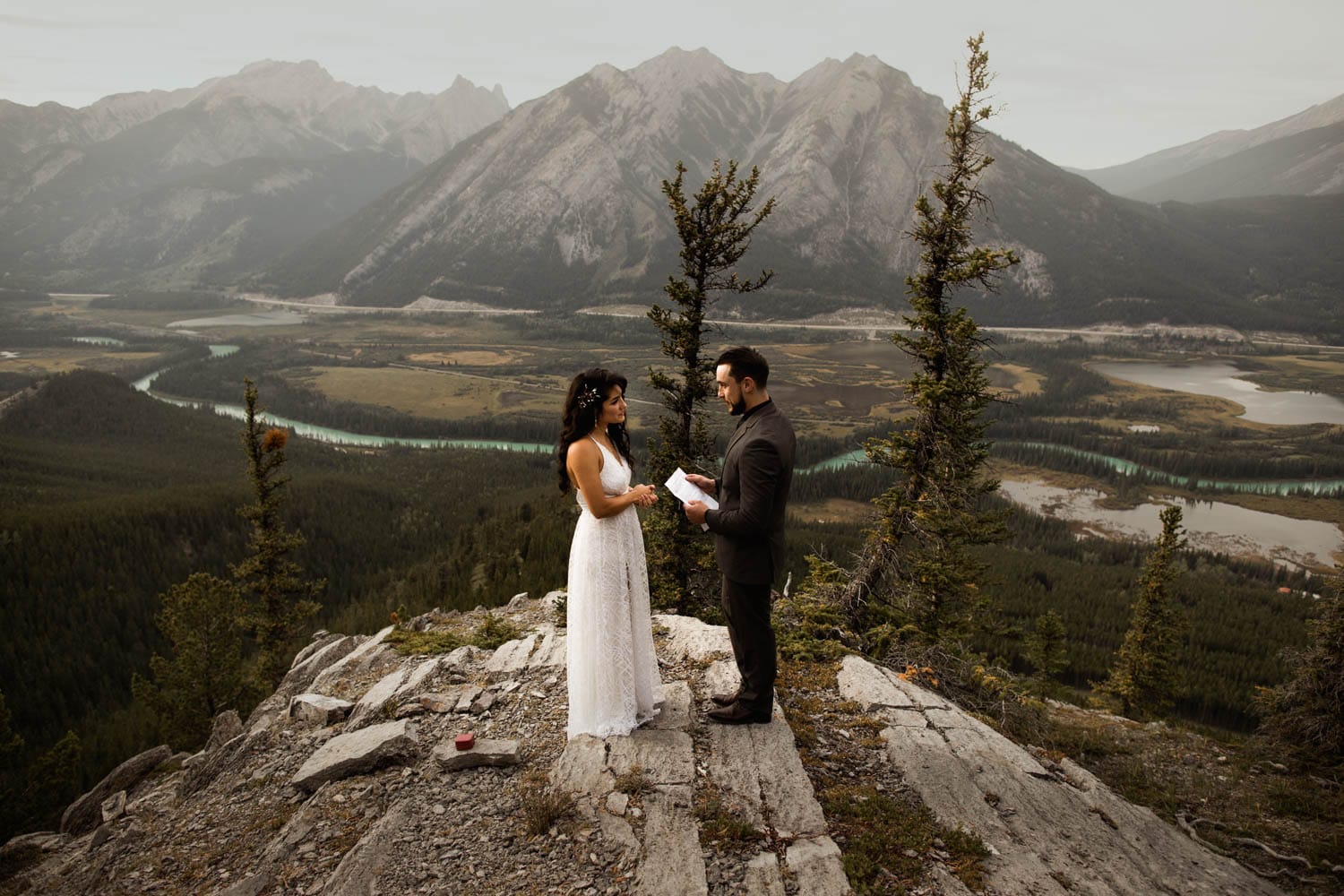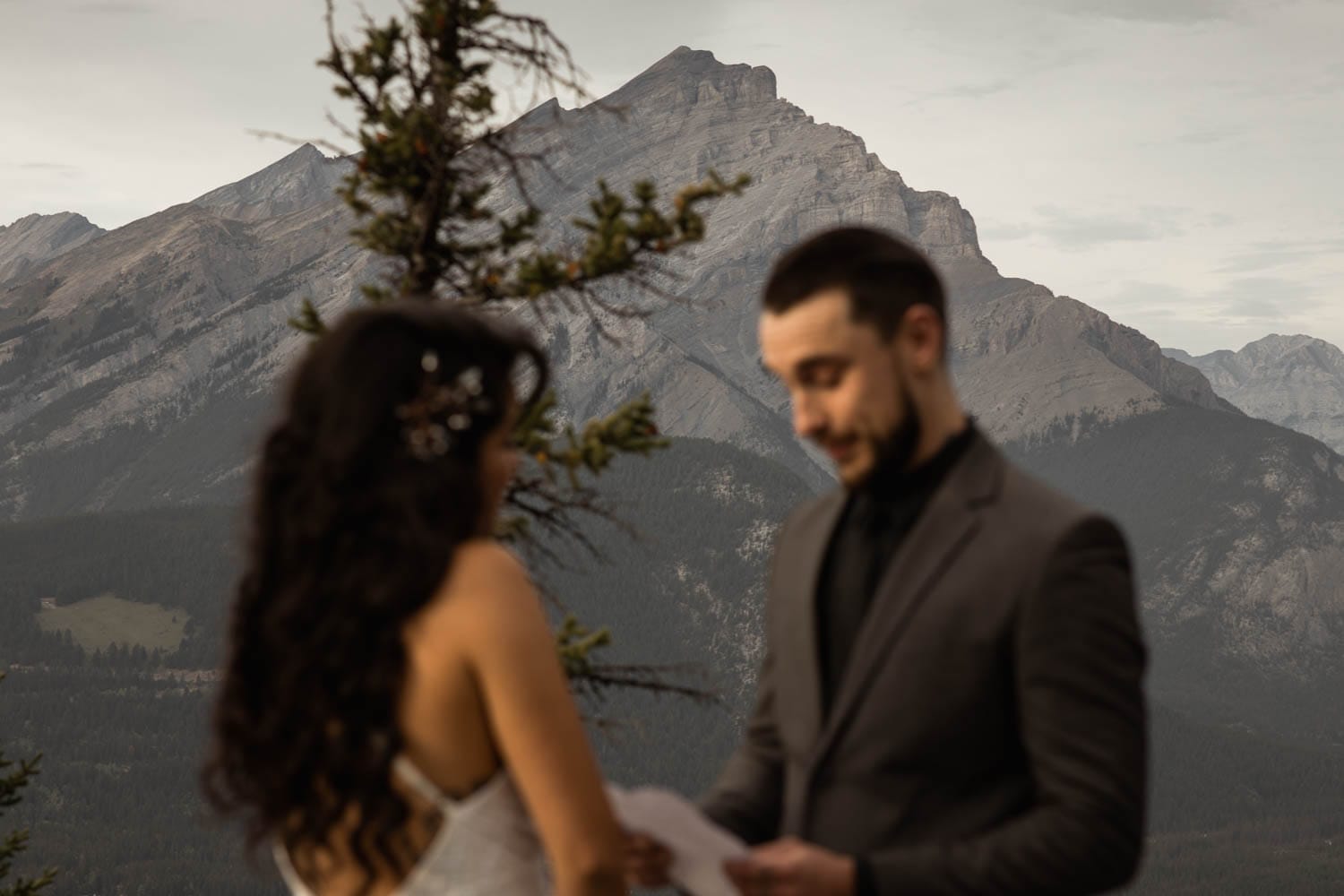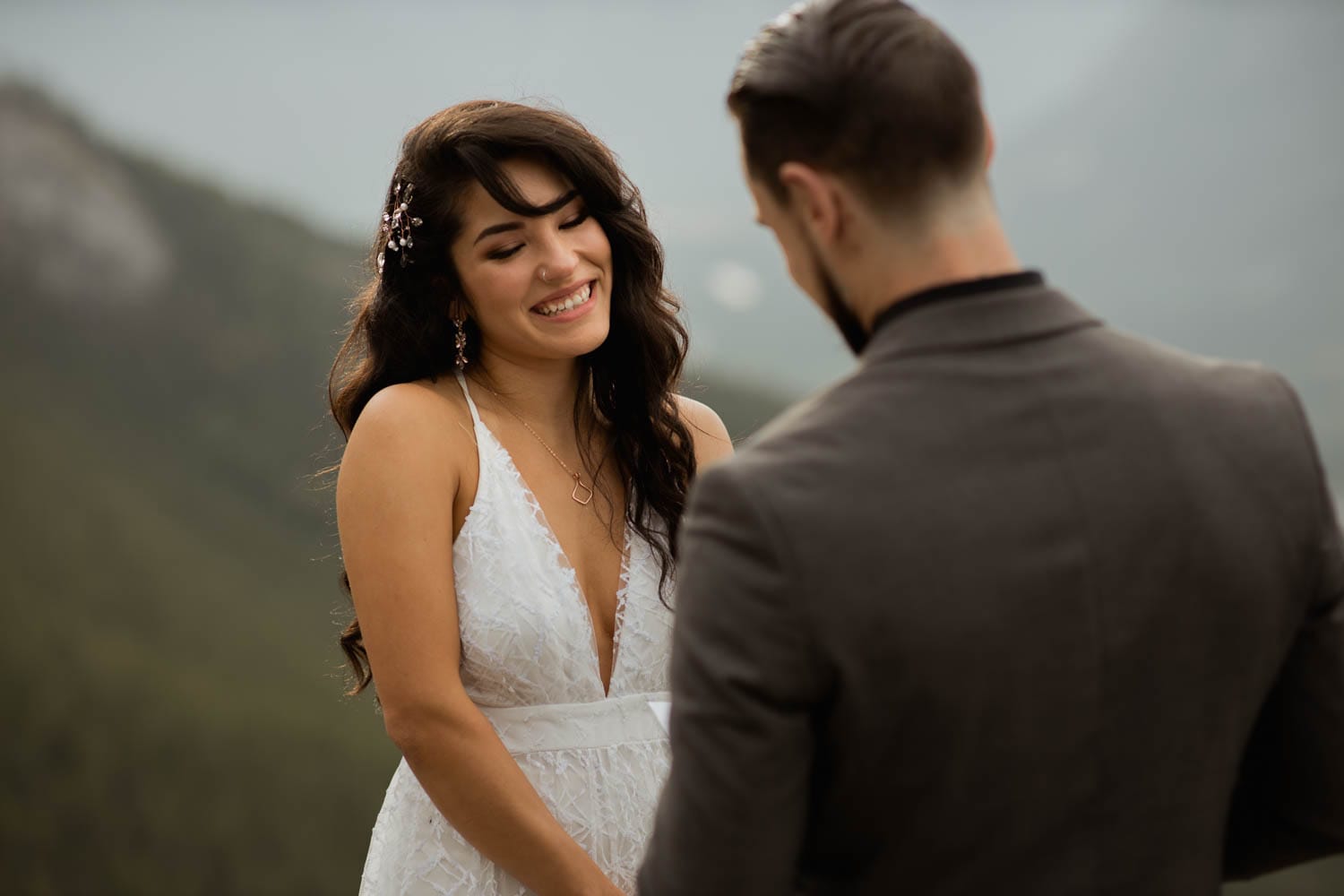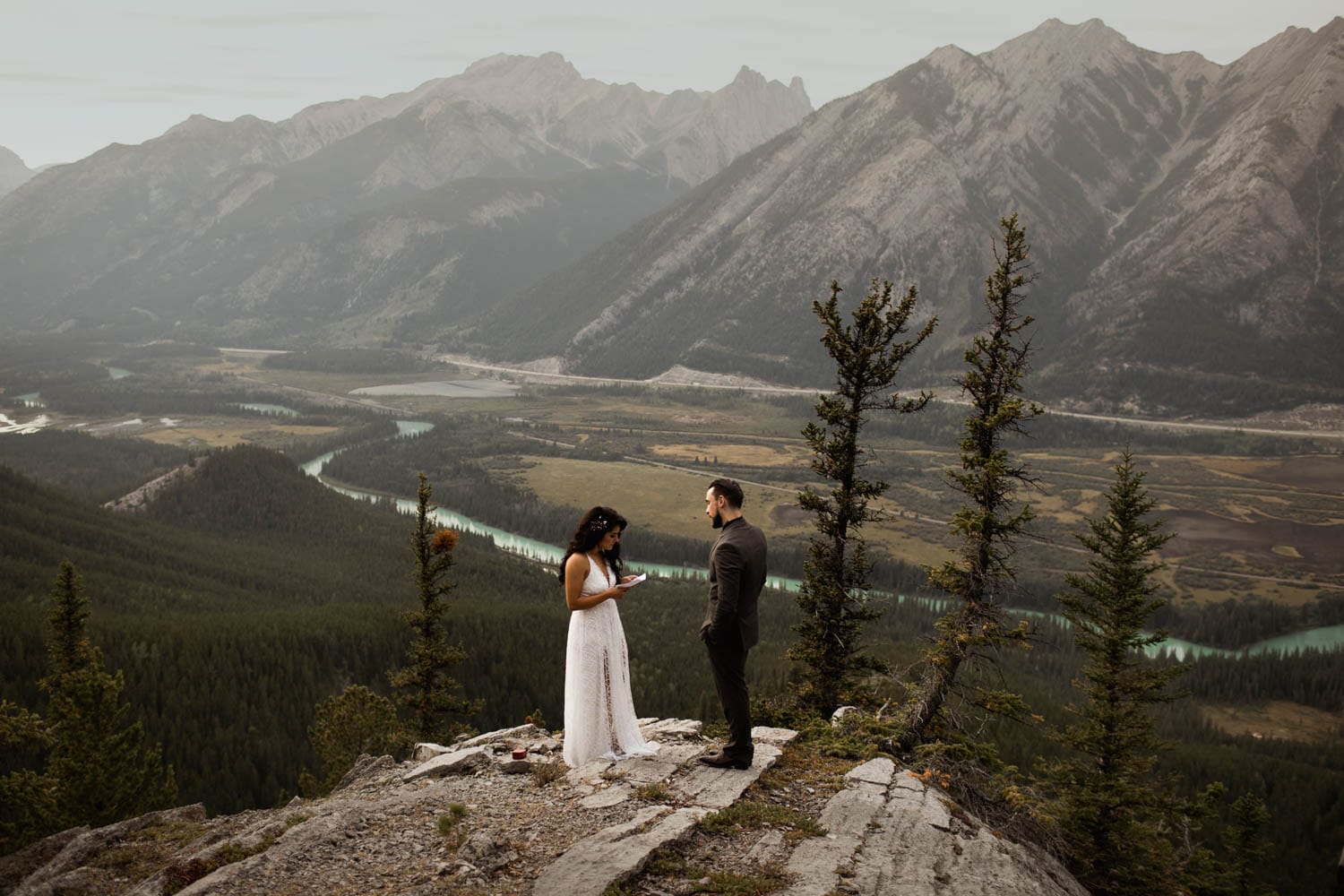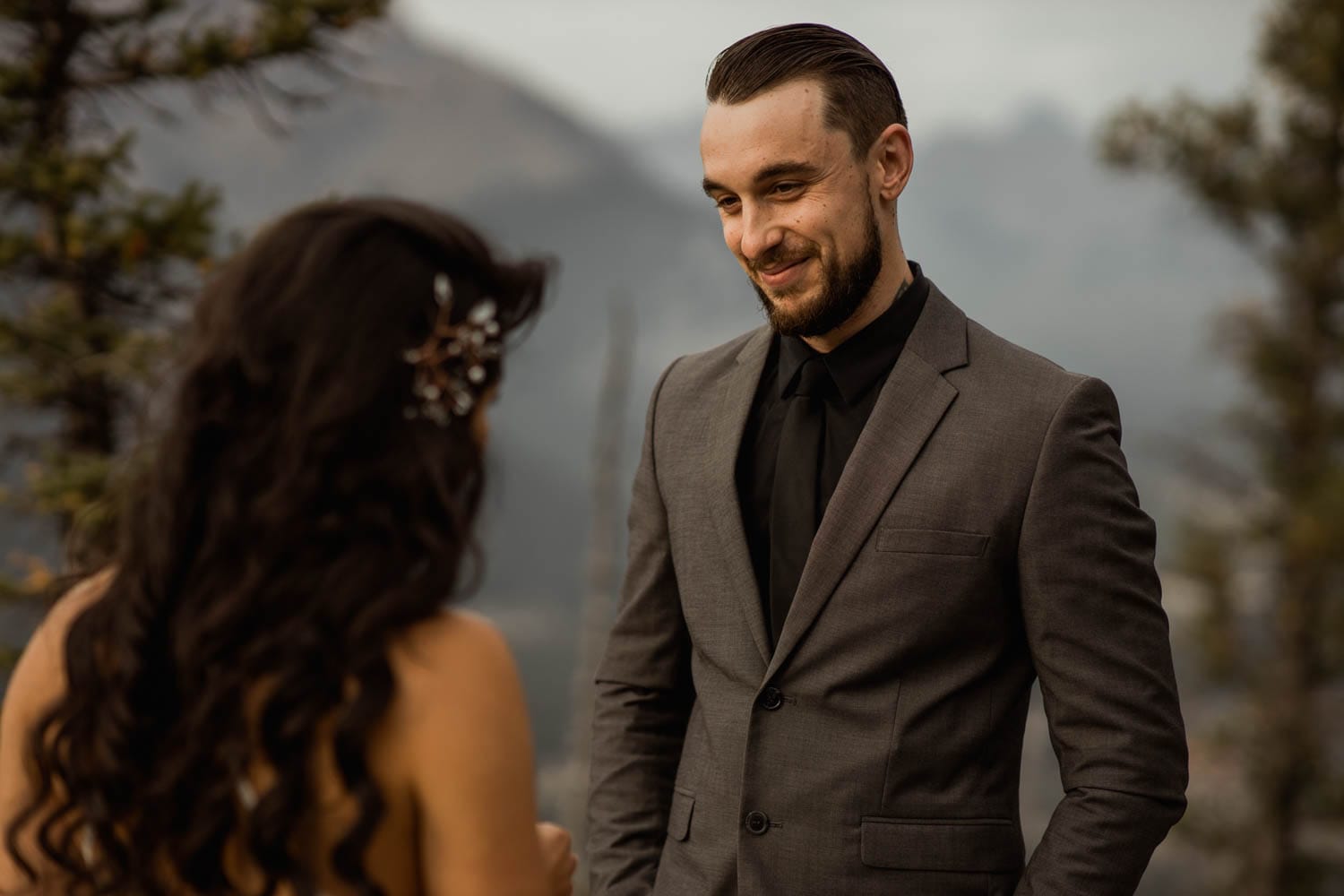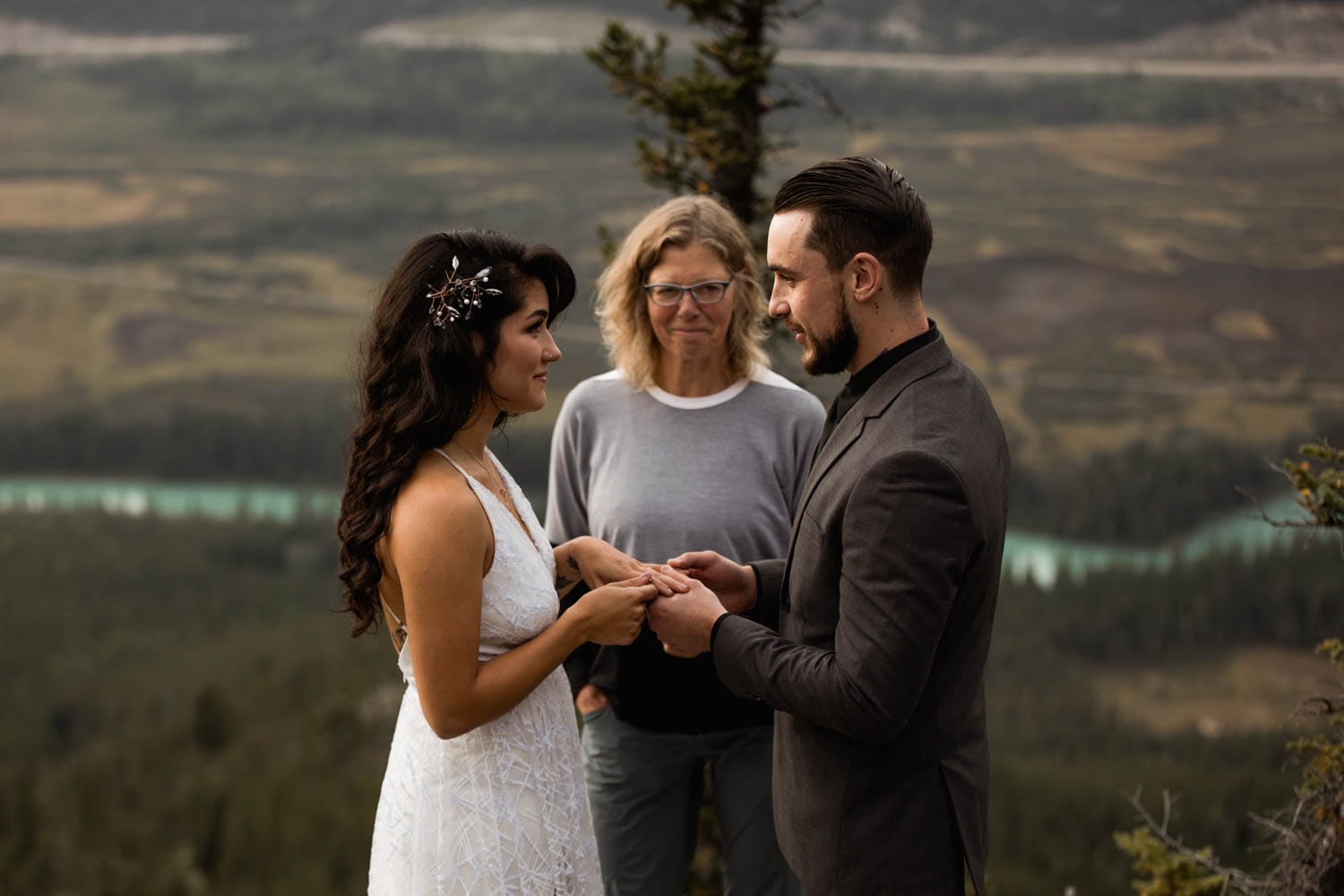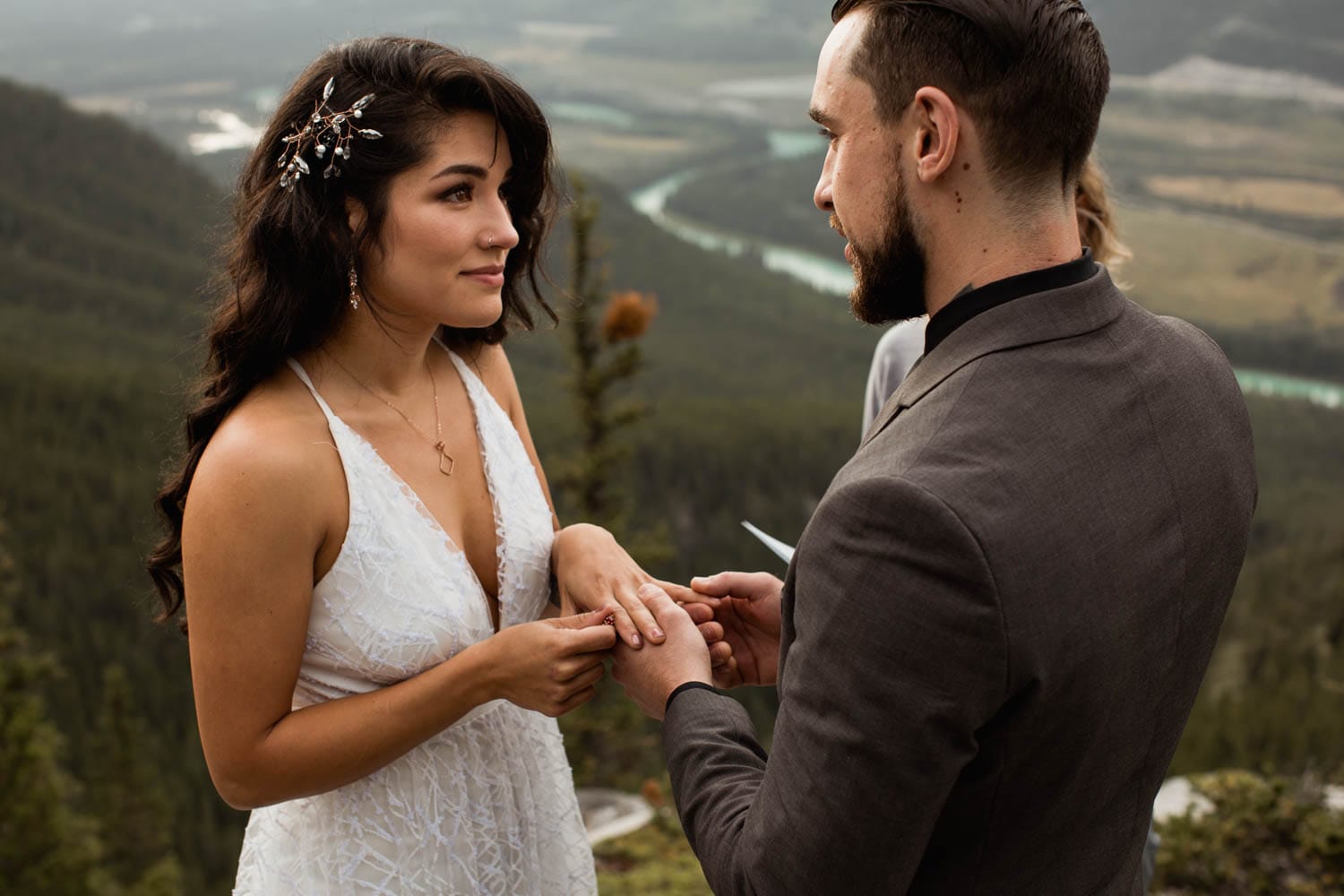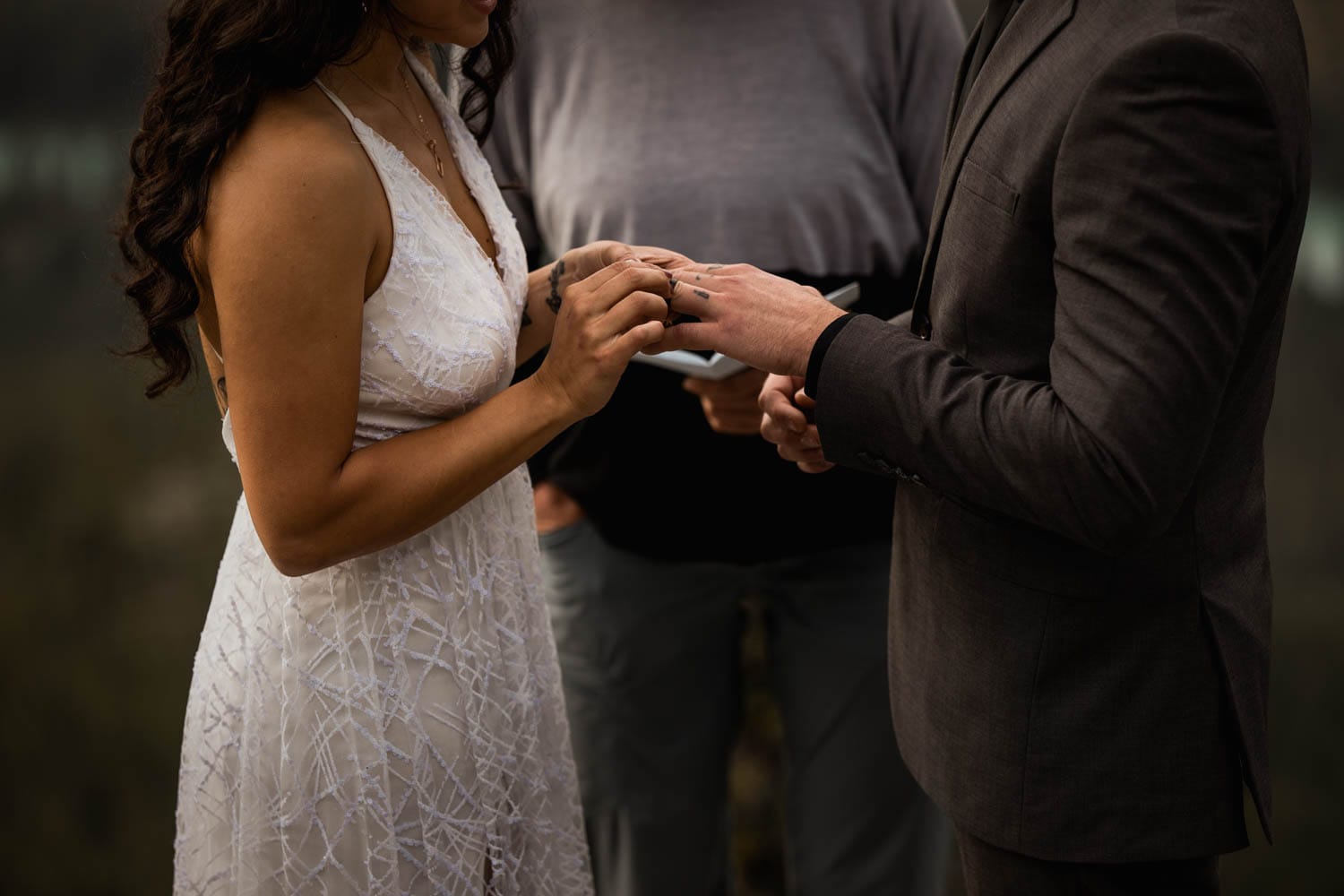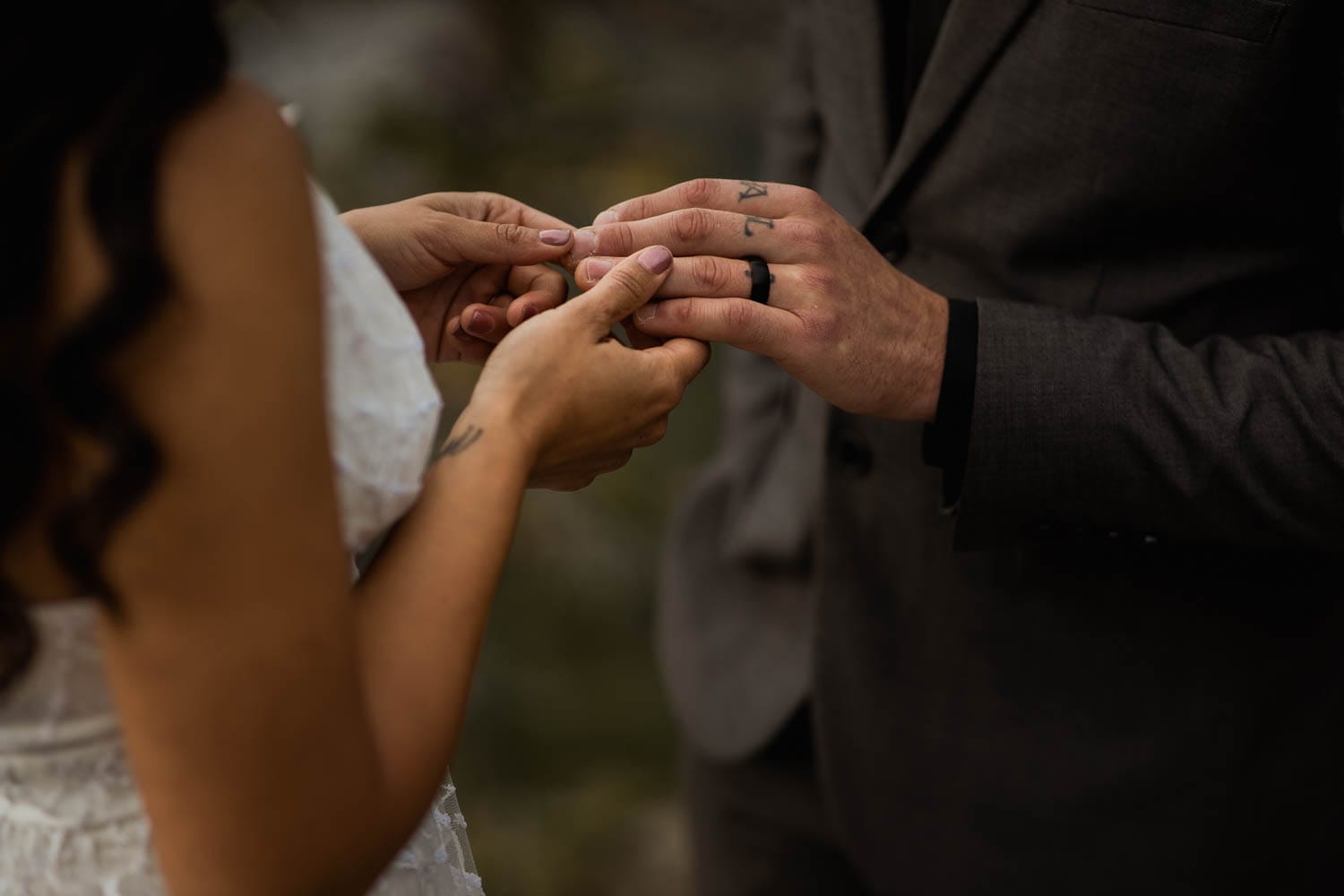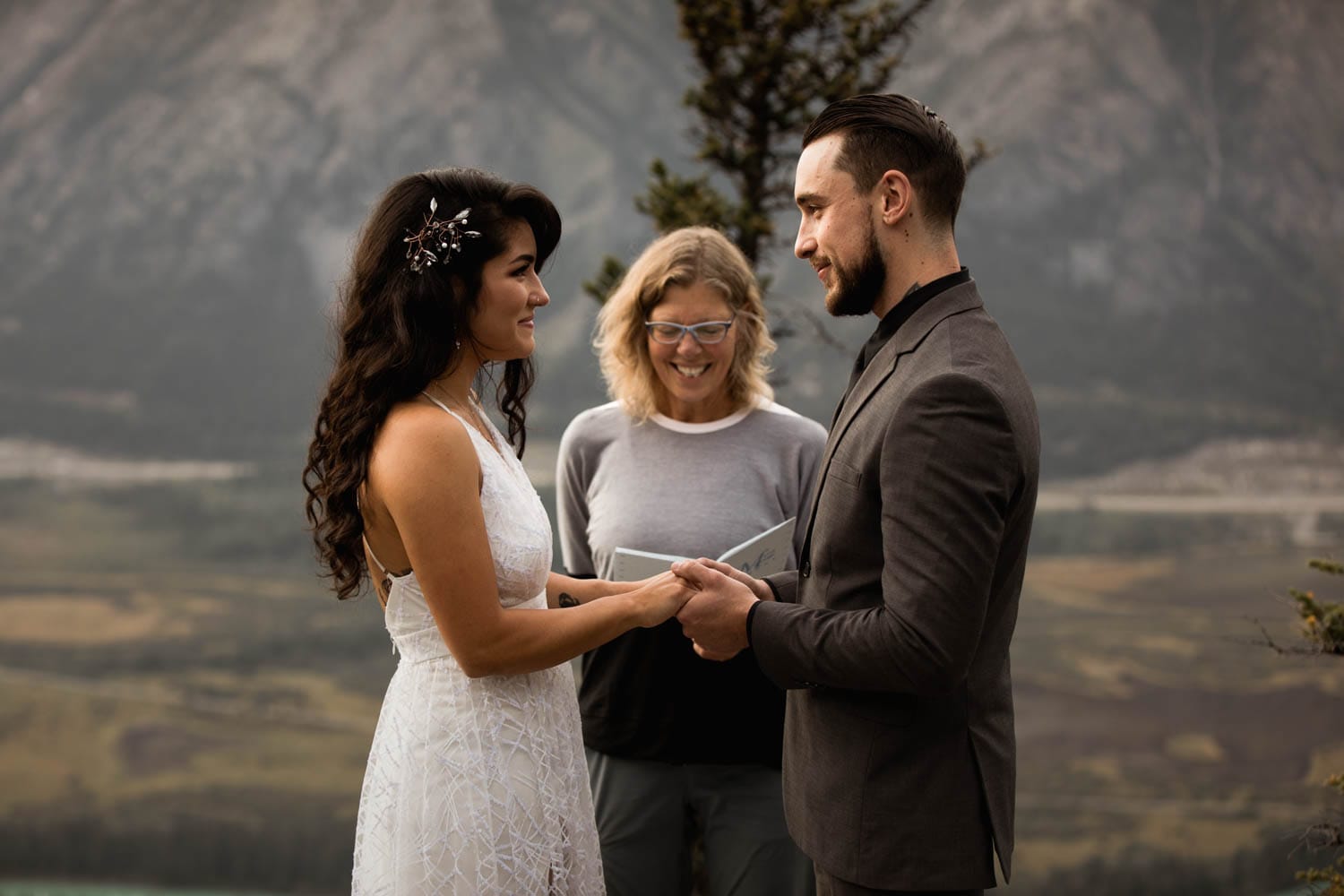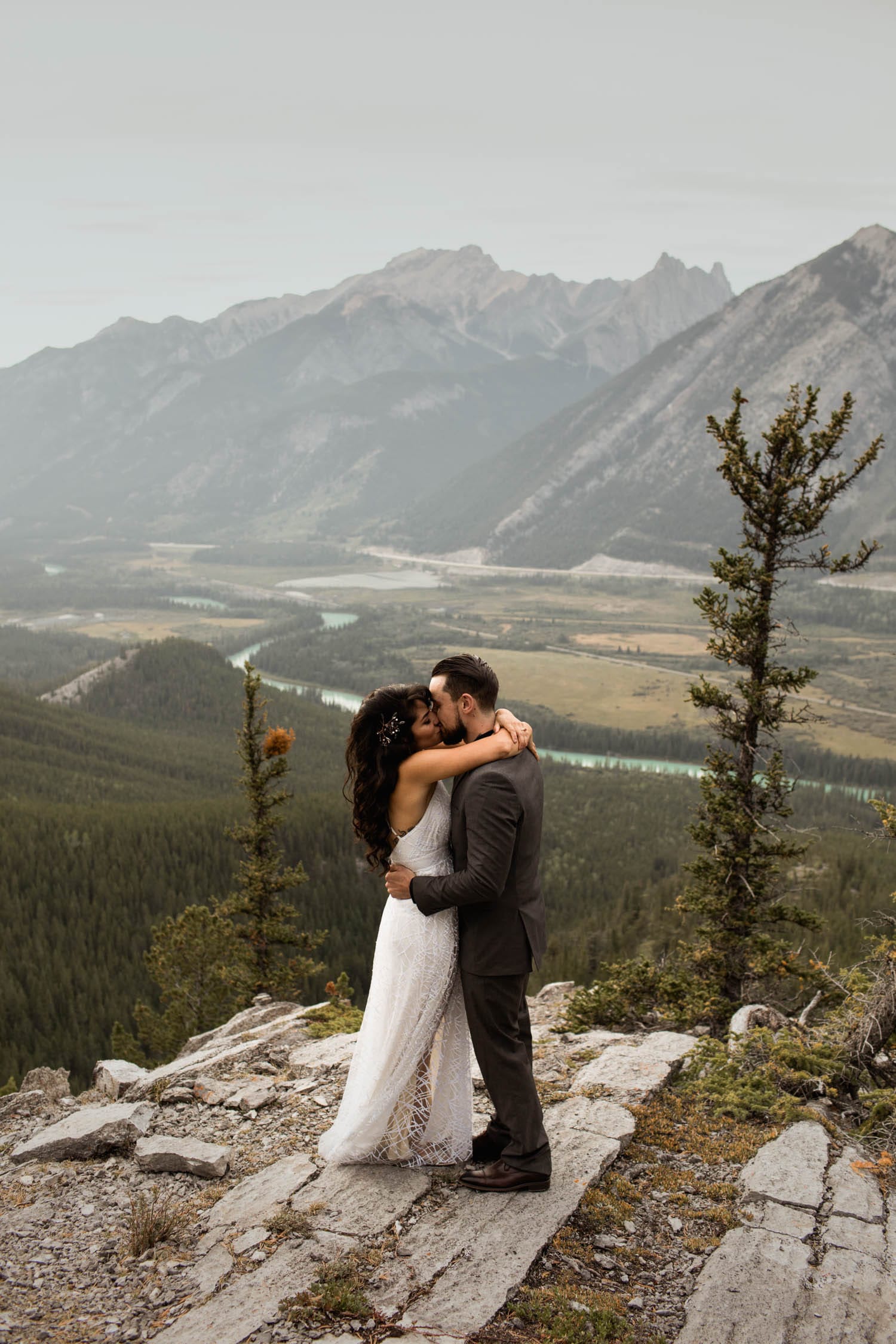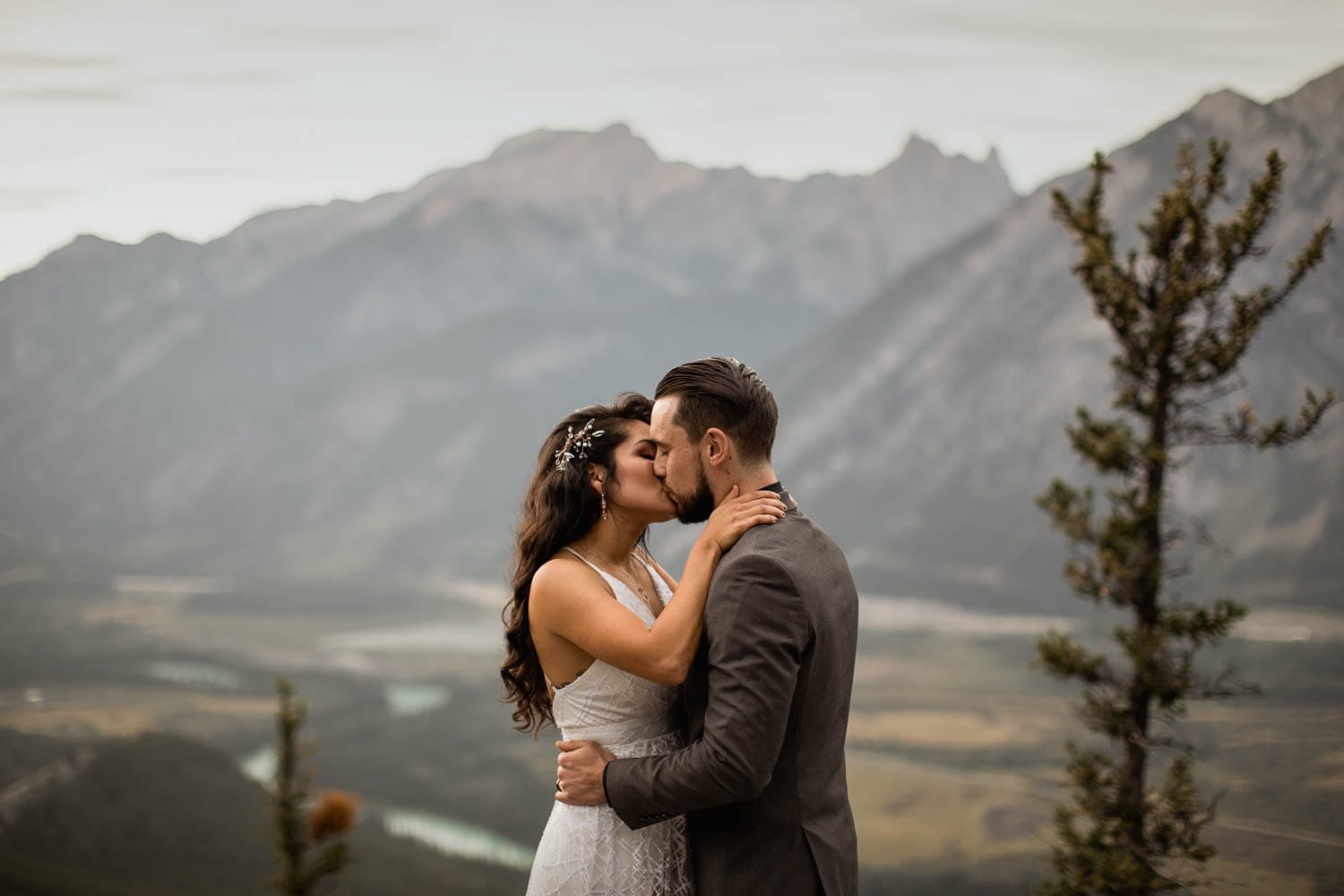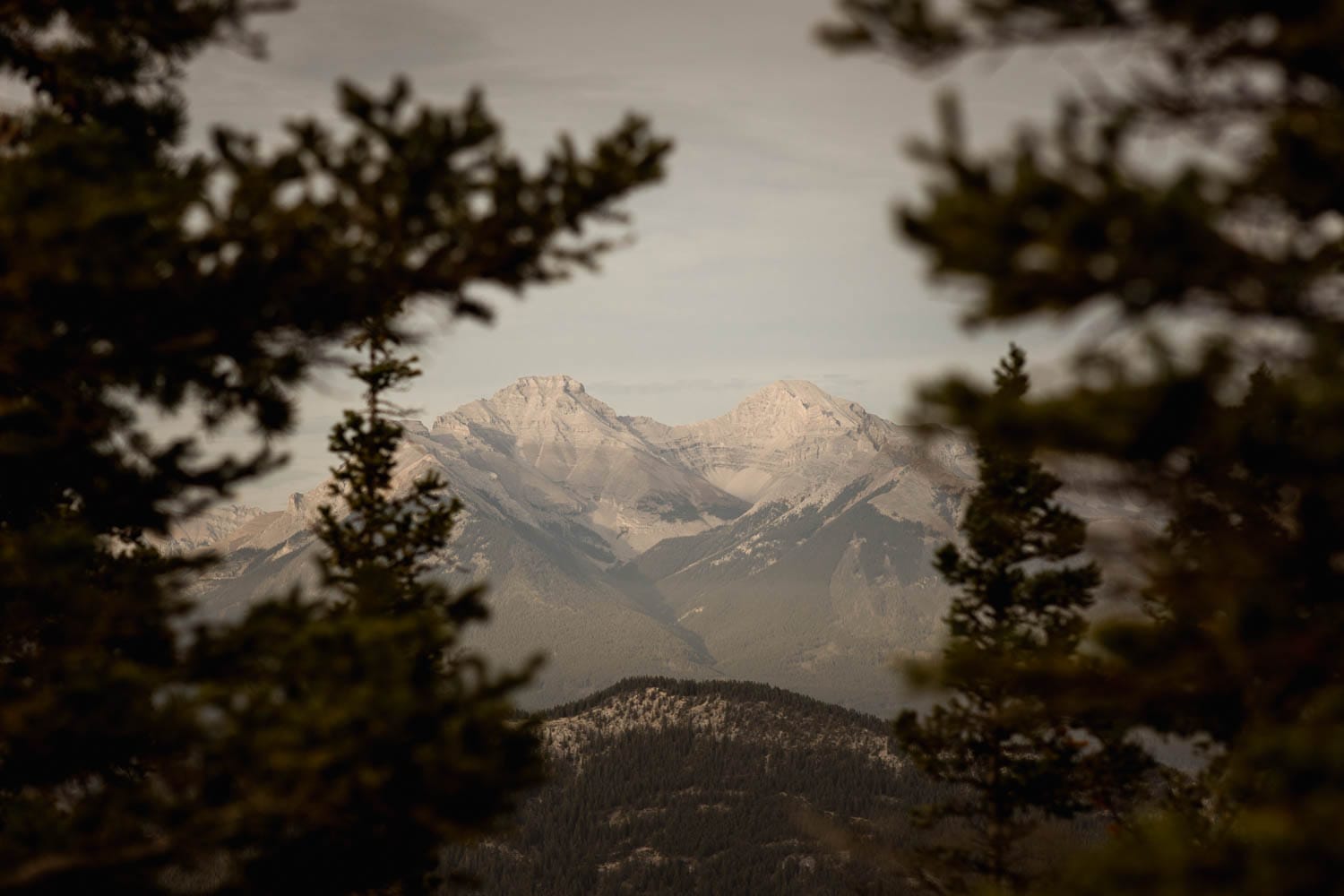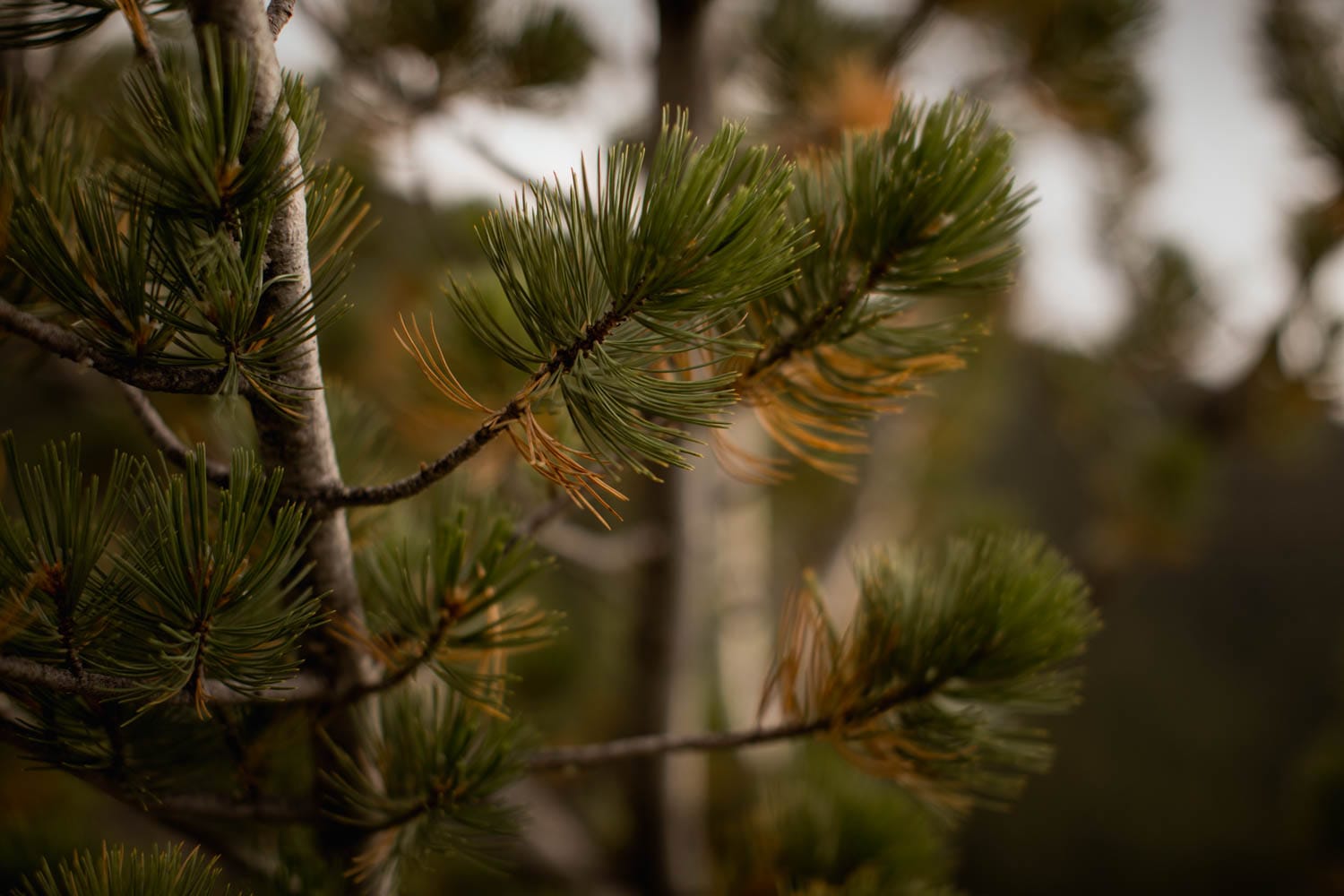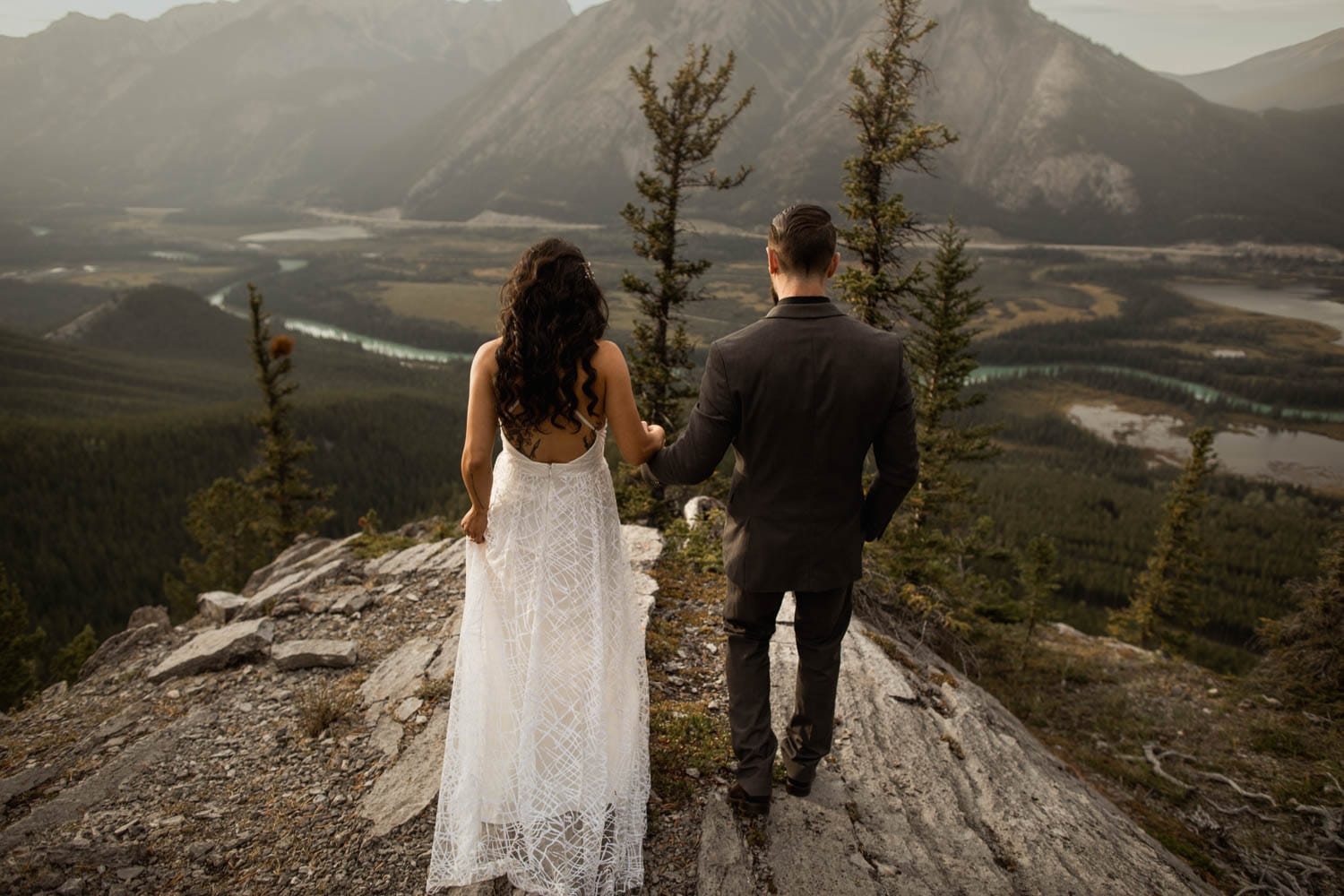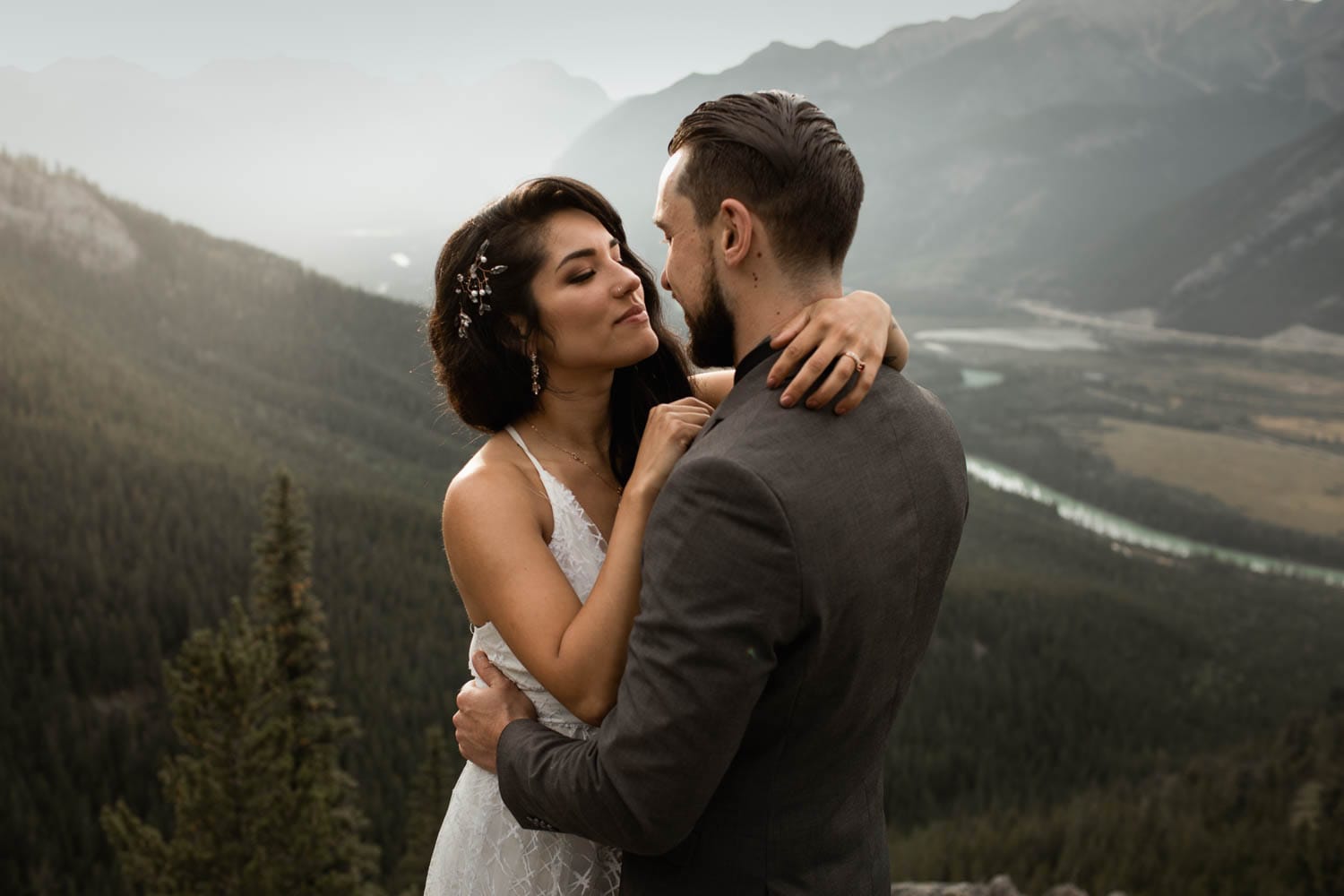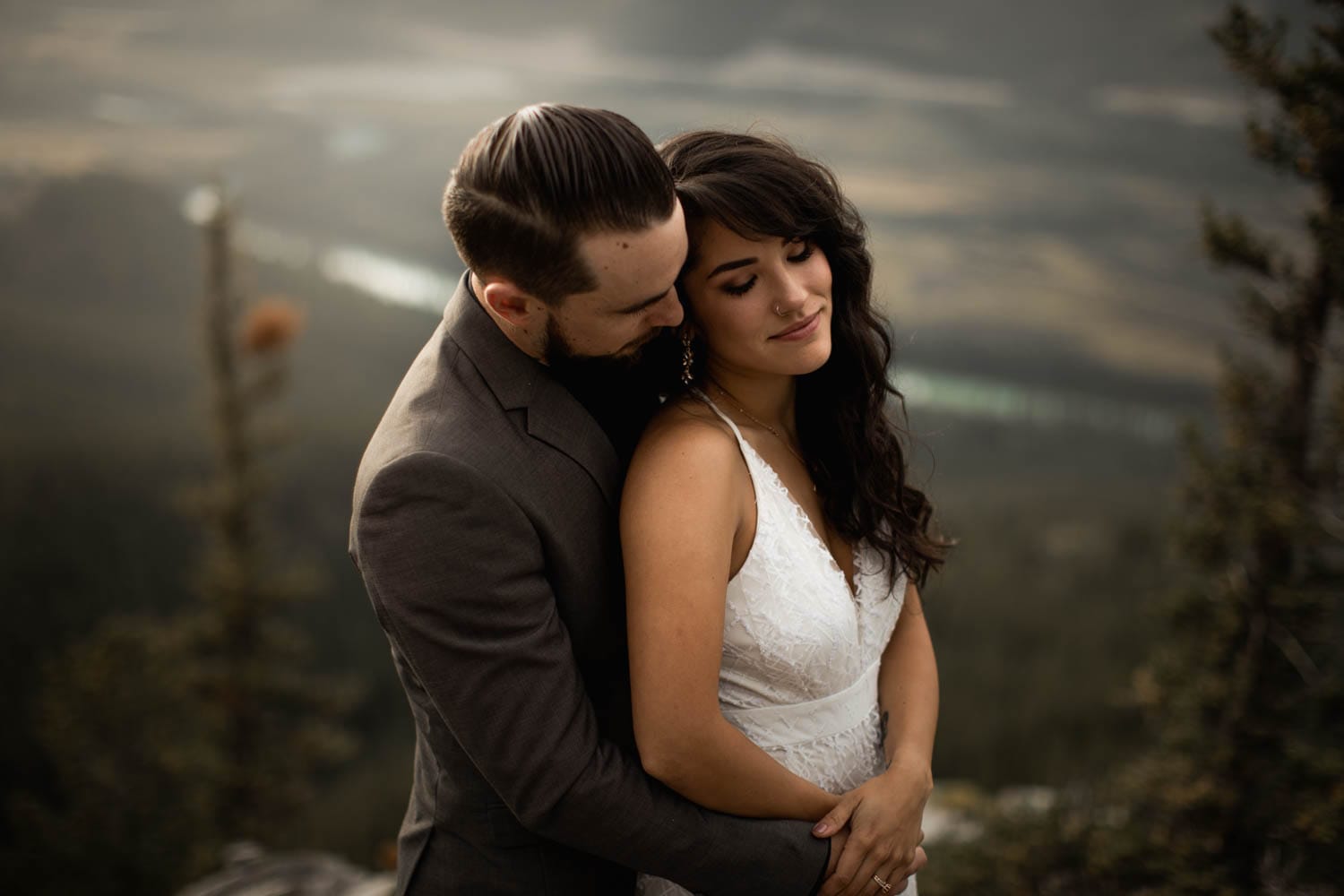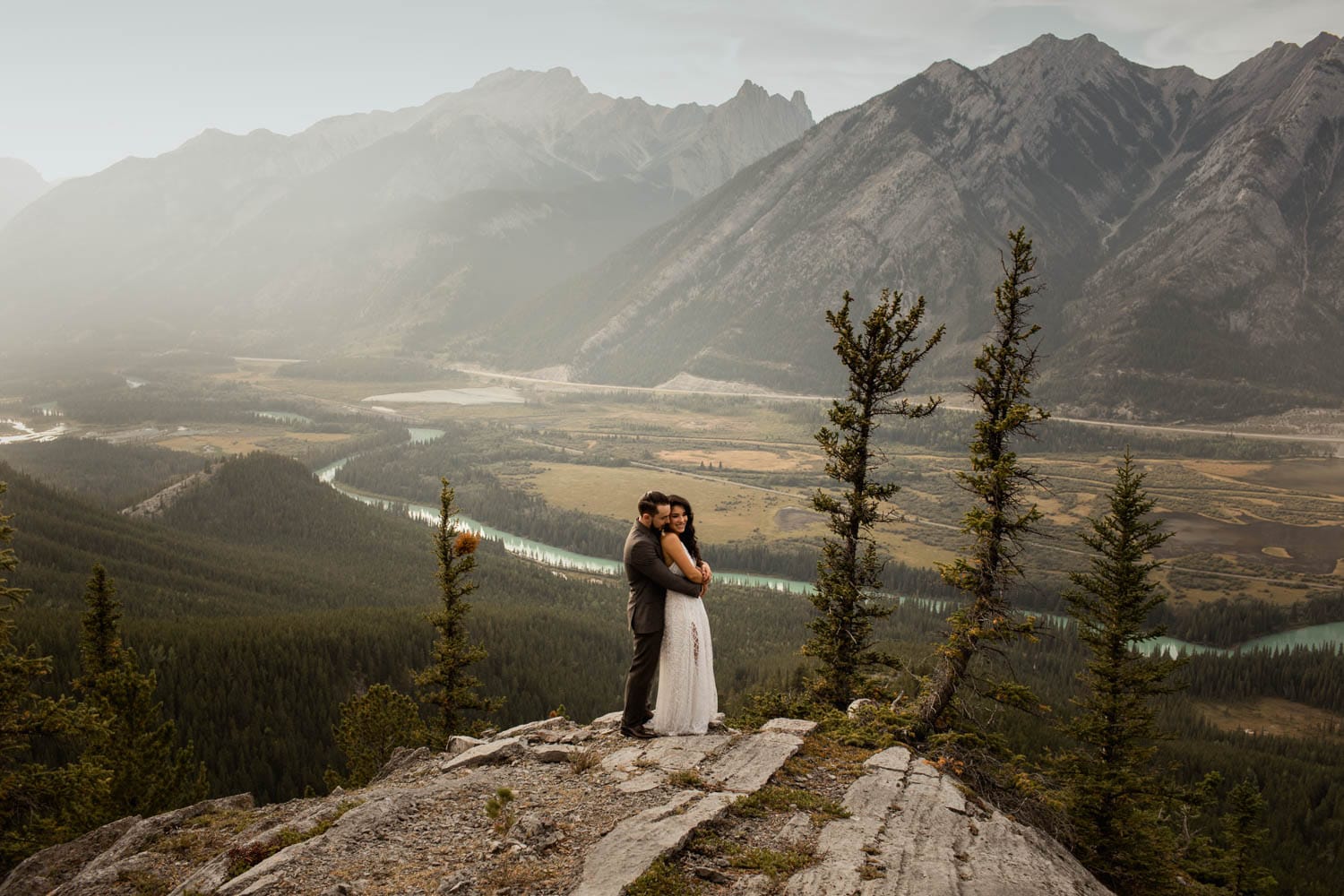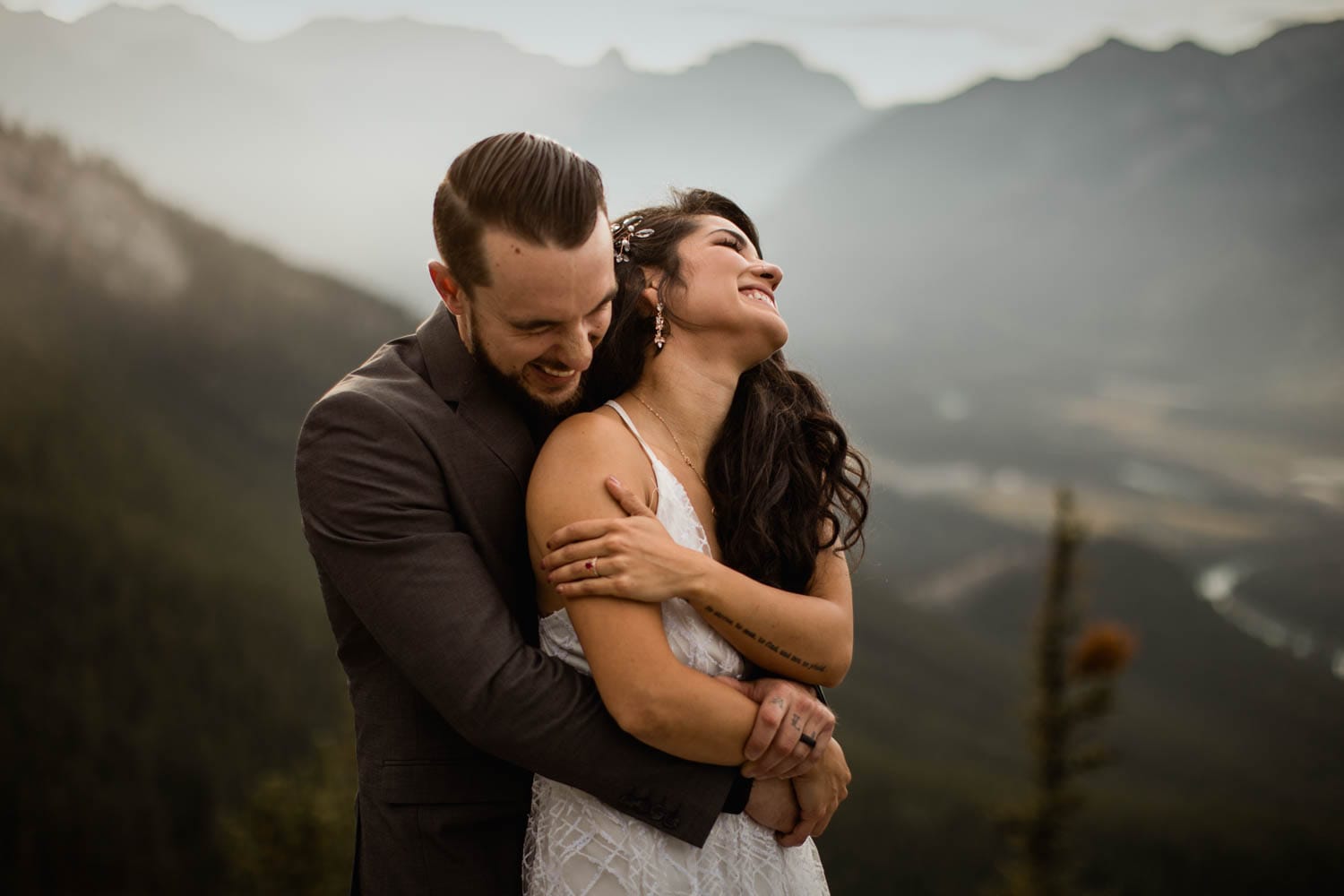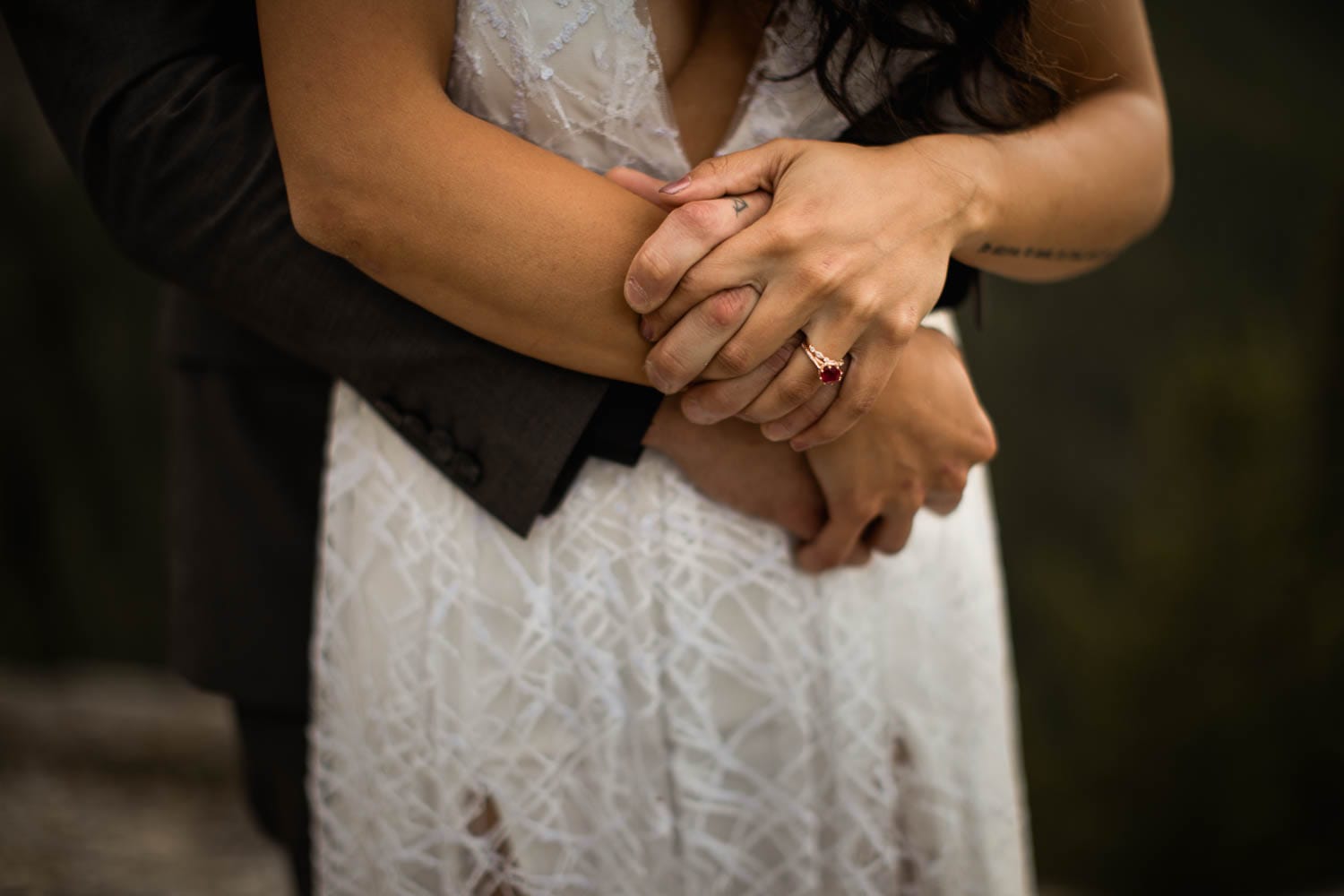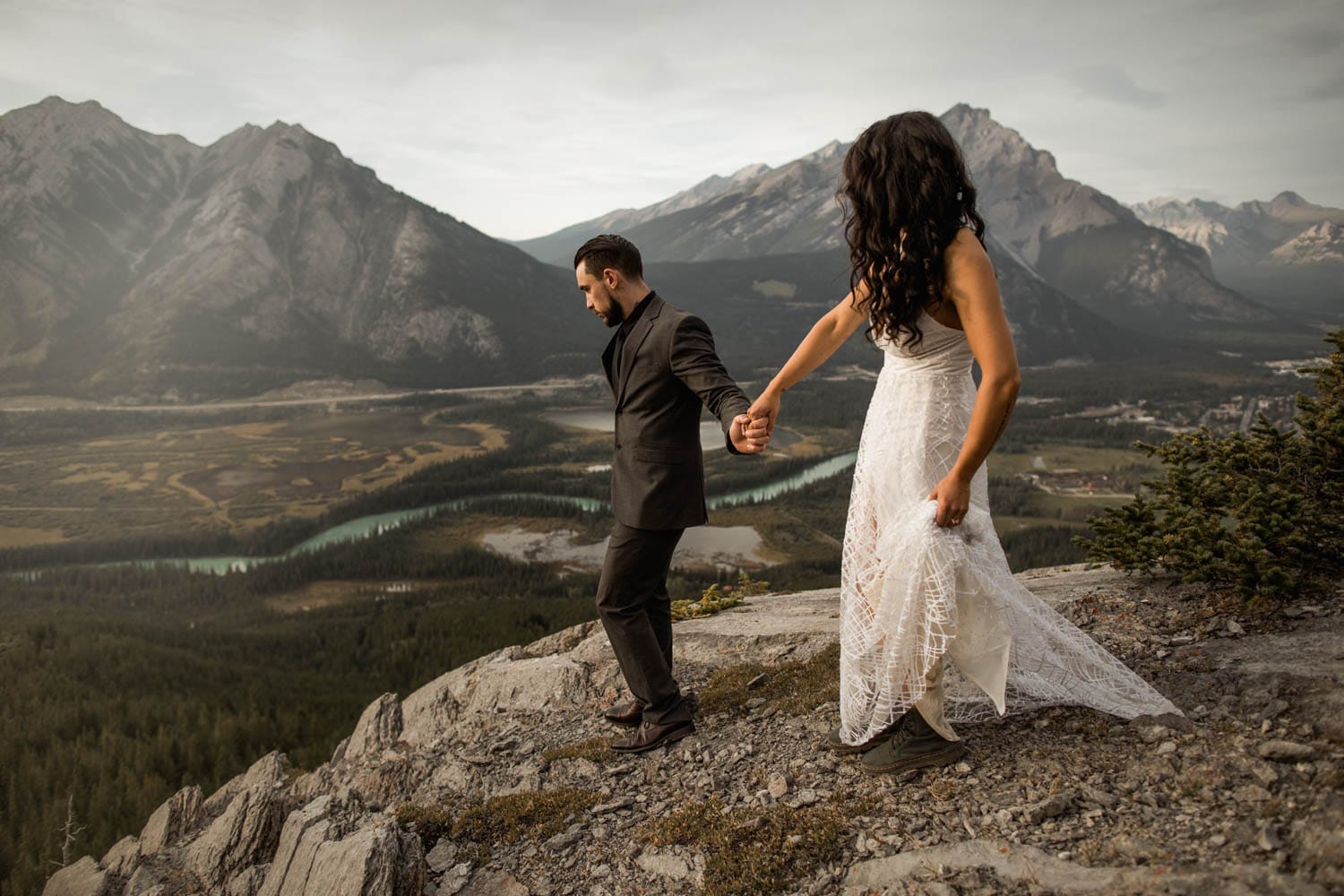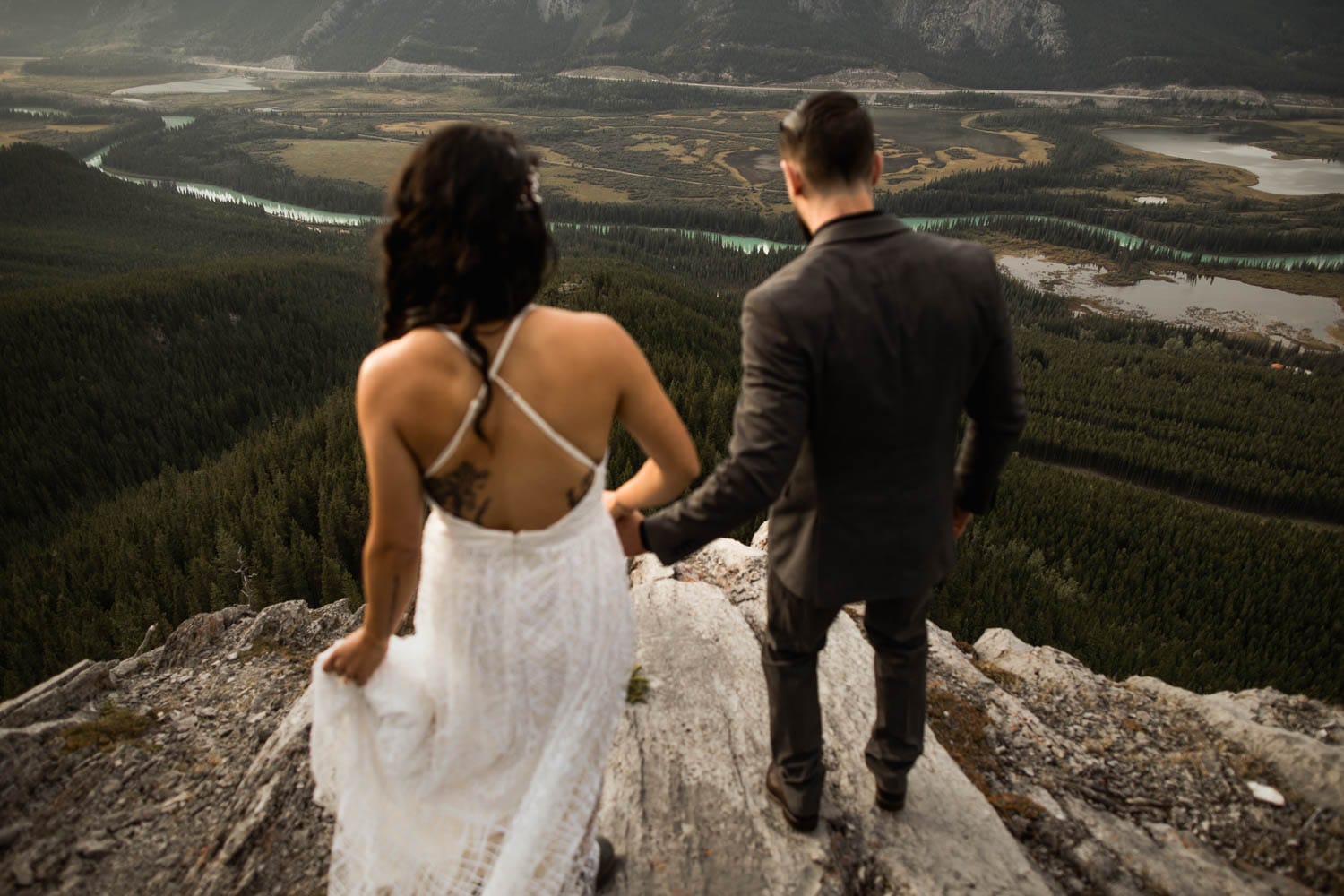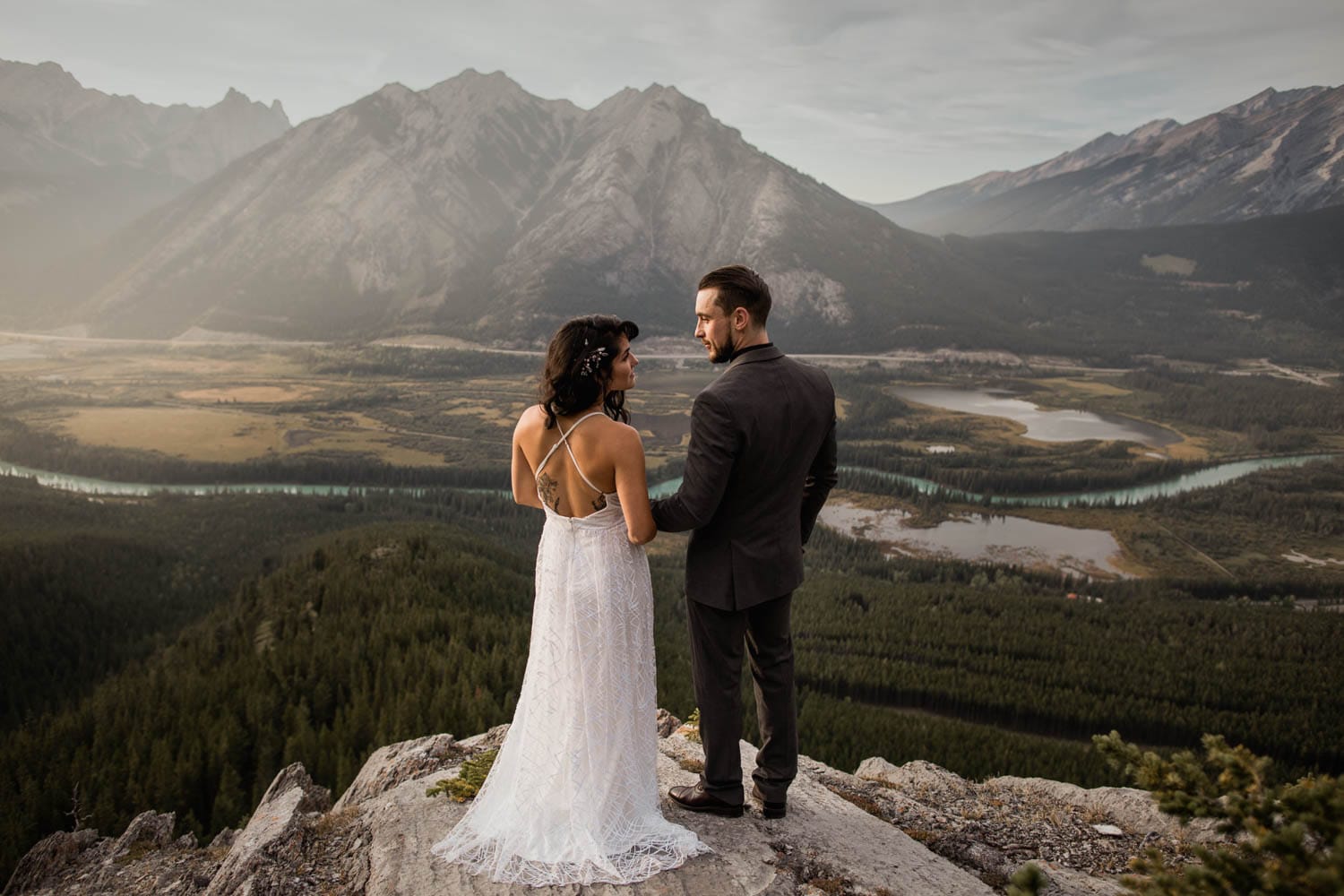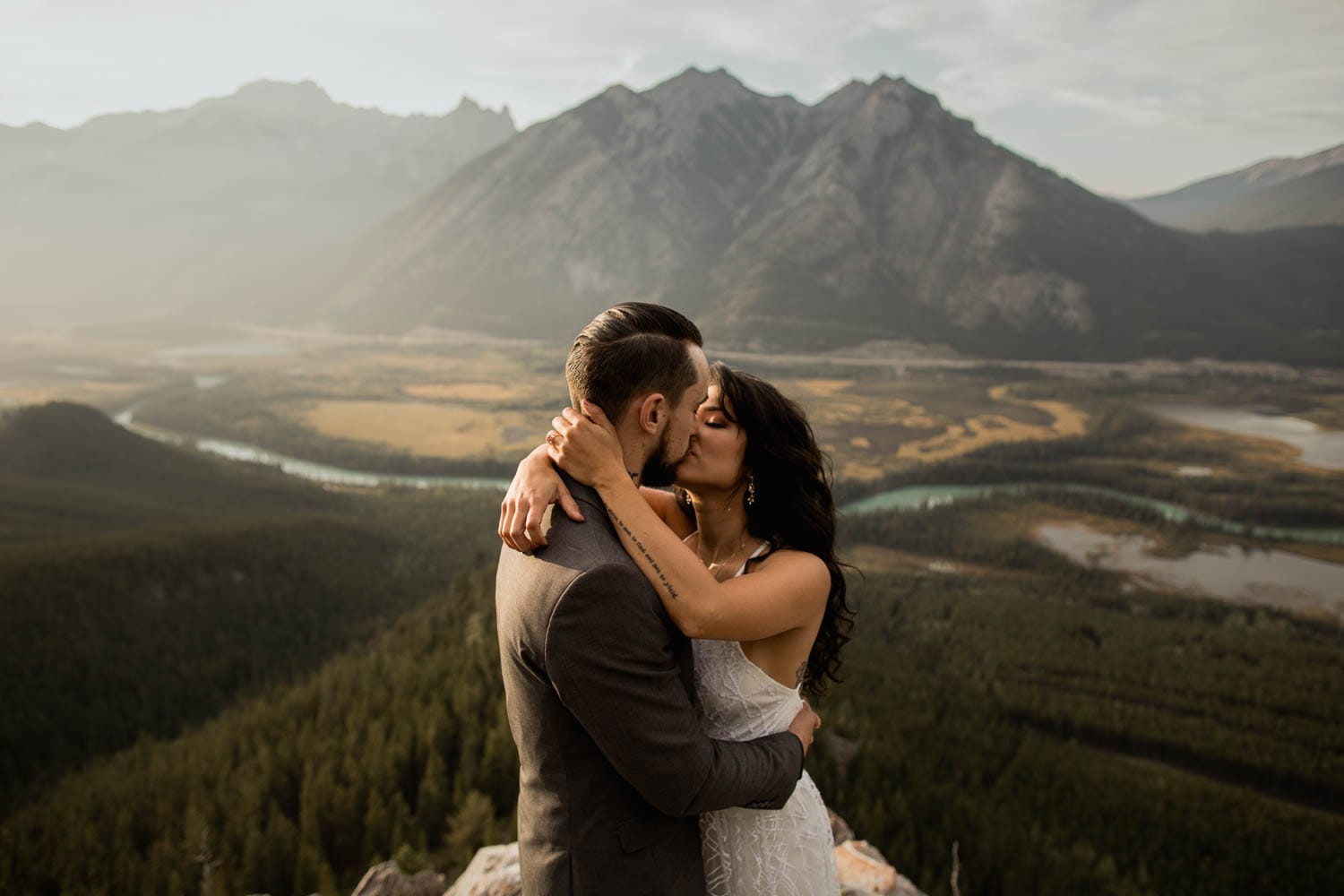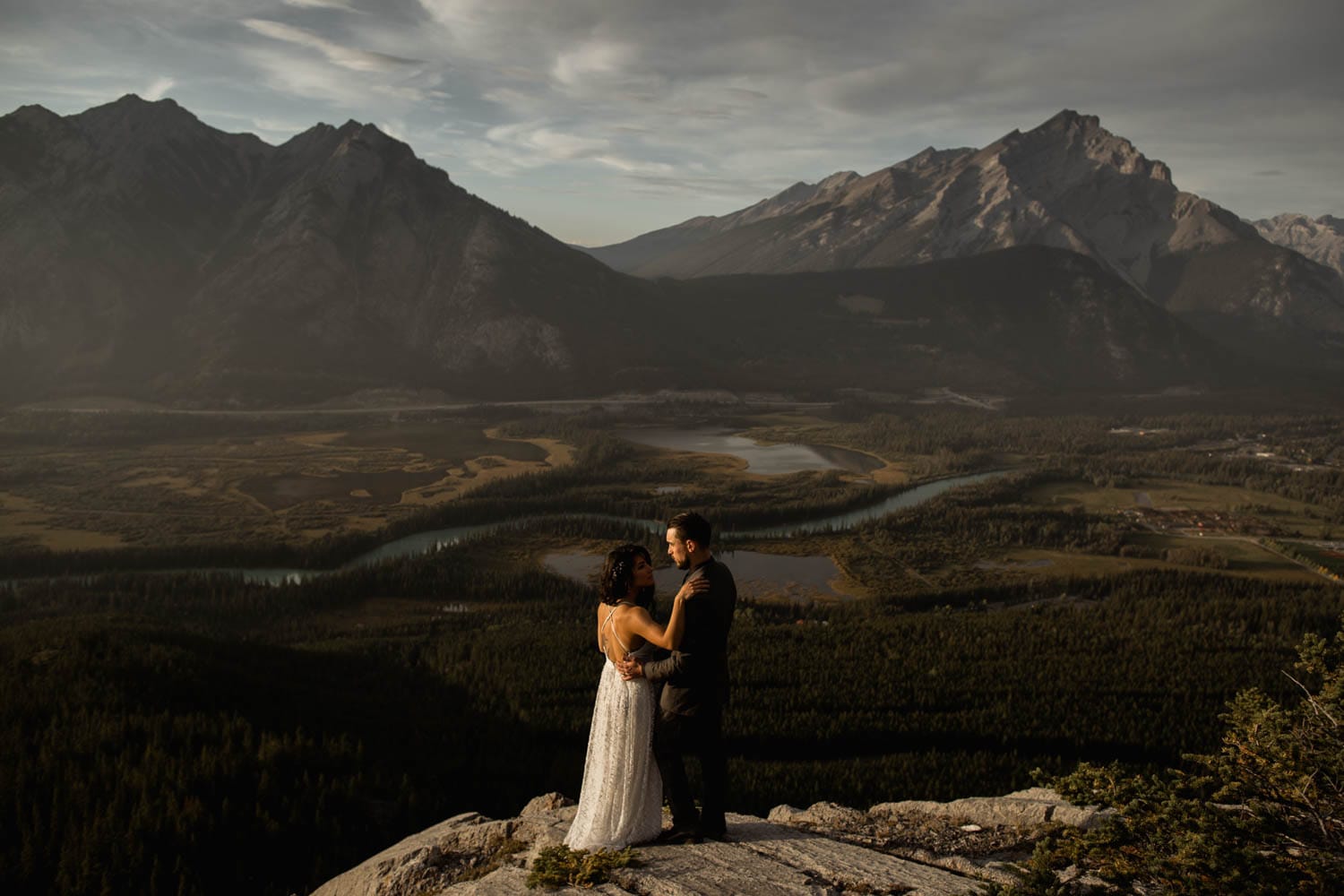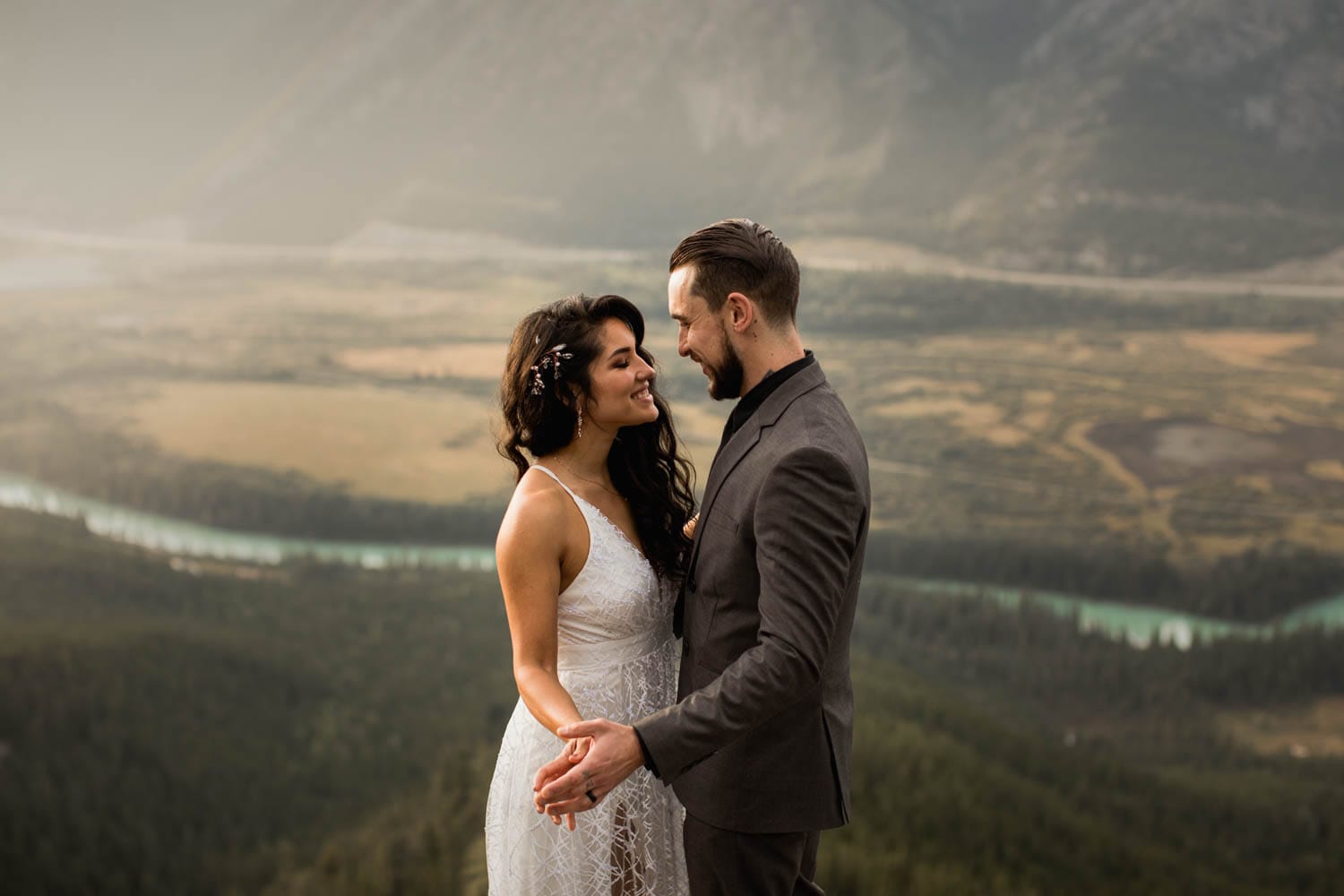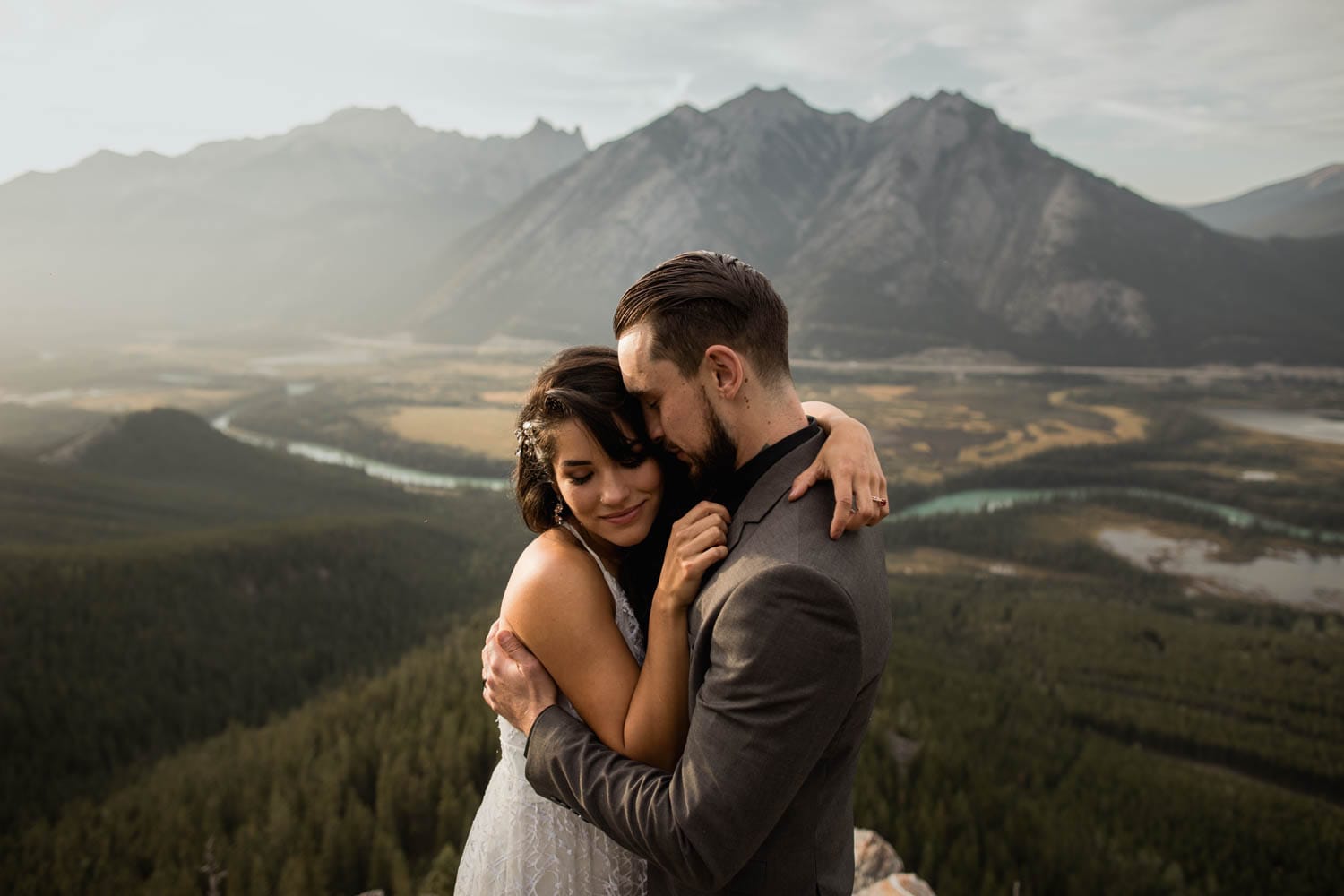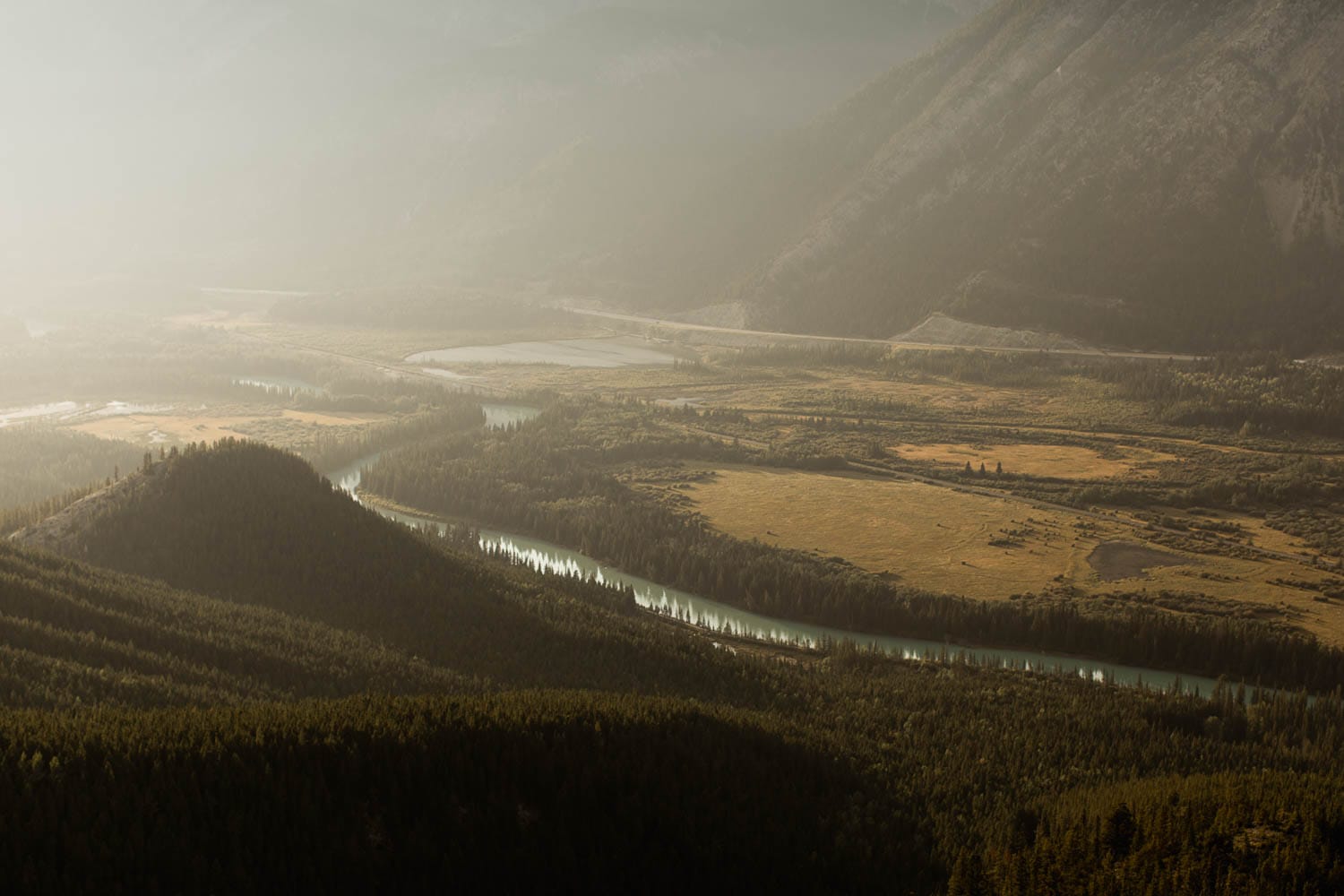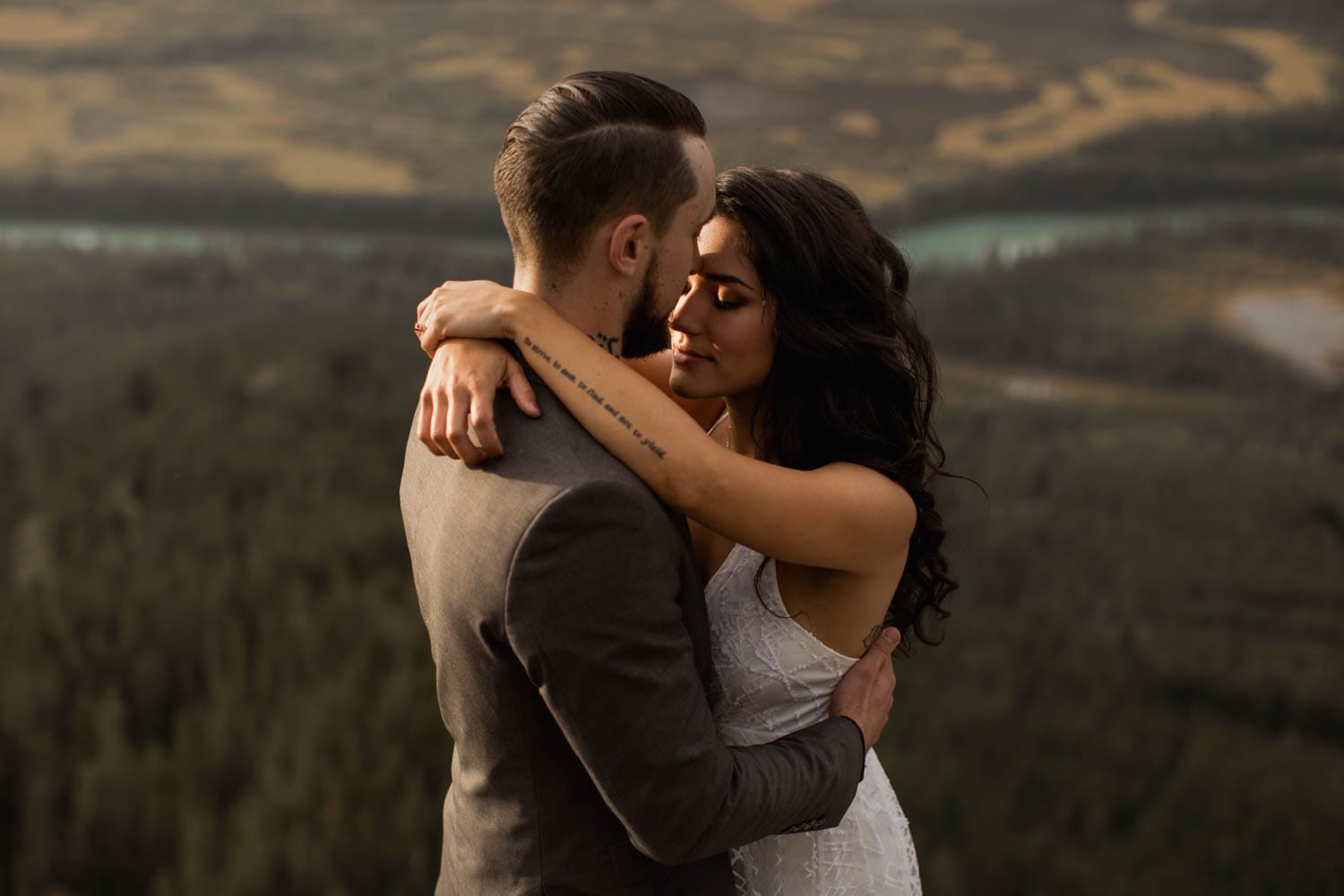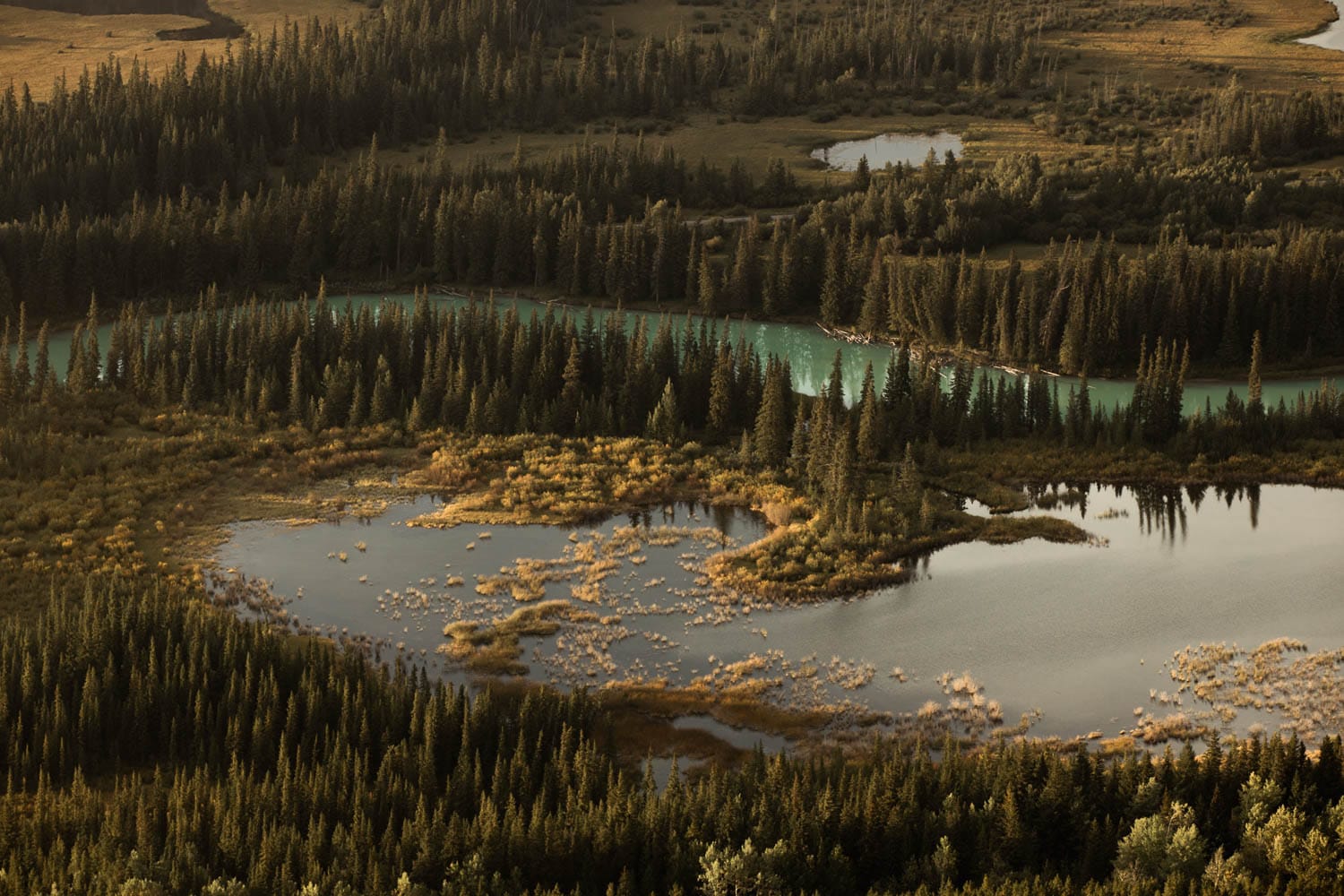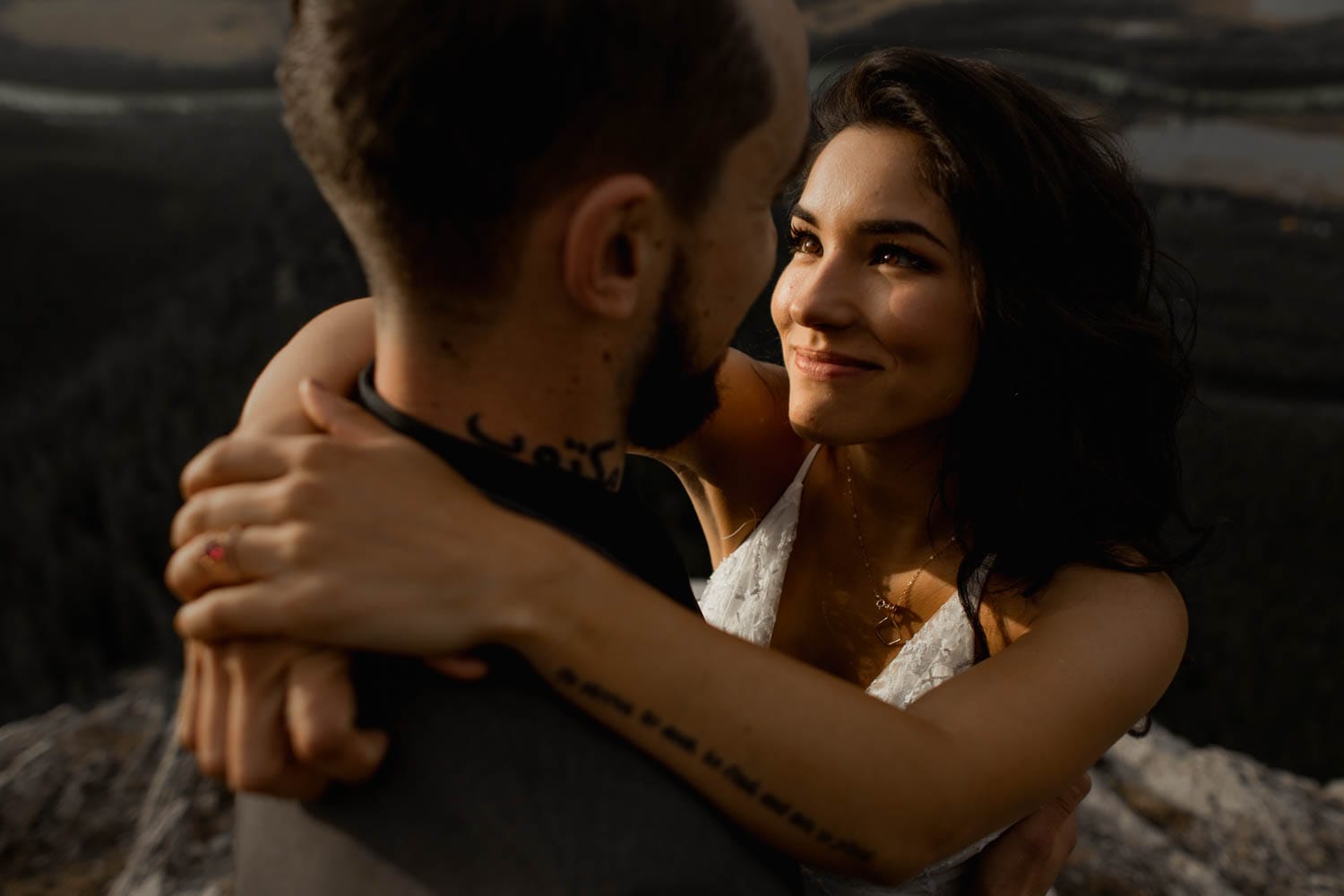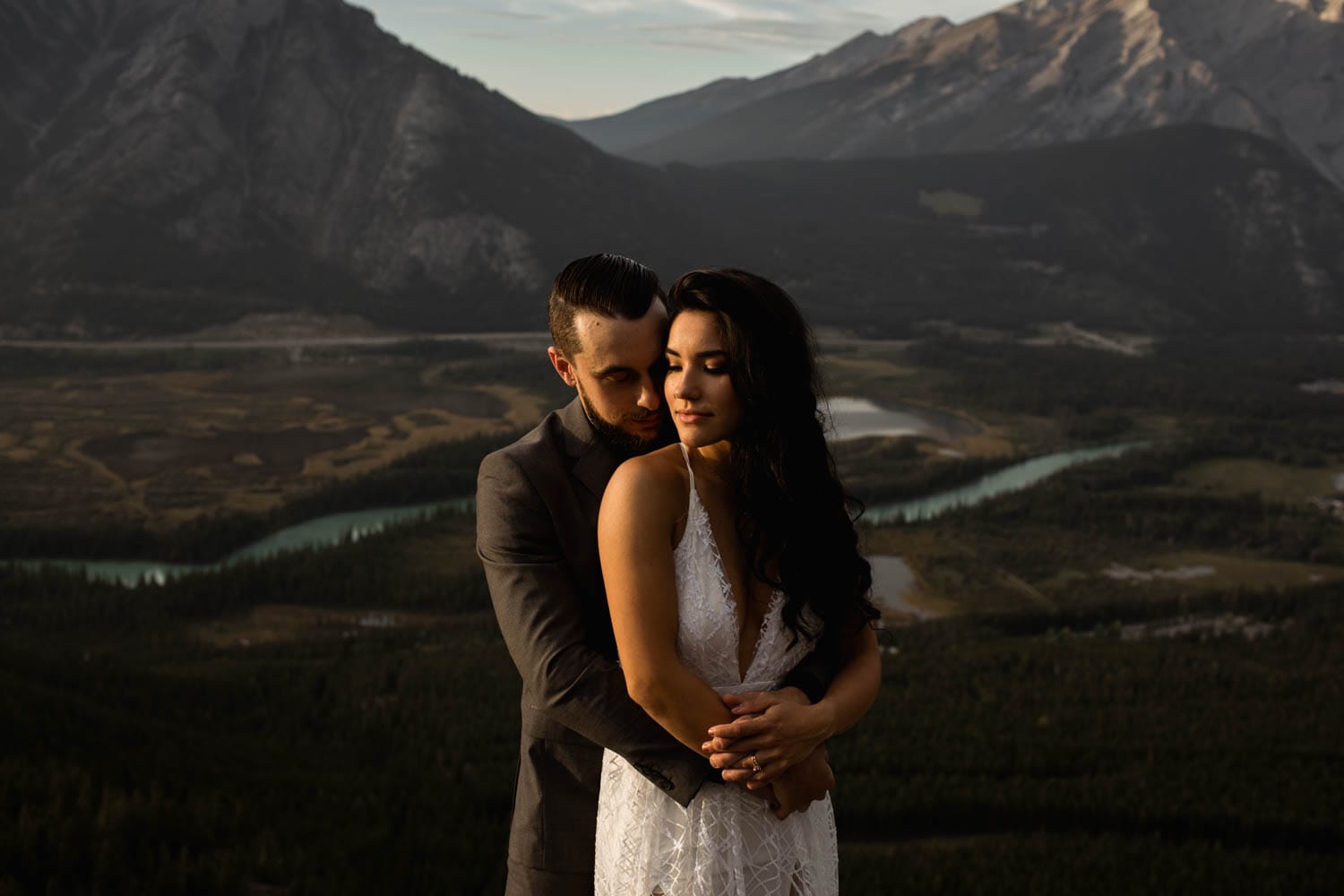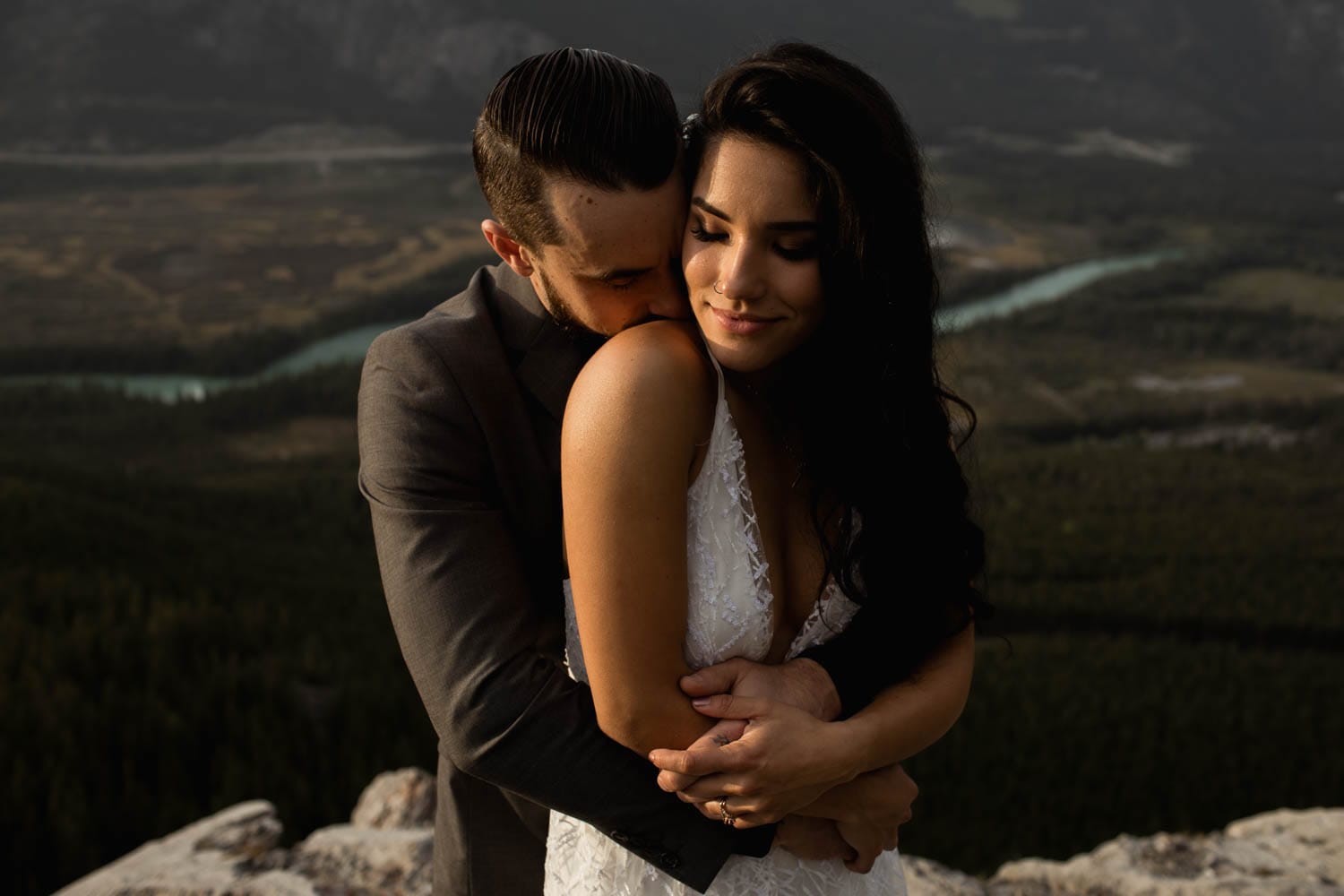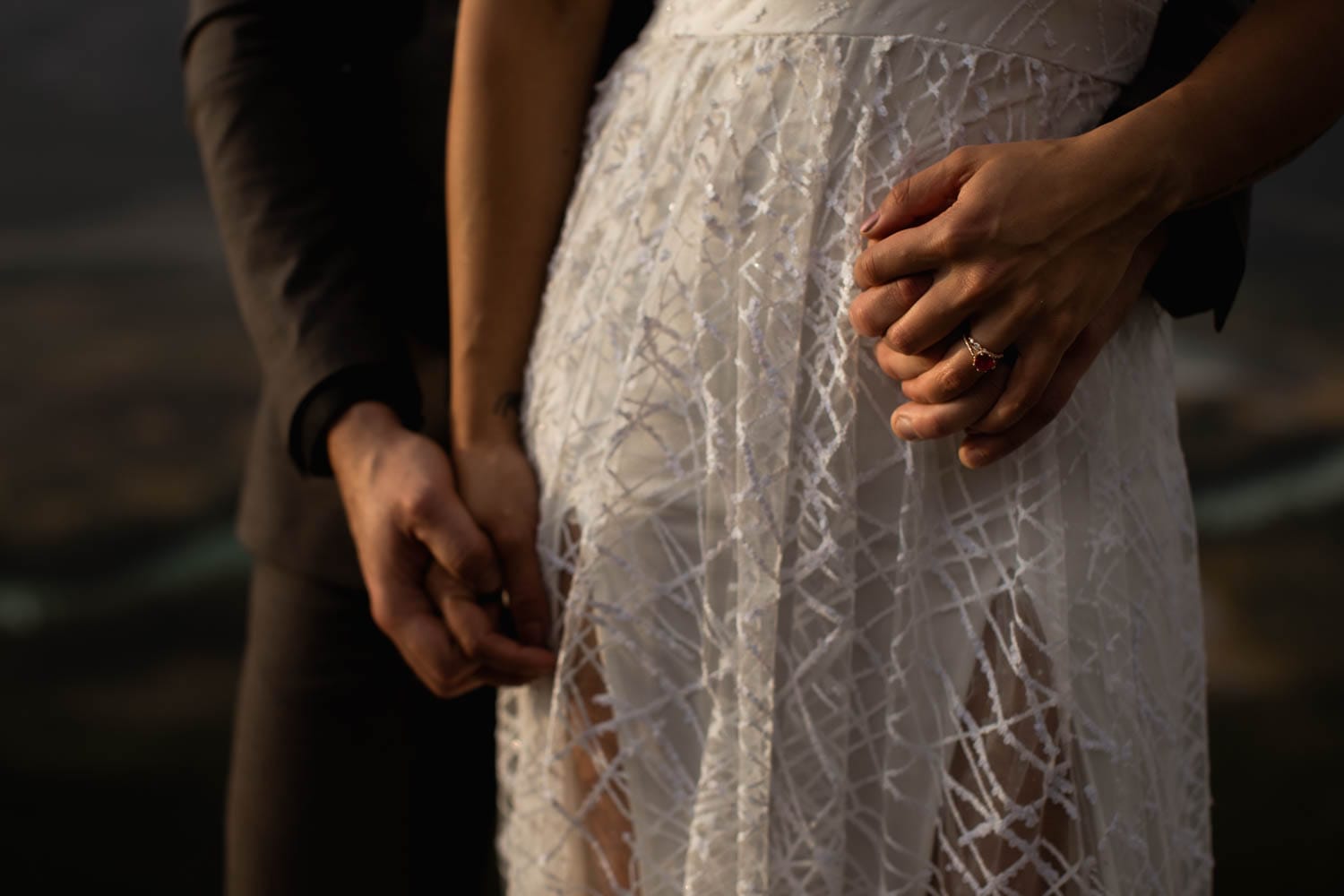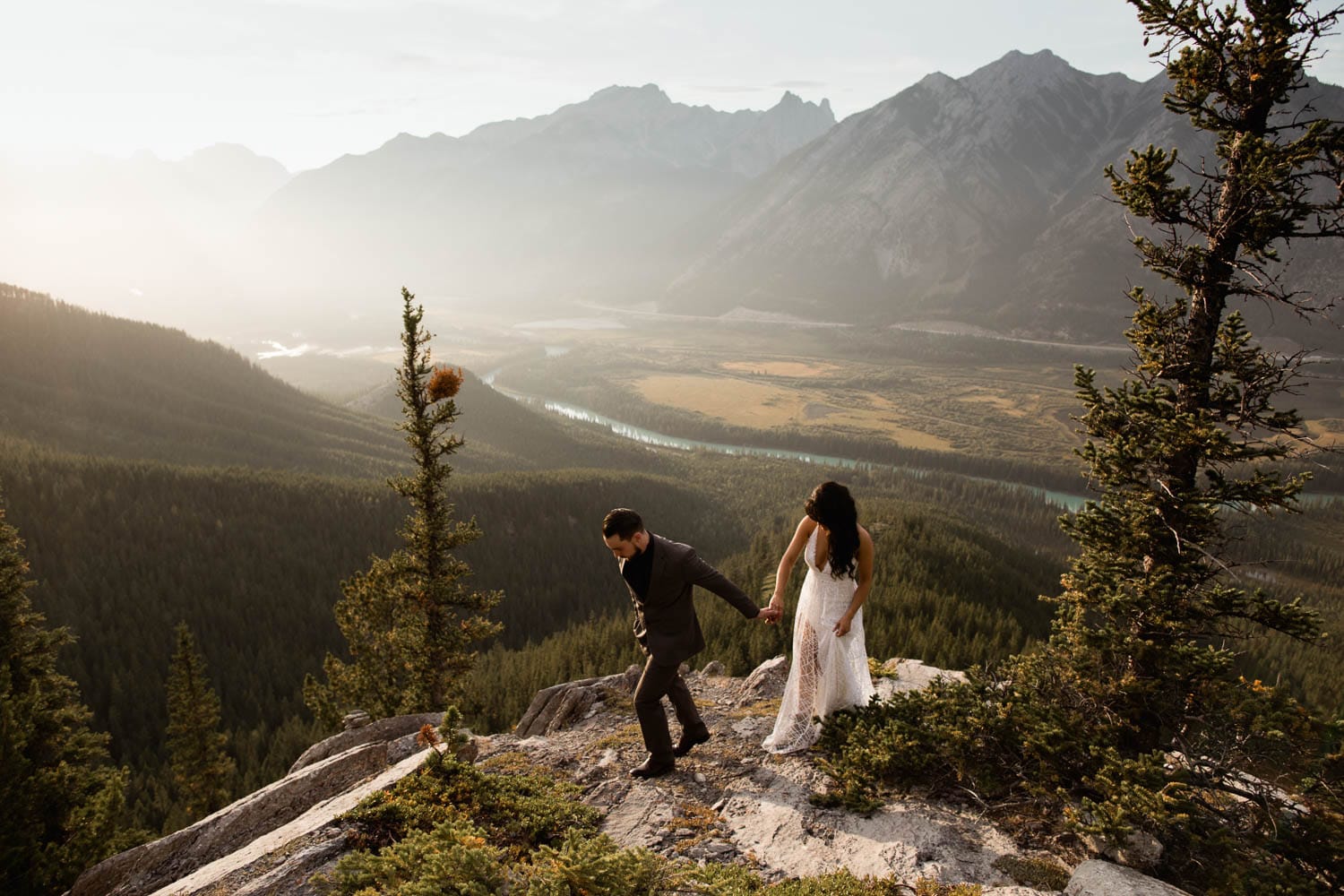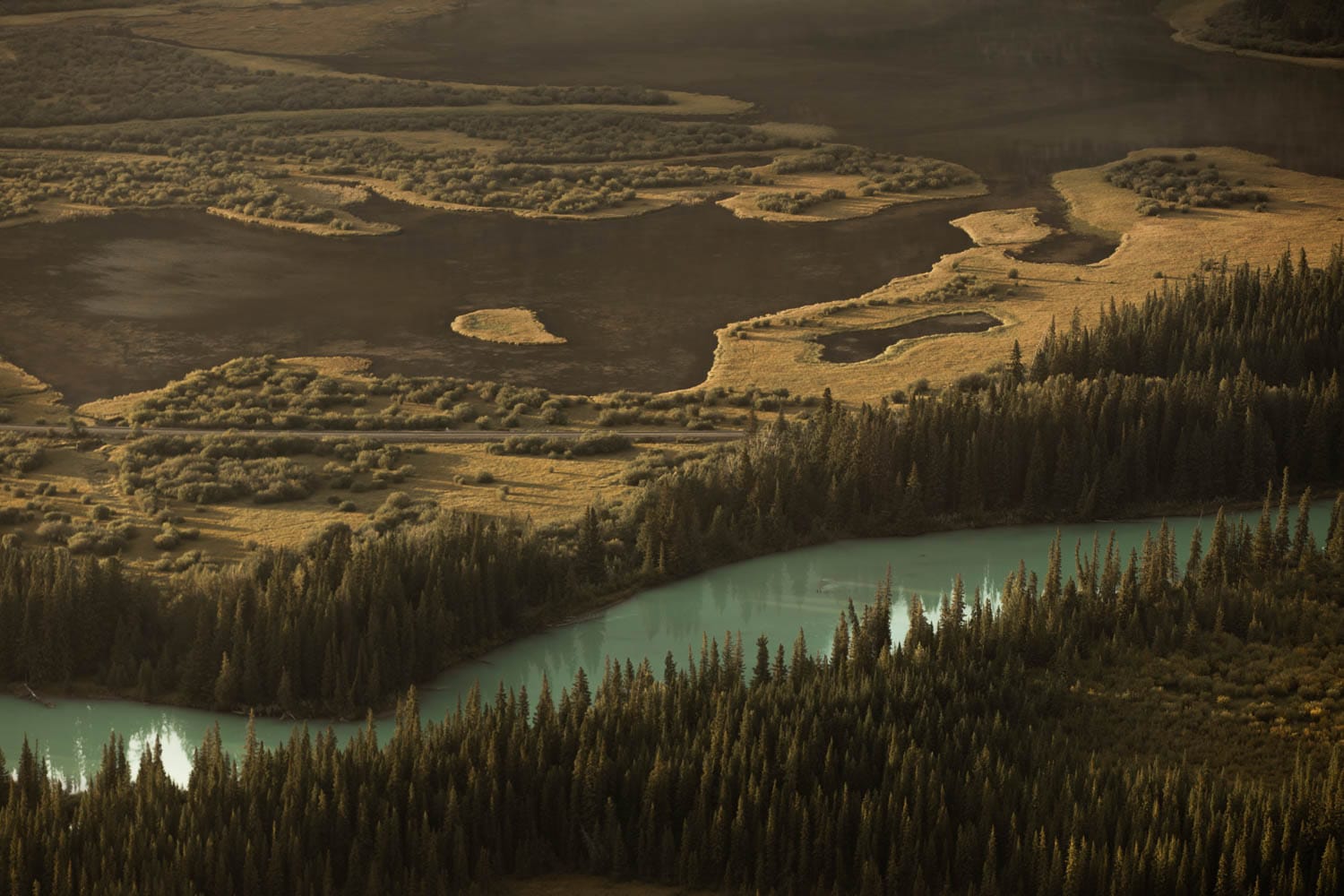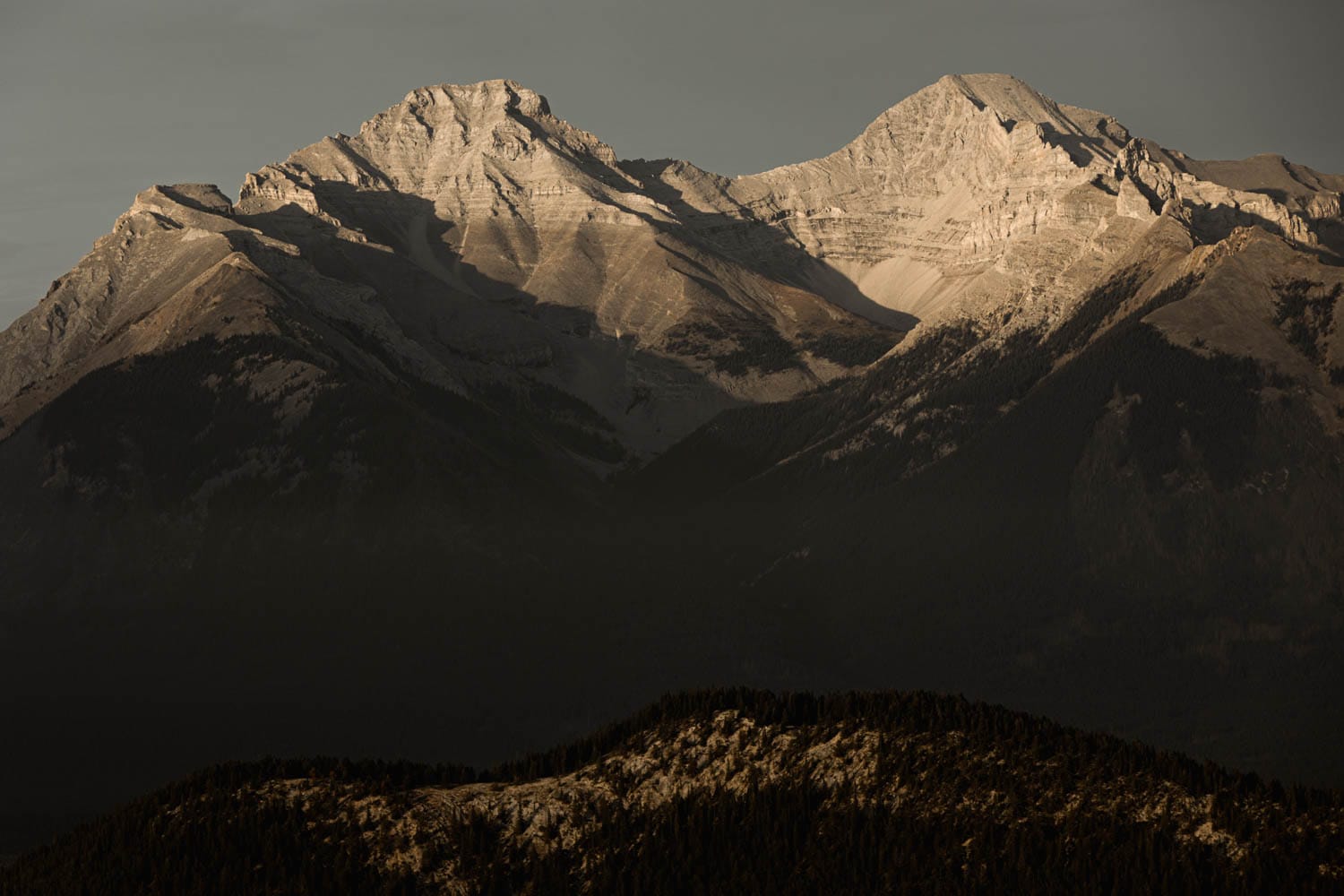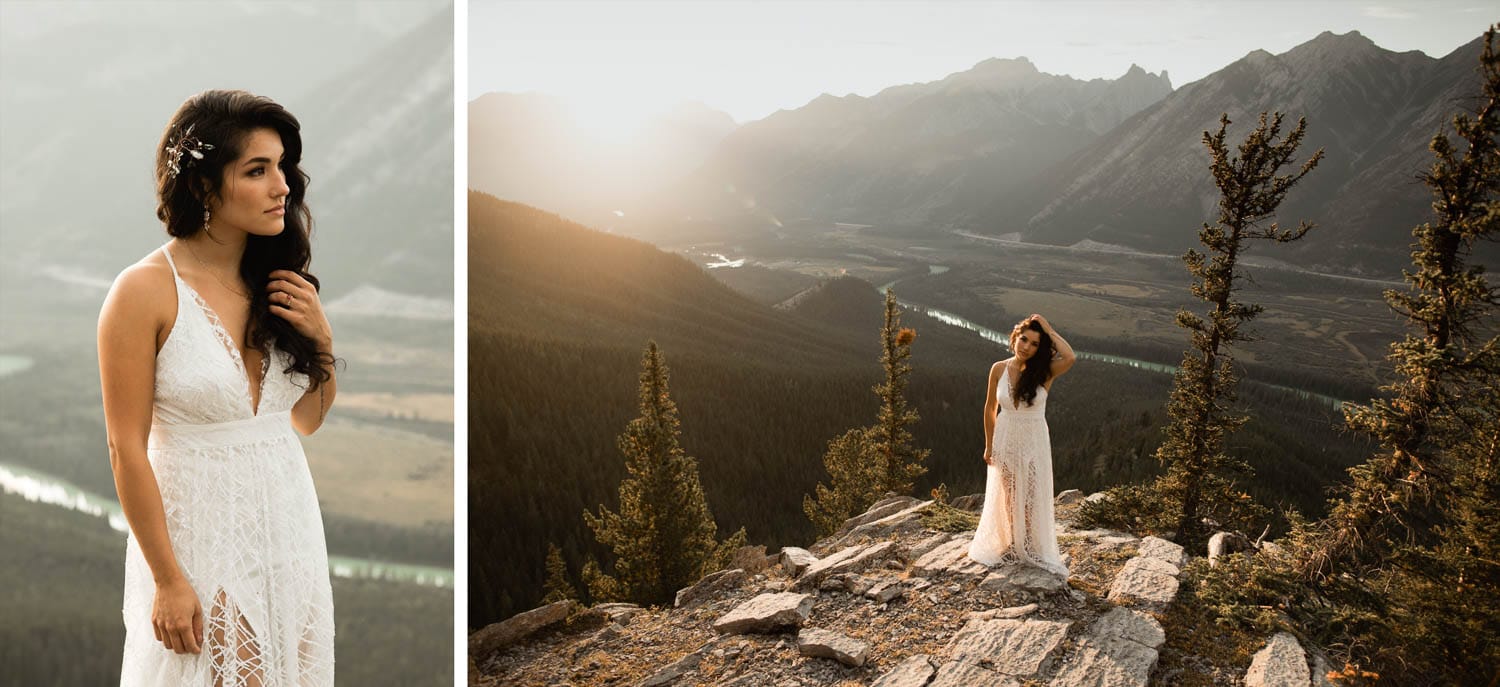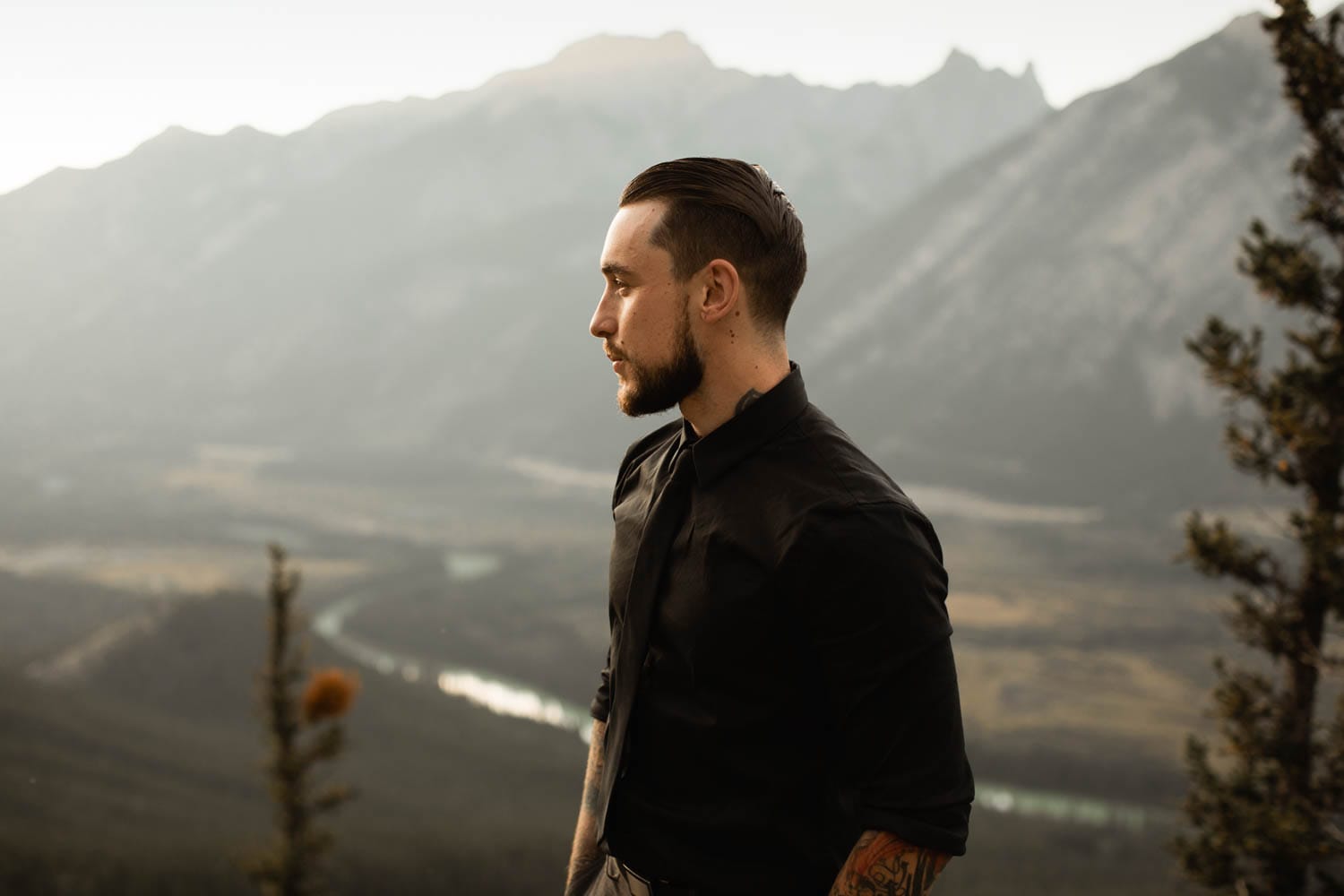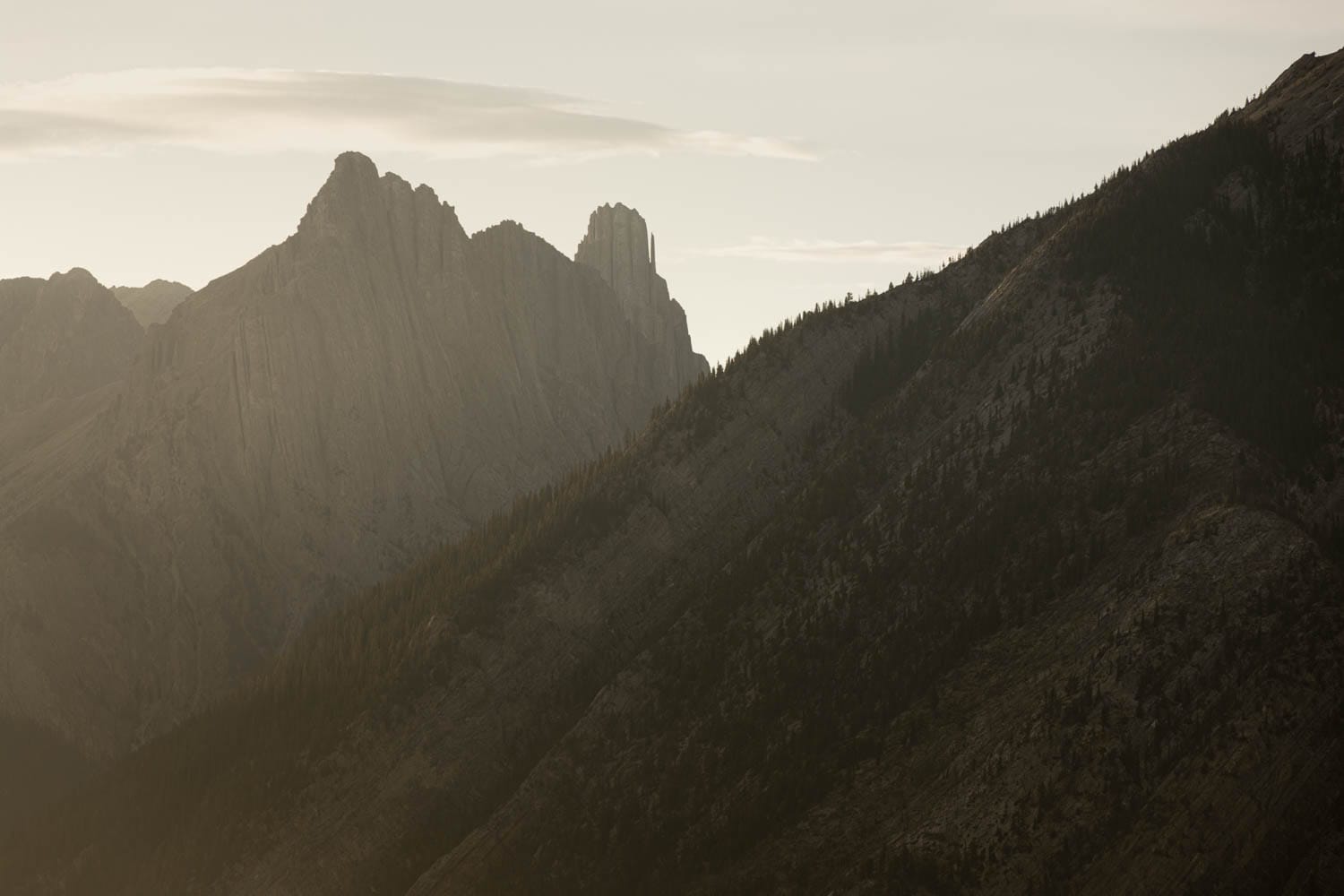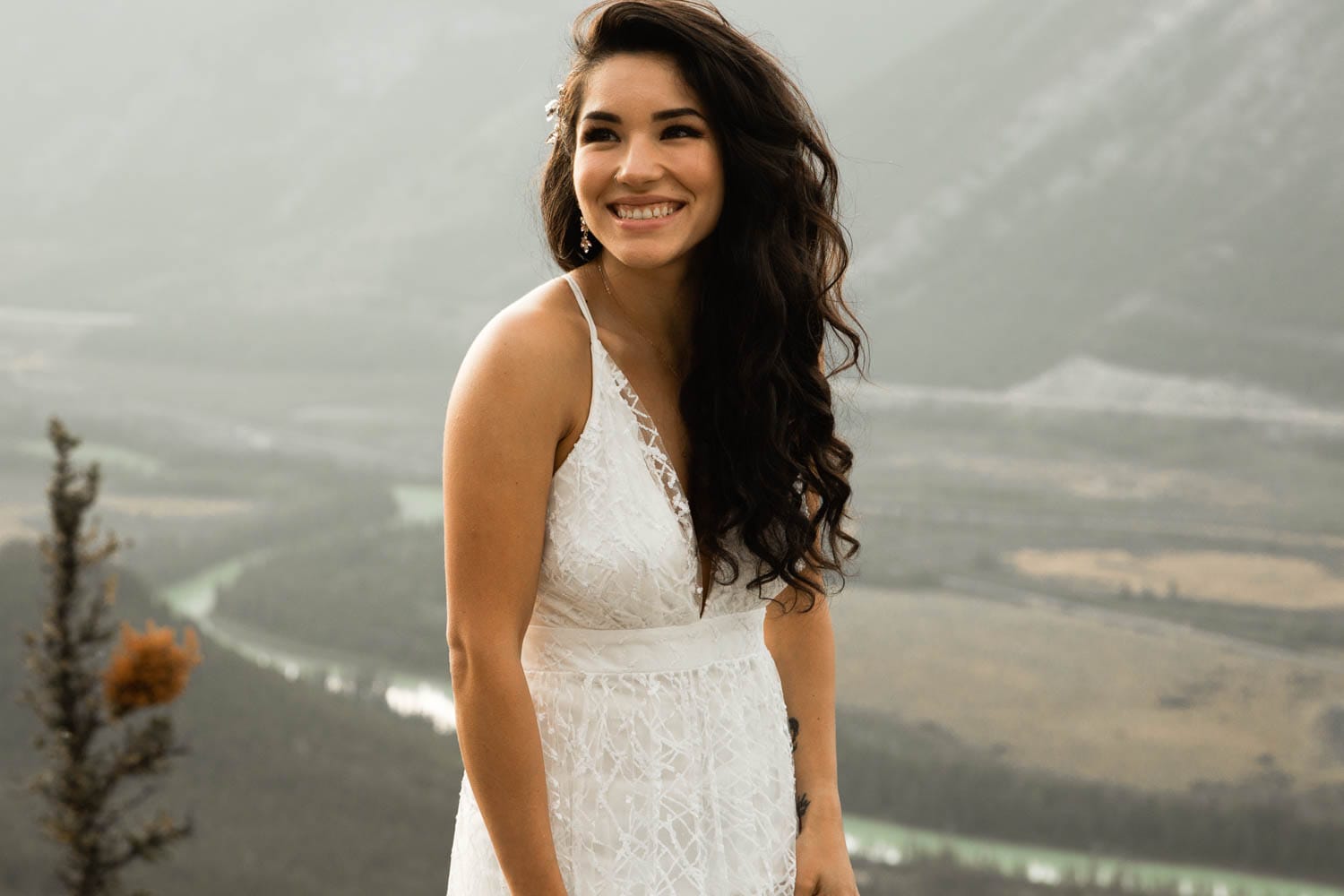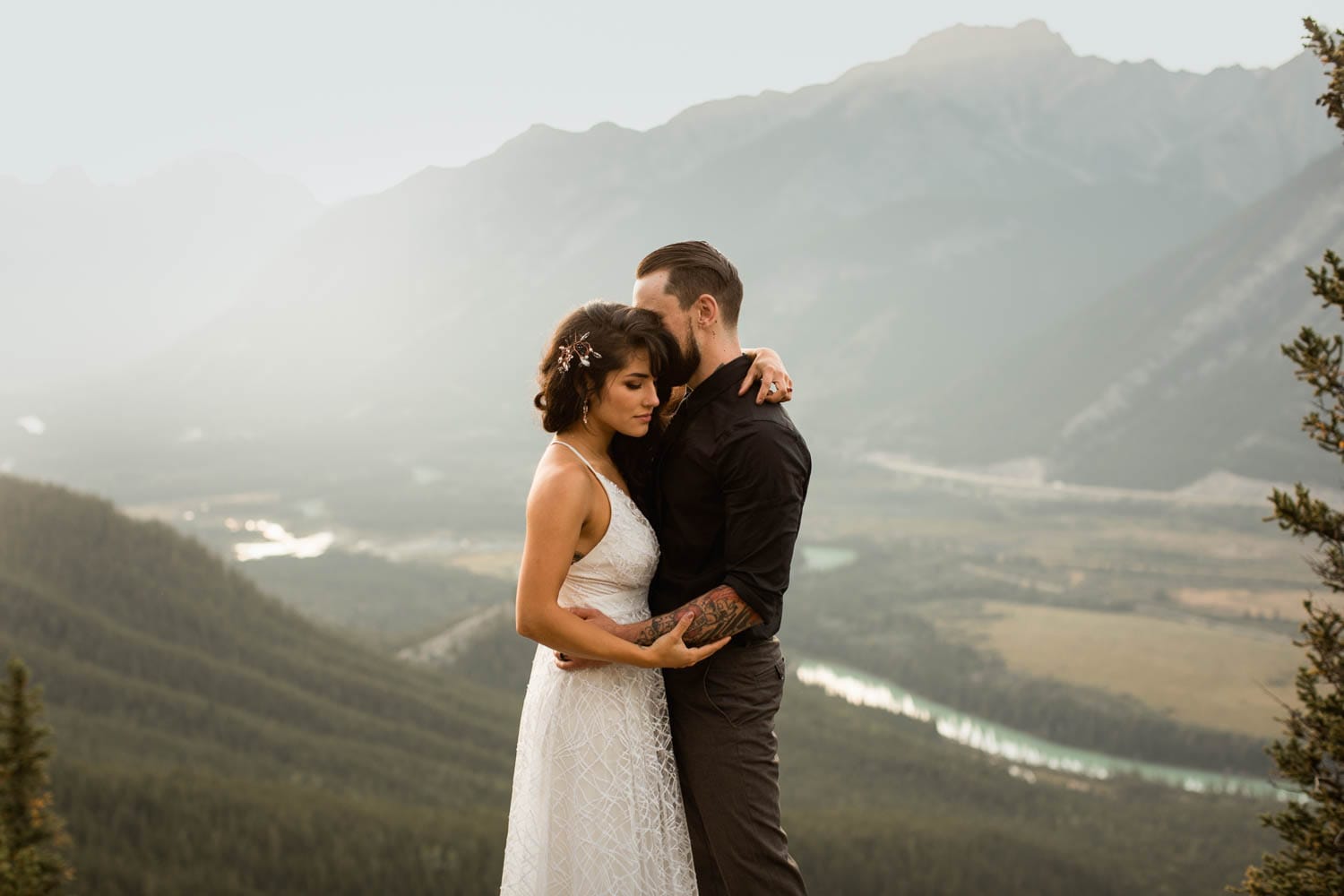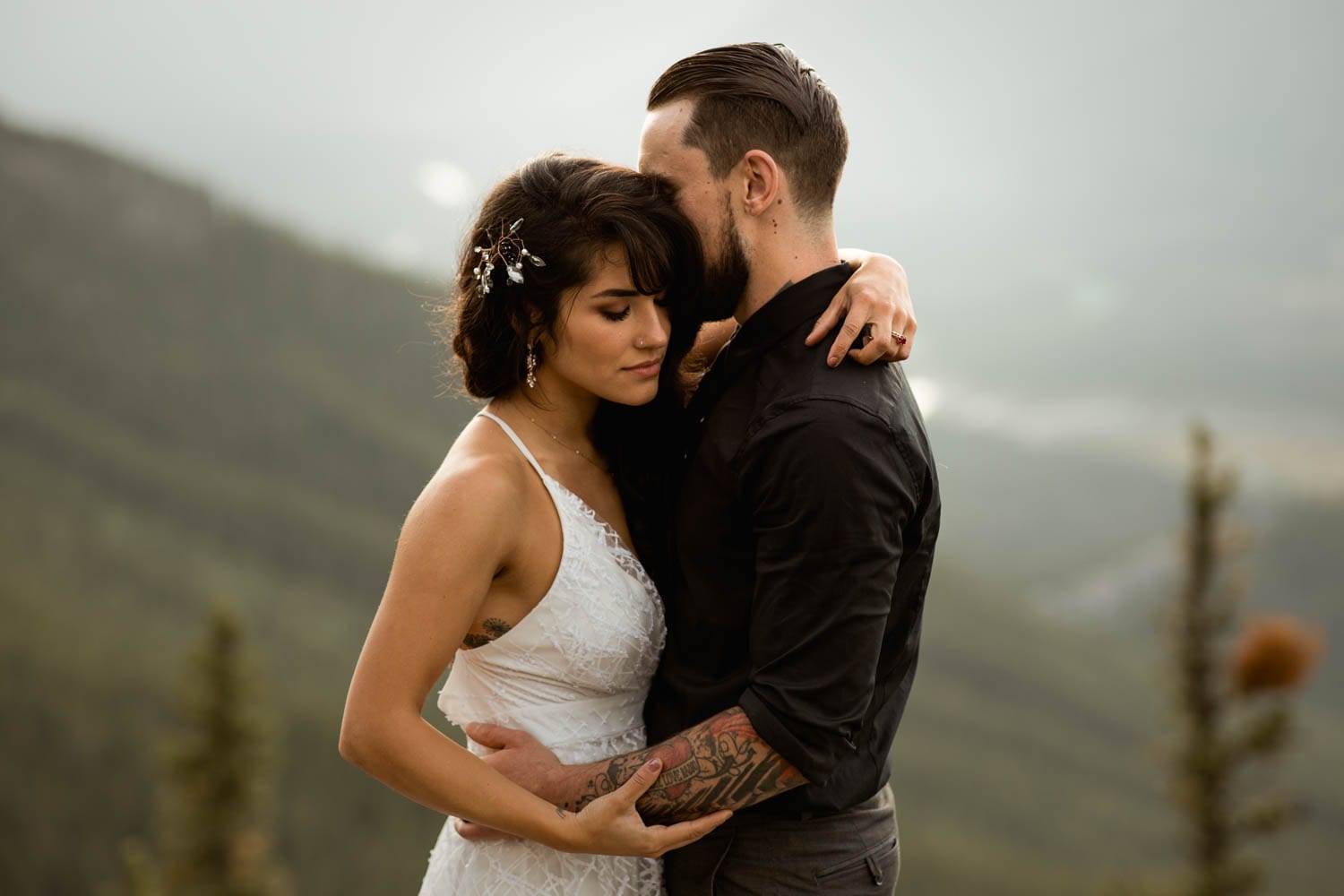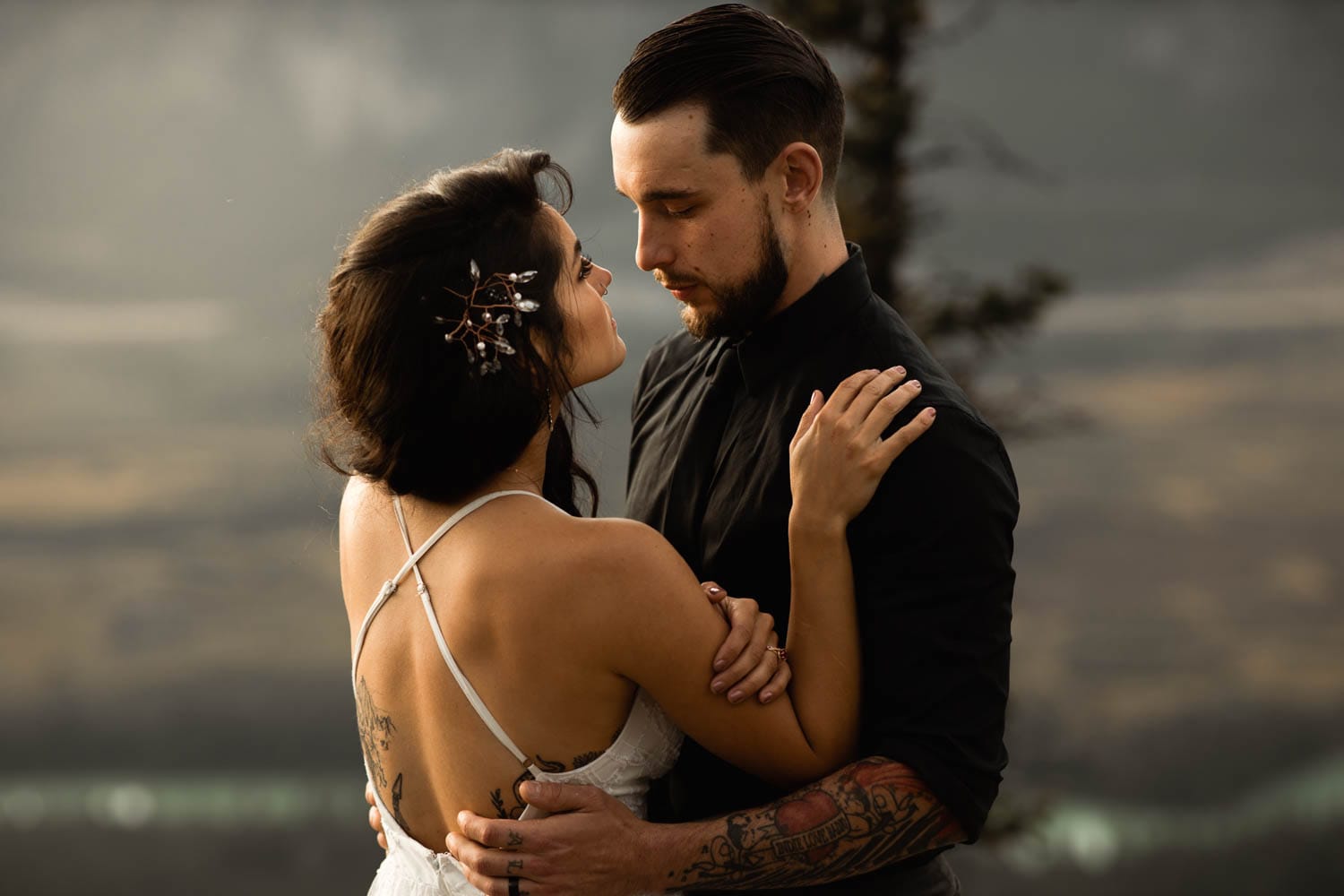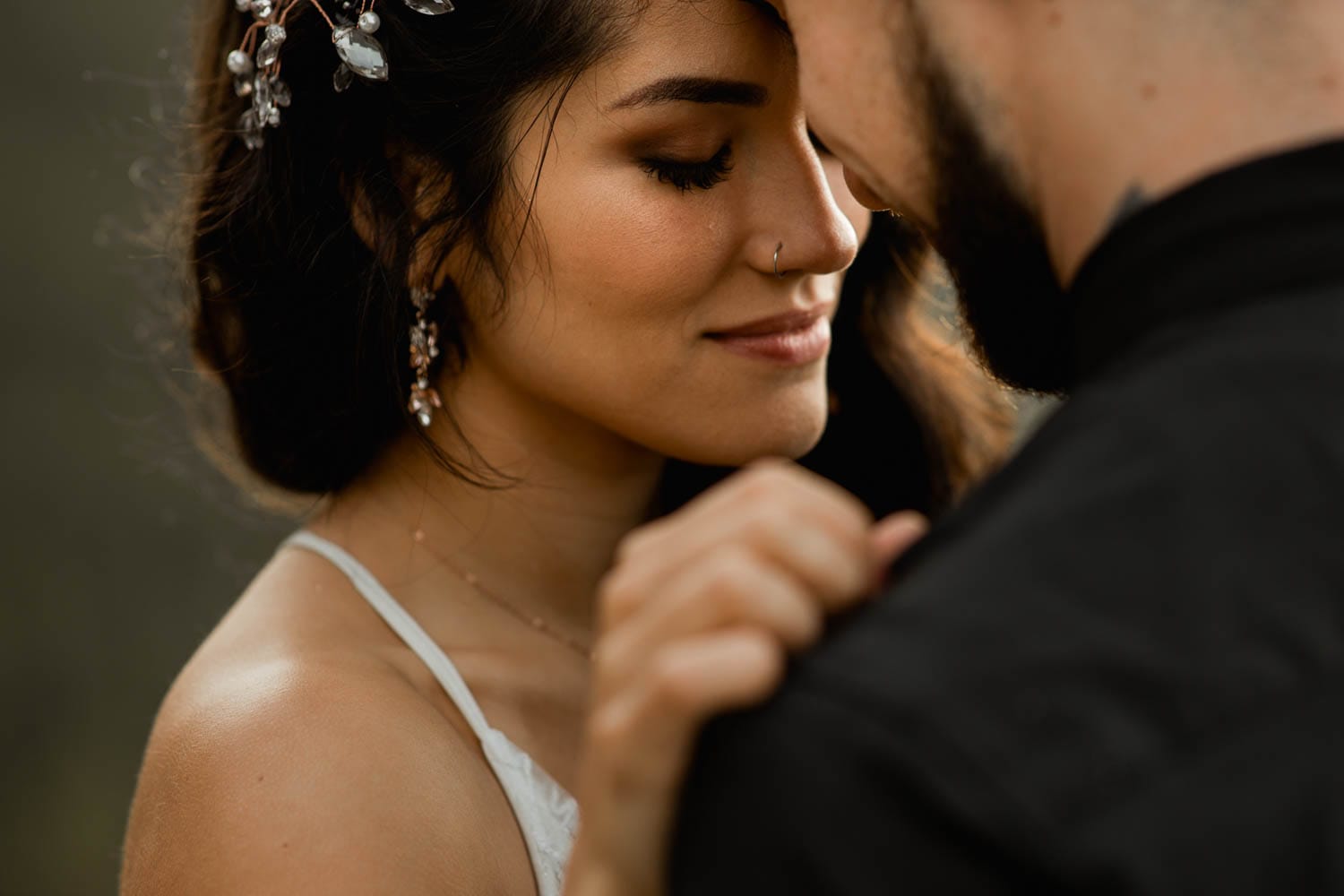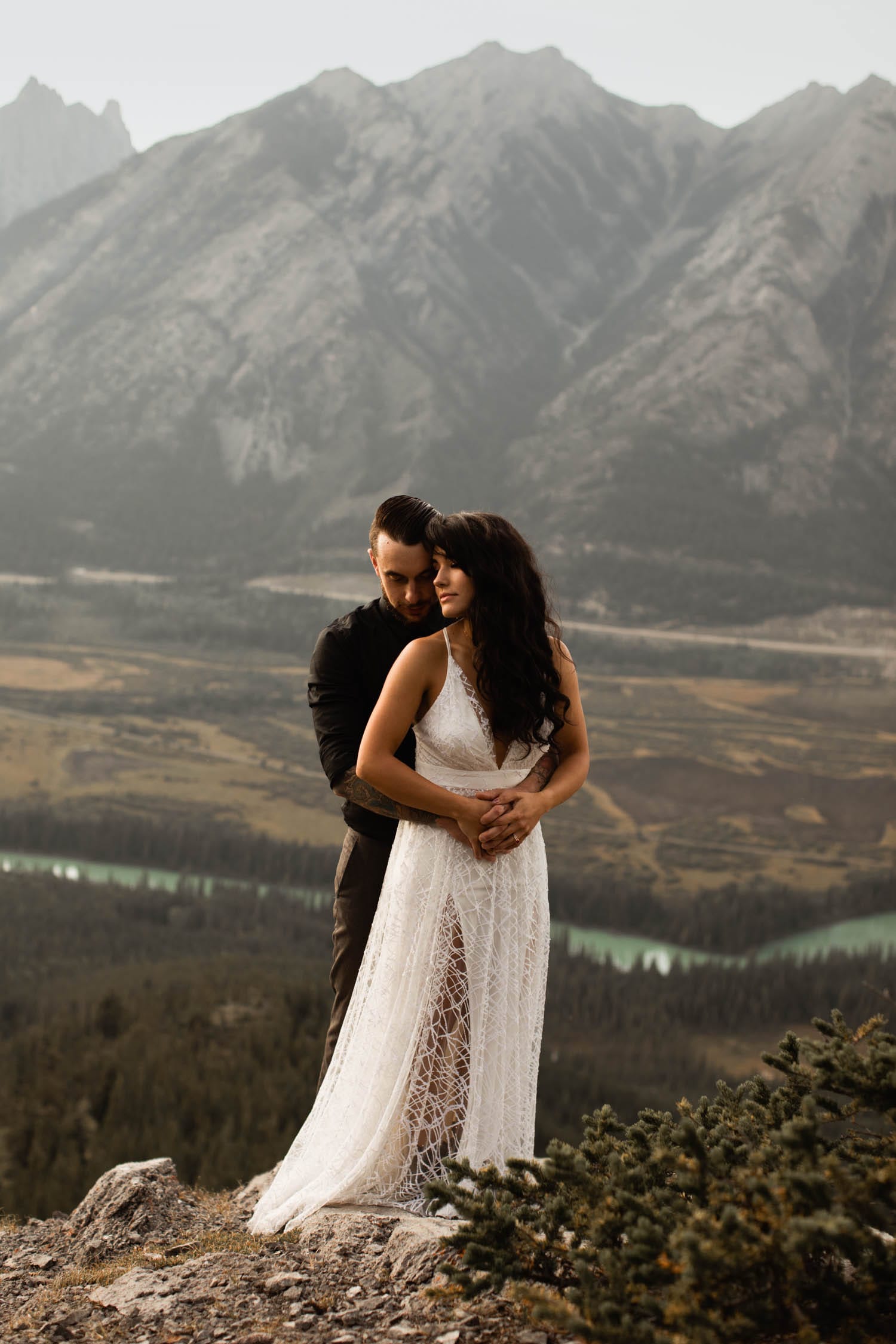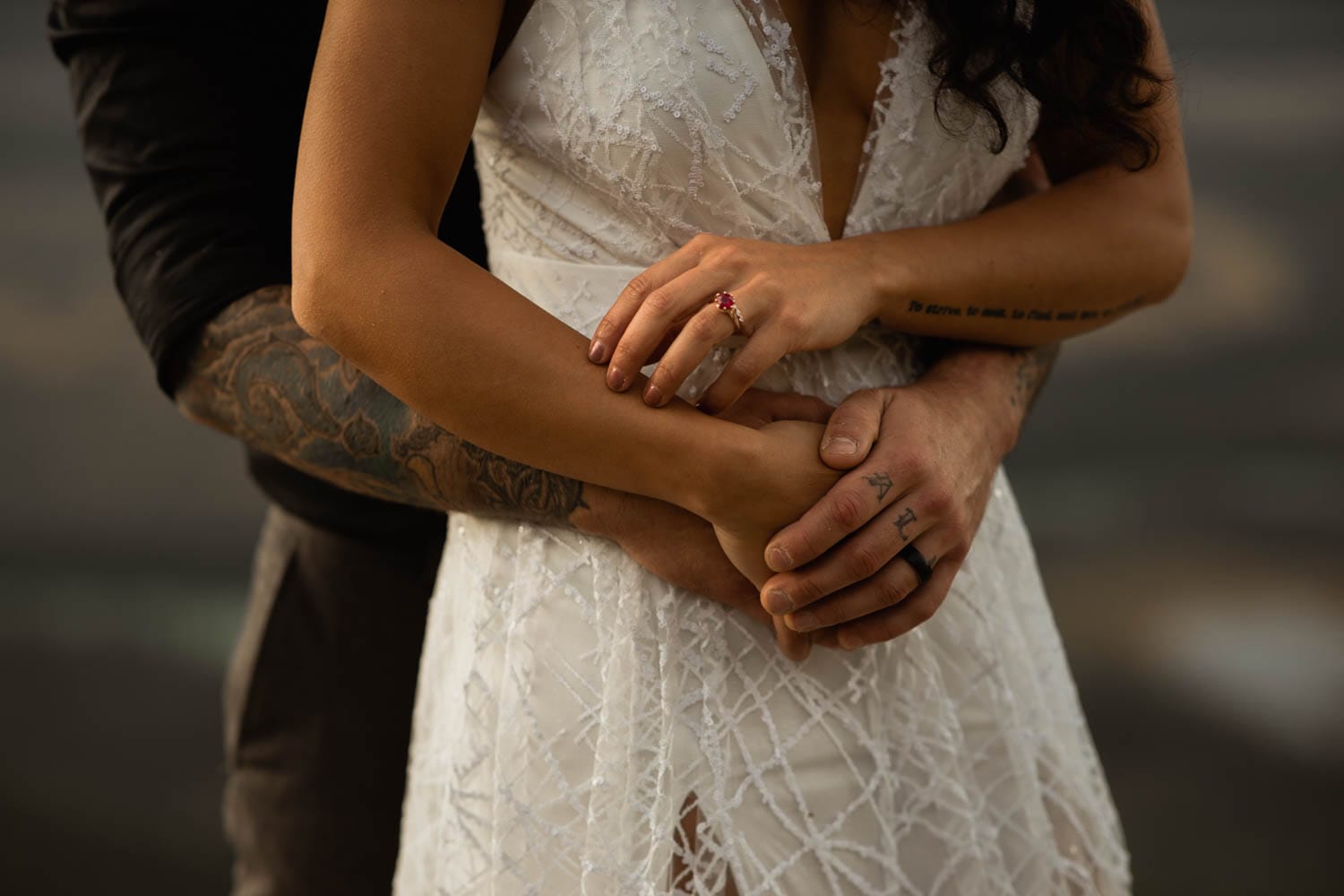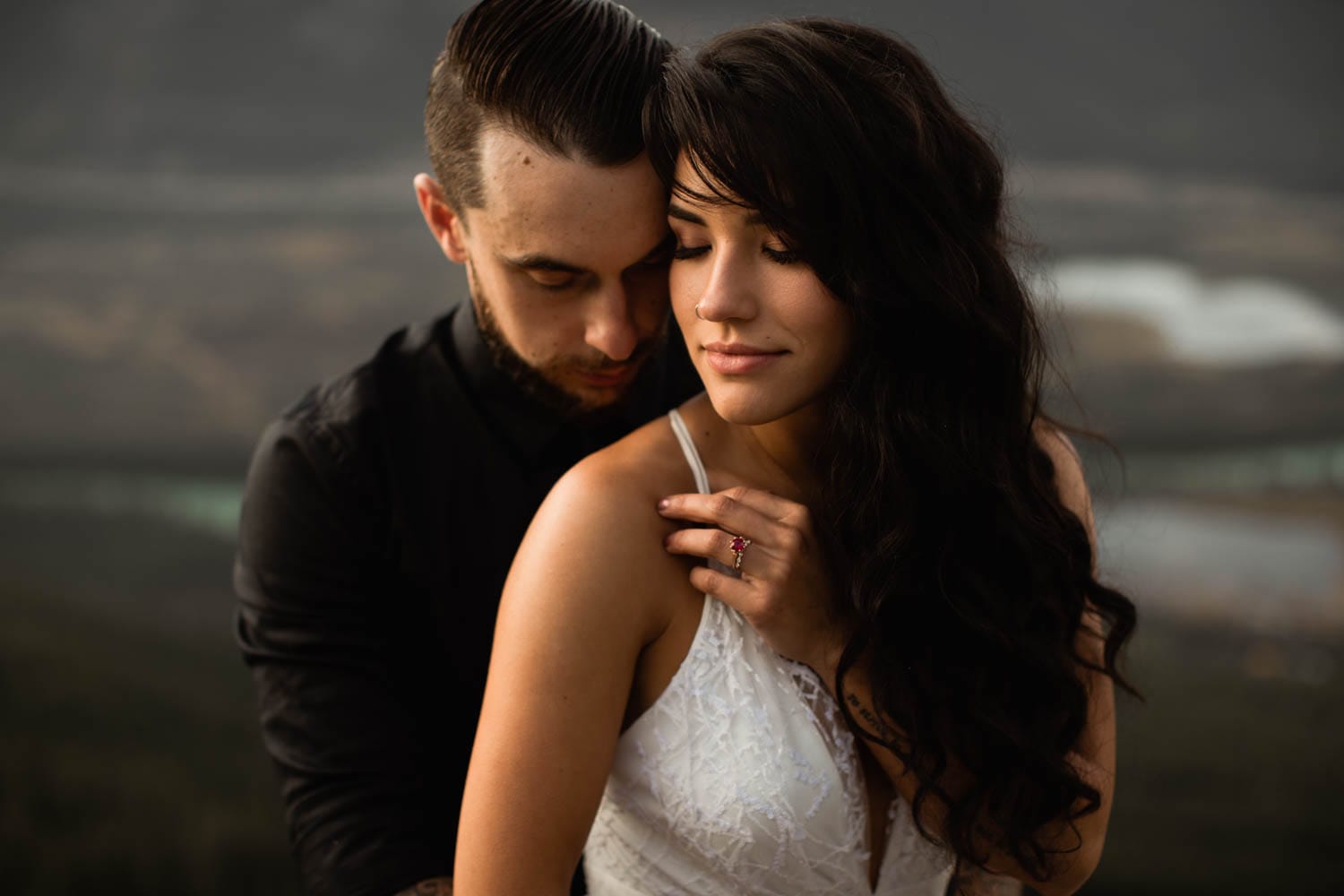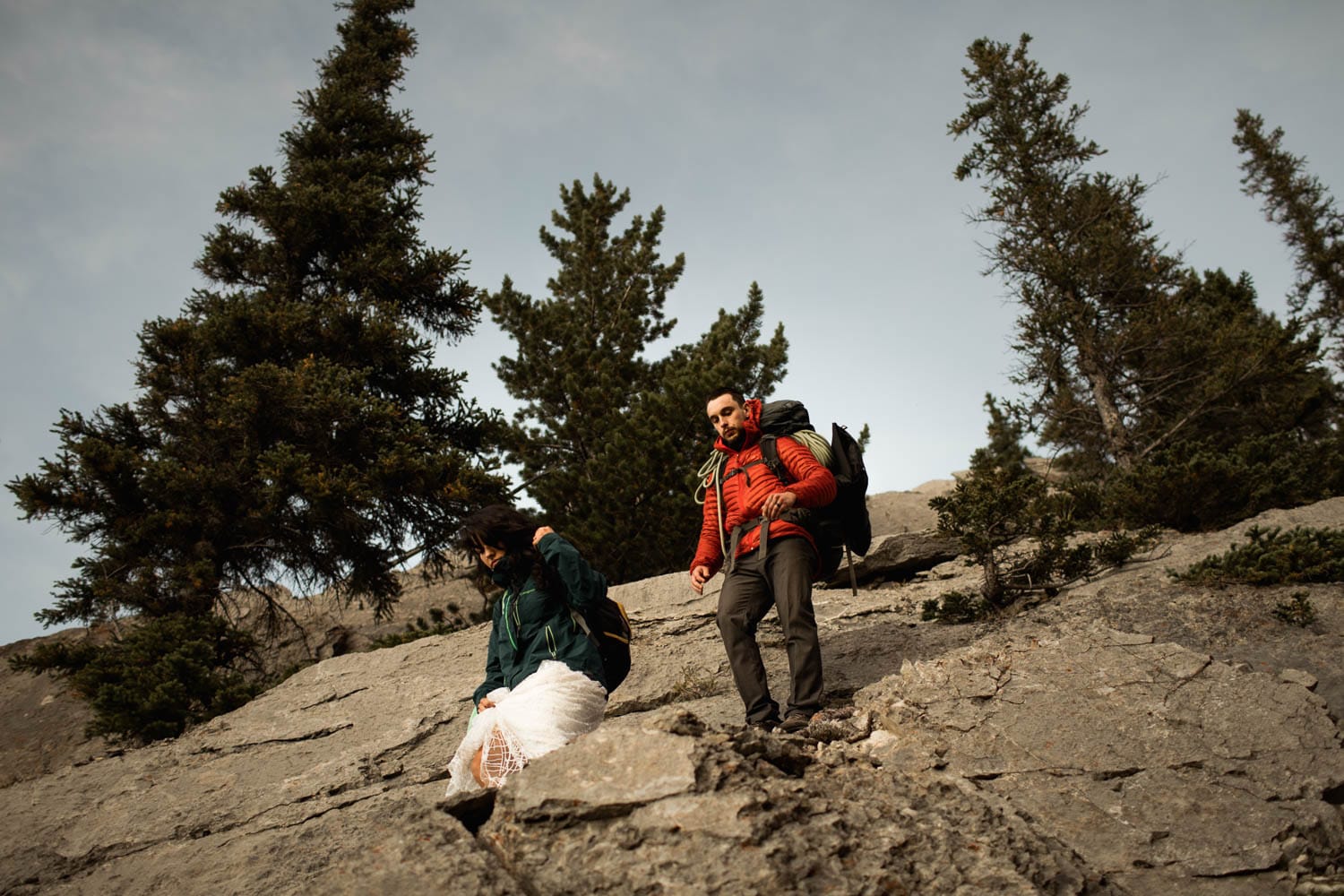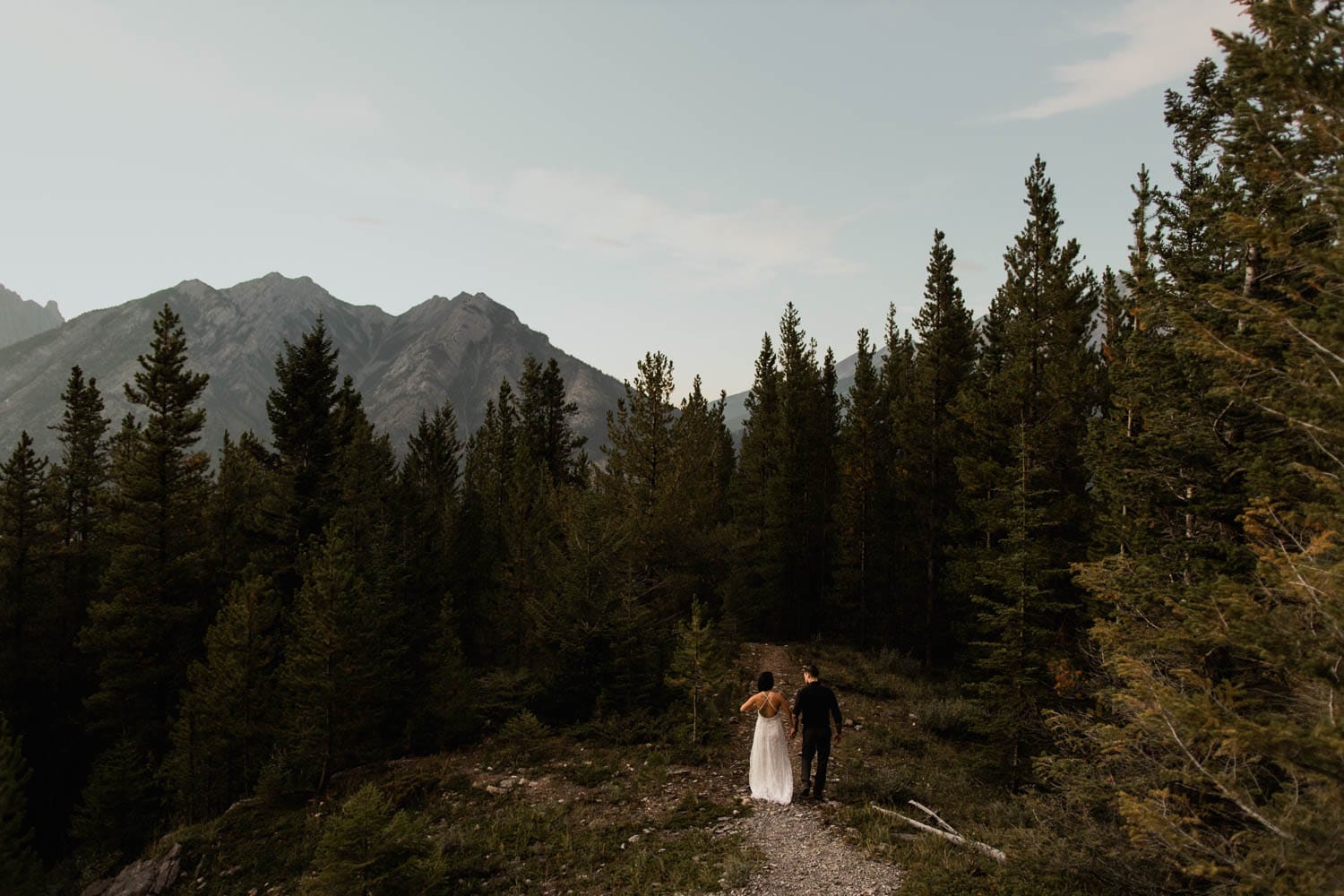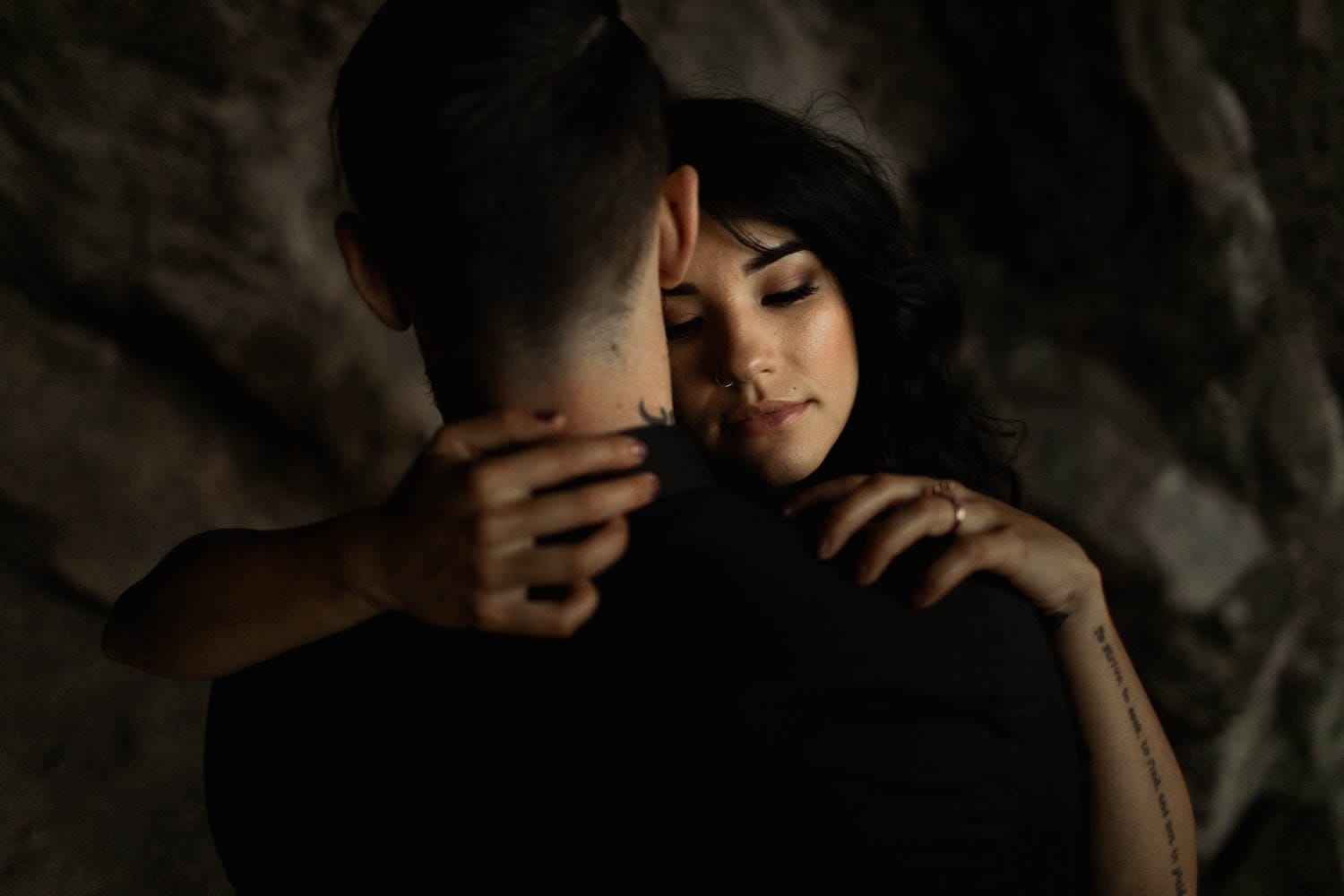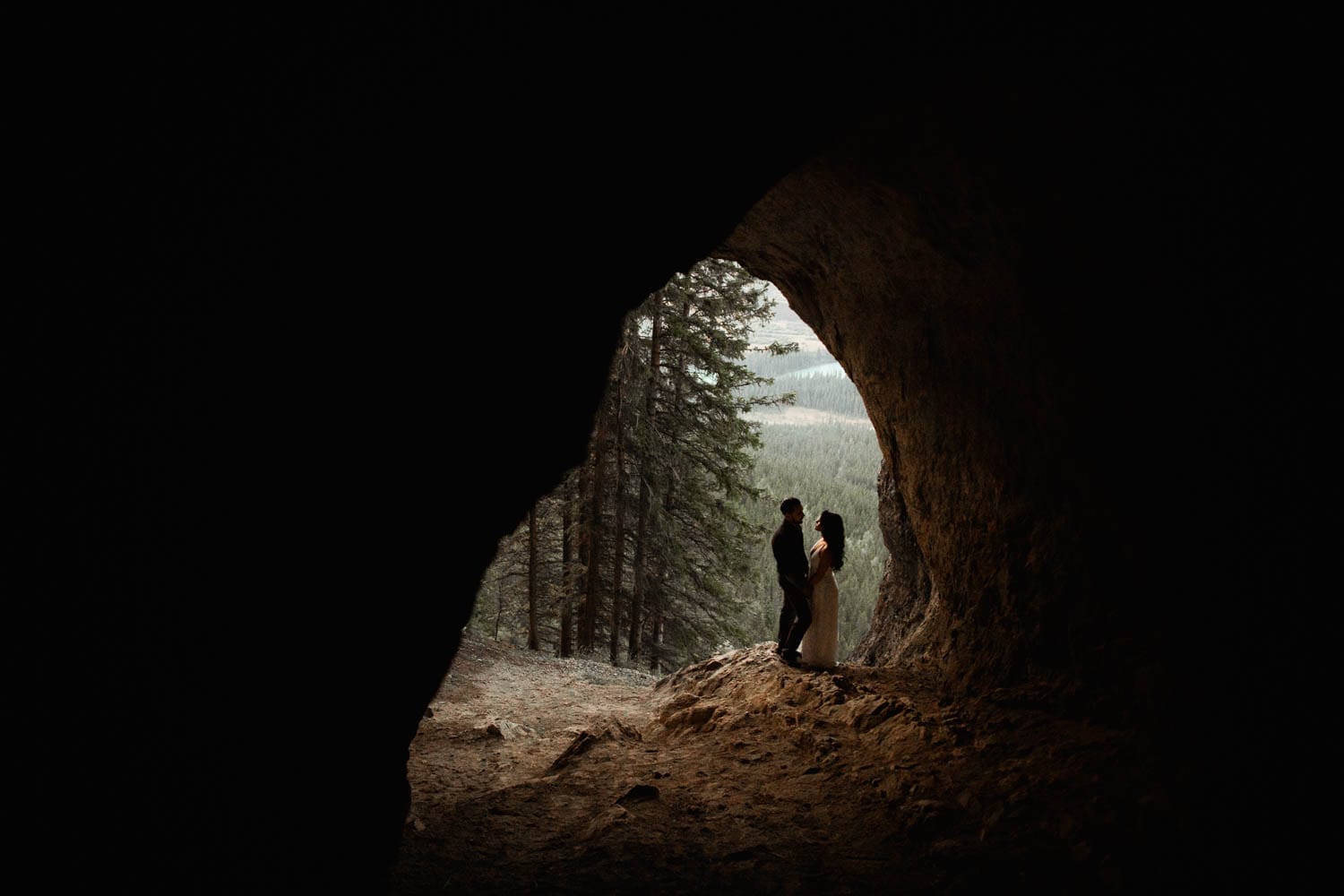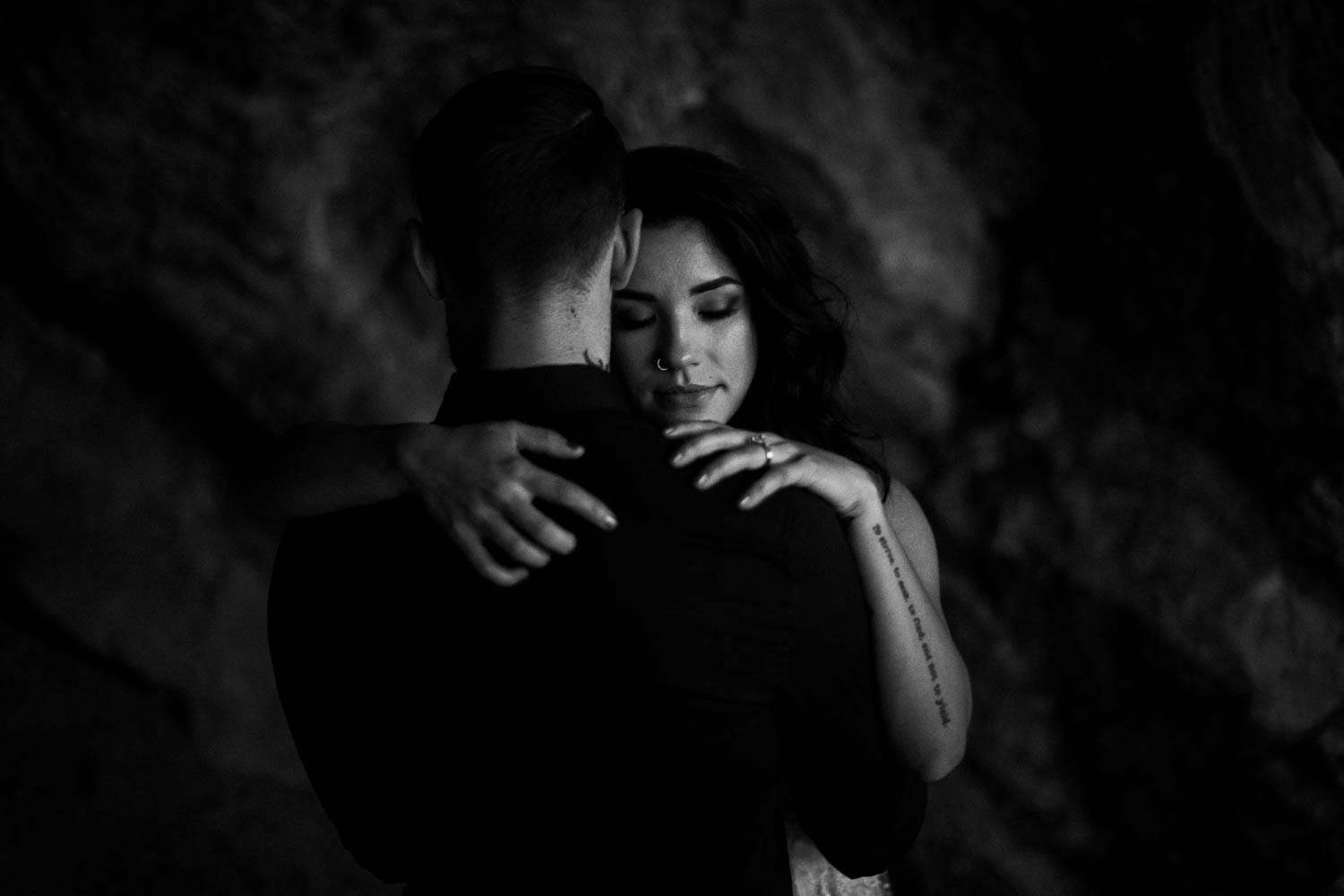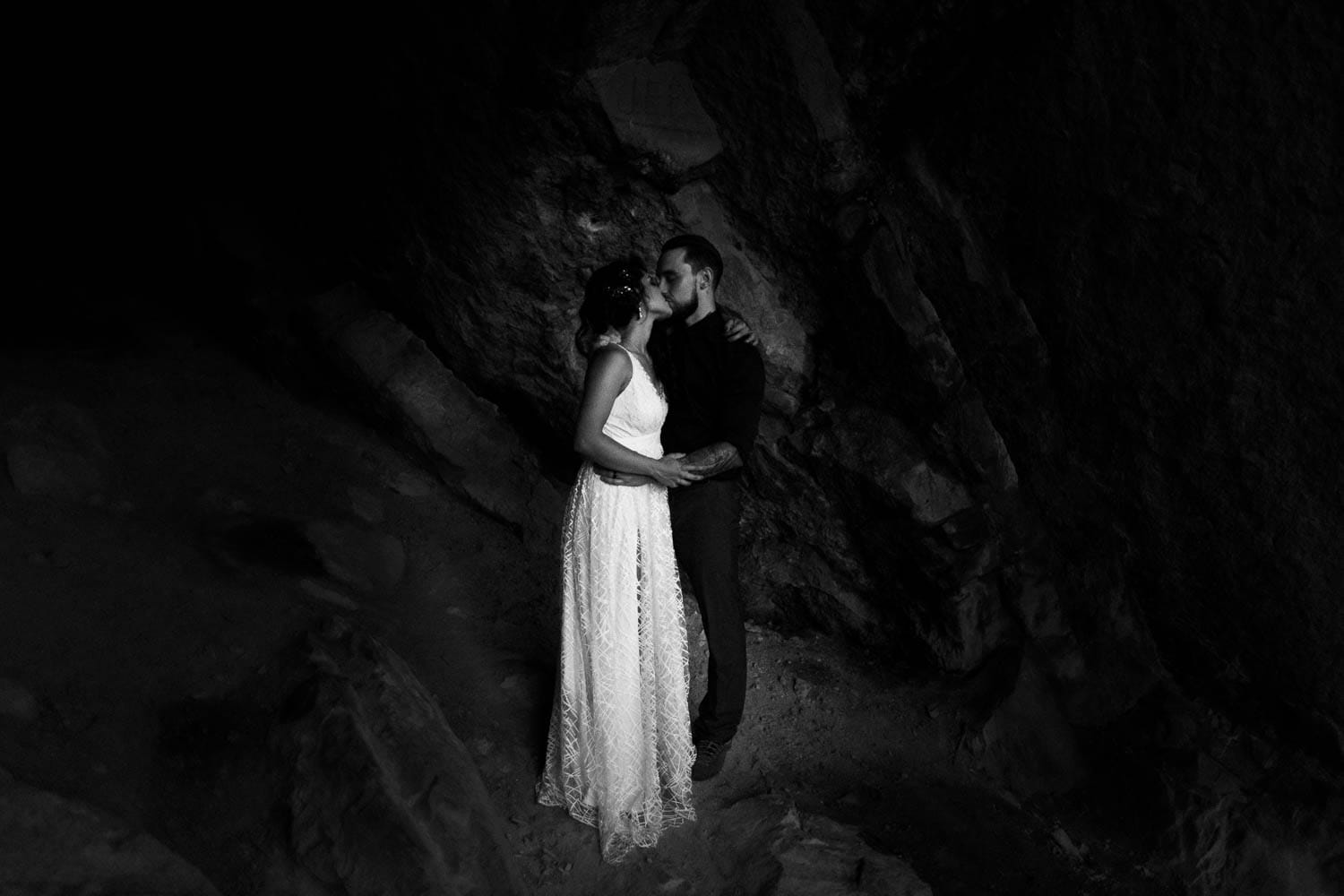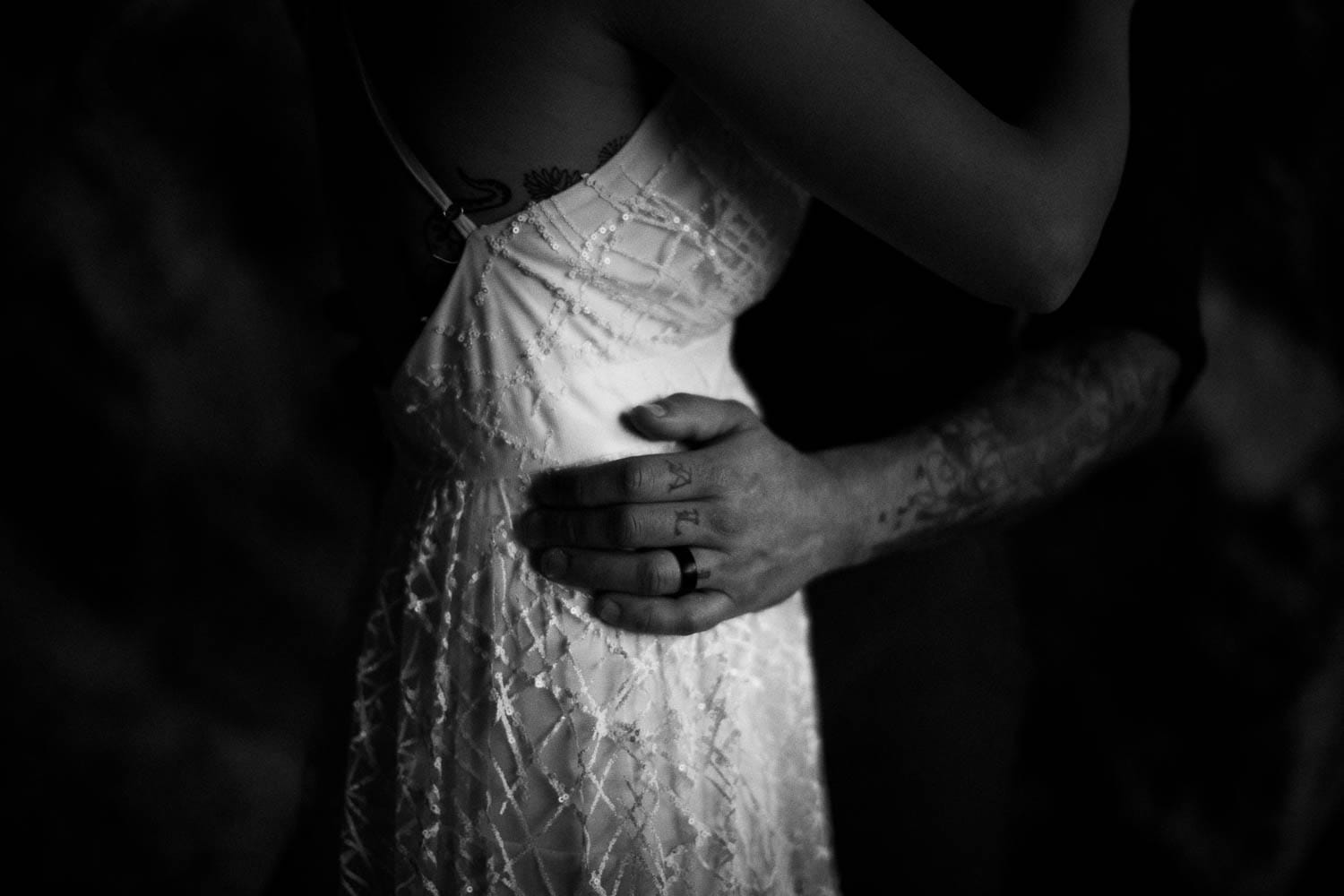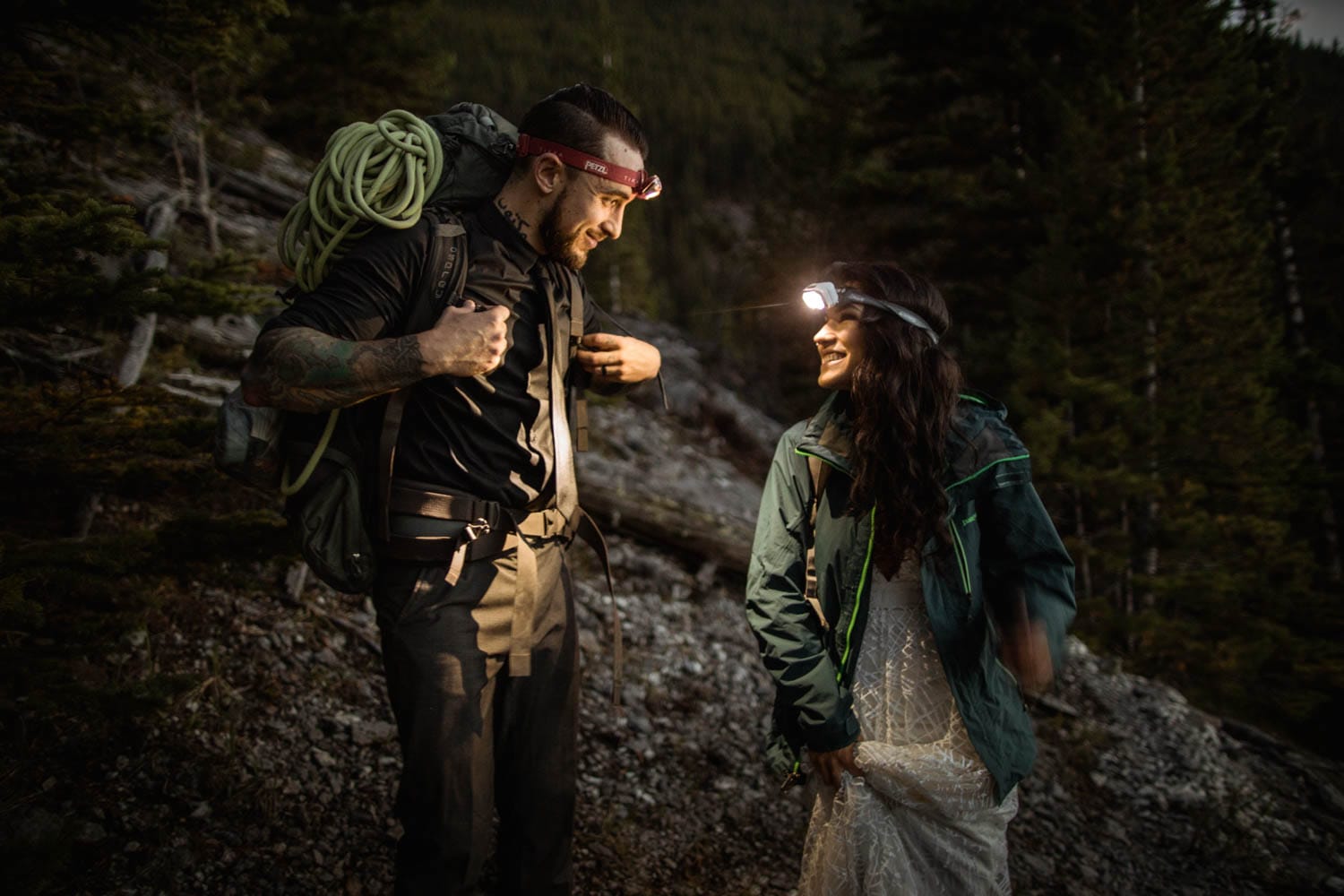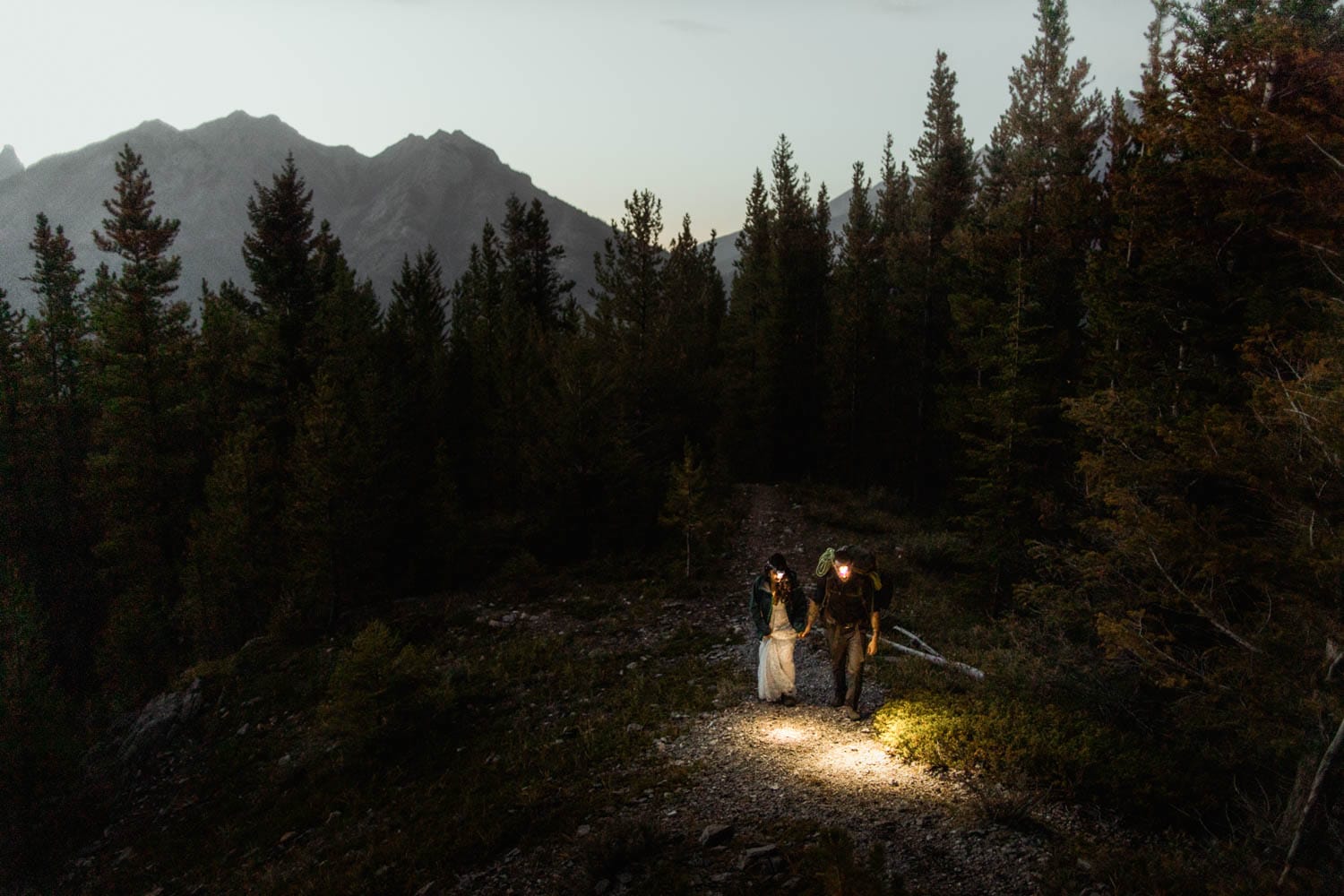 Enjoy this epic climbing wedding by Banff Elopement Photographers Willow & Wolf? Check out more stories like this on the blog…
Mariah and Cole – Kananaskis Hiking Elopement